A solid chunk of the graphic novels that are currently populating my bookshelf are noir titles. I've been doing some in-depth research on this popular film genre of the 1940s and 1950s for my own horror noir comic book, Siren's Calling. Through that research, I stumbled on Jamie S. Rich and Joëlle Jones' You Have Killed Me at Strand Bookstore.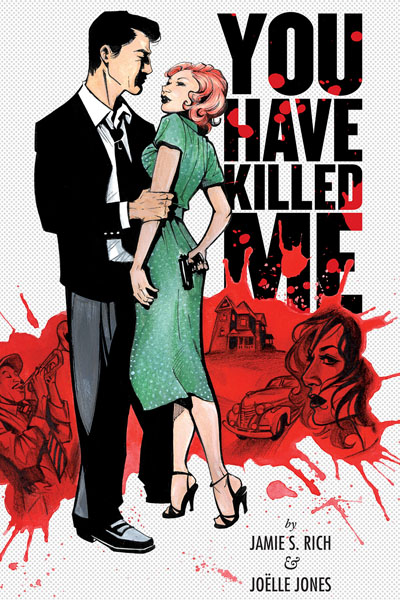 I first picked it up because of its spine, illustrated and emblazoned with the Oni Press logo. But once I opened the slightly used and bruised hardcover, I was immediately smitten with Jones' illustrations. They're simple and black and white, with only subtle notes of gray throughout the book; that, and some lovely crosshatching on the main character's suit.
The story opens in a dark alleyway. A stray cat eats food from a halfway-opened can. The cat is frightened by something, turns and cuts its nose on the can's bent lid. A man grabs it by the back of its neck, brings it up close to his chest. As he strokes the scared cat, we notice blood on his hands, all along his shirt and pants. He stumbles back, slams into a fence, then crouches down, holds the cat in his arms. "A couple of strays…who can't resist sticking their noses in dangerous places."
The man's name is Mercer, a private eye who's been hired by a wealthy socialite to find out what happened to her sister, who's gone missing. All sorts of shady types creep out from the cracks between her story, and with a police detective hot on his heels, it's up to Mercer to stomp on all the right heads and expose what's hiding beneath those floorboards before he ends up six feet below them with a bullet in his belly.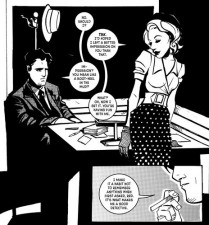 Now the story being told in You Have Killed Me is a pretty standard one that makes use of all of the basic elements of noir fiction –– a befuddled private eye; the femme fatale; Detour-style narration; subtle plot twists meant to steer our minds away from the more obvious road: the fact that the girl who hired the P.I. to find her missing sister may be the one who actually killed her.
The one element that makes Rich and Jones' graphic noir tale stand out and kept me turning pages even more than the shadowy illustrations is the dialog. The plot of You Have Killed Me is that of many dime-store pulp novellas, but it's many of Rich's lines, which are thoroughly grounded in the unmistakable language of noir, that bleeds with a freshness and originality. Lines like Mercer's "you threw me a sucker's case and played me for a lollipop" and a brief scene between our protagonist and a cigarette girl truly make this piece. 
While Mercer is certainly no Sam Spade, You Have Killed Me tells quite a compelling story primarily through the narration and dialog, which, for me, was the book's driving force. What has it taught me about my own aspirations as a comic book creator? Seek out inspiration, then turn it on its head and create something brand new, whether in the style of artwork or the quality of the writing. Even if it's simple dialog, make it your own.
Overall, Rich and Jones did a swell job capturing the noir spirit in You Have Killed Me. It is a story that'd been told time and again in films from directors like Billy Wilder and in modern day crime thrillers; it's the moments of witty dialog reminiscent of Walter Neff in Double Indemnity that add some newfound flavor to spice up the genre for both nostalgic and modern fans of noir.