As an lecturer and editor as well as the writer of works such as The Lone and Level Sands, A. David Lewis is an erudite and insightful presence in the comics world. We spoke to him about collaboration, criticism and the links between religion, myth, and comics,
A. David Lewis is contributing to the Broken Frontier Anthology, created to celebrate the magic of creator-owned comics. Check our Kickstarter campaign and please share it with your friends on social media using #BFanthology. You can find 'A. Dave' on Twitter @adlewis.
I first met the man I was introduced to as "A. Dave" several years ago at Wizard World Chicago – back when that con was still a competitor with Hollywood's current media darling of choice, the San Diego Comic-Con.
And while we didn't stay in touch over the years like we probably should have, I've kept an eye on the man's career as he grew into a respected critic and comic book writer in his own right.
With innovative works under his belt, such as The Lone and Level Sands and Some New Kind of Slaughter, both published by Archaia, Lewis has evolved into a creator unafraid to ask the really hard questions, delving into the mysteries that haunt us all every day: life, love, death, and spirituality. His writing features a refreshing, balanced blend of substance and spectacle, marked by startling insights into the human condition.
Broken Frontier has paired up Lewis with critically acclaimed artist Noel Tuazon (Tumor, The Broadcast) for our anthology. Their story marks something of a departure from the norm for both creators, as they delve into the history of a lost public-domain Muslim superhero – Kismet: Man of Fate!
Take it away "A. Dave"! Until the next time we have a chance to raise a pint or two…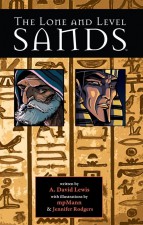 You've received a lot of popular and critical acclaim for works such as The Lone and Level Sands and Some New Kind of Slaughter, but you're also very well respected for your thoughts on the relationship between religion and comics. Could you refresh our readers on your background and why the theme of religion and comics continues to fascinate you?
A. DAVID LEWIS: So, formally, I have a Master's degree in English Literature and a Doctoral degree in Religious Studies. I serve on a steering committee for a group with the American Academy of Religion and on the executive board of the new Comics Studies Society. And, sigh, I'm the co-editor of Graven Images: Religion in Comic Books and Graphic Novels and a founding member of the Sacred and Sequential religion & comics scholars' organization.
But, you know, I just made myself nauseous writing all that. It's not about pedigree or publications or anything, because what attracts me to the intersection of comics and religion can really be seen or experienced by anyone. I grew up relatively secular, after all, and was positively agnostic for a while, even as I was still thrilling to comics.
Regardless of the genre, comics instill a sense of wonder through the medium itself; they compel the reader to animate the inanimate, to hear the unspoken, and to imagine… well… anything. In my youth, that was simply entertaining and grand. As I age, I find it, more and more, to be as close to a spiritual experience as one is likely to have. Comics, in short, are transcendent.
Superheroes as myth has been a concept bandied about in the medium for years. What are your thoughts on this idea: tired theory on its last legs or a simple truth we should all get used to? How does the idea of superheroes as our new mythology change in light of their current high profile in popular culture?
I agree that superheroes, in the words of Richard Reynolds, are our modern mythology. The problem is what exactly that means. "Myth" is a really flexible, really imprecise word. So, rather than being on its last legs, I think we have to work to define what we mean by myth a bit more.
The current ascension of the superhero in Hollywood is a welcome one, but we'd be rather short-sighted not to realize that it's temporary (or, more accurately, cyclical – to quote Battlestar Galactica: "This has all happened before, and this will all happen again"). Superheroes will fall out of cinematic favor eventually; how do we regard them in the meantime, though? Less mythic somehow? Nah, just less immediately profitable, that's all.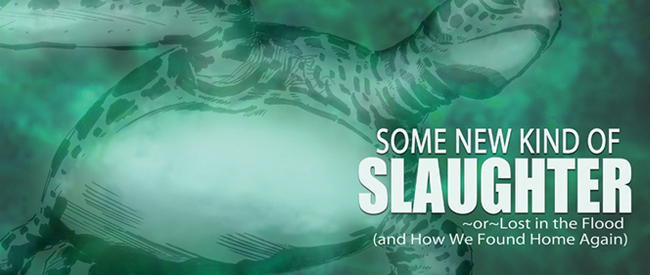 You're very well respected in the field of comics criticism. Is serious journalism lacking in the medium? How does comics' invasion of the mainstream in recent years change the tone or thrust of comics journalism?
There is genuine journalism on comics being done by some extraordinary individuals and sites (Broken Frontier among them), and then there's comics journalism being done by masters such as Joe Sacco. So, again, precise terms matter.
If we're talking about the former – about news reporting on comics – the real problem isn't "serious journalism," since I very much feel it's out there. The problem is all the other poor journalism mucking it up, obscuring our view of it.
A big problem, I feel, is when reputable mainstream news organizations – for instance, the Associated Press or The New York Times – do puff pieces on the comics industry and comics creators. It's as though they don't need to bring the principles of their own profession to analysis of comics; they still roll out the tired, "Biff! Pow!" headlines or "panel" and "frame" puns. If anything, it's these 'serious' journalistic sources that are permitting the muck to propagate.
(Watch now if I ever get asked to do an interview with one of them again…)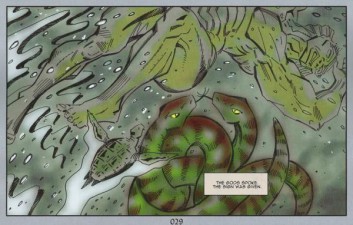 You're paired up with Noel Tuazon (The Broadcast, Tumor) for the anthology. How do you think your creative voices will mesh together?
You know, for the longest time, I didn't think they did, honestly. I mean, I read Elk's Run – the series that Noel did with Joshua Hale Fialkov, colorist Scott Keating, and editor Jason Rodriguez – and I thought it was fabulous…yet so alien to me.
I was doing my own short-form stuff at the time, collaborating with people like Jason Copland (POP) and J.K. Woodward (Fallen Angel, Star Trek/Doctor Who) on my Mortal Coils series. I admired Noel and the whole Elk's Run team, but I thought our stuff was worlds apart.
Then, around the time he and Josh did Tumor, it clicked for me: I finally saw how the way my writing was progressing – I'm not quite conceited enough to say "evolving" – and the way Noel was approaching his art could work together.
Although we came to work on Jason's Colonial Comics just recently, it hasn't been until this anthology that things lined up where I had a fully realized storyline to bring to Noel.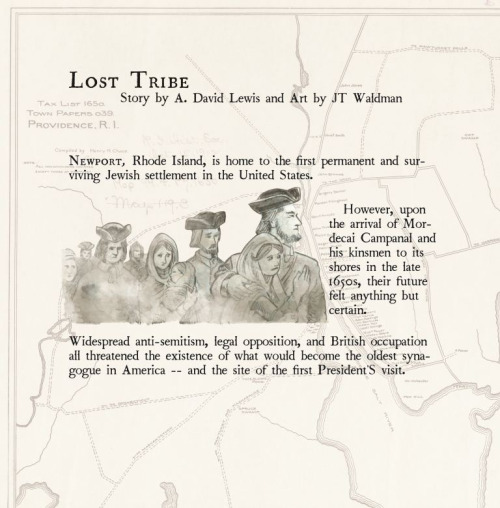 I'm really excited that we finally have this chance to work together… and that I've been able to take my blinders off, figuratively, over the past several years. His stuff is so rich and evocative, it's going to be awesome.
Could you give us the general thrust of your story for the anthology? What attracted you to an anthology project?
Oh, anthologies are part of my writer's DNA! Before comics, even, I was writing all sorts of short stories. It's not that they were necessarily good, but they at least knew to employ an economy of words. I never wanted my stories to overstay their welcome, and I always grew bored of writers who droned on and on – who had a great 20-page story spread across a 200-page novel. (This was before the Brian Michael Bendis revolution of the "decompressed" comics storyline, mind you.)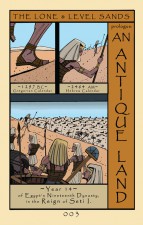 So, I got into comics by doing short pieces: for some indie companies, for some charity anthologies, and then for my own self-published series. It wasn't until The Lone and Level Sands, really, that I felt I had both the confidence and the chops to deliver a long-form graphic novel. (And, even then, mpMann and I tested out the waters with an eight-page prologue as we ironed out our work styles.)
Here, with this anthology, it's like I'm coming back to that early Lone and Level Sands experimental period. Noel and I are getting to do our initial exploration with a character that's been left in the public domain and forgotten since 1944 – a Muslim character, no less!
We'll be delivering a stand-alone story for the anthology's backers and readers, of course, but this could, once again, be the beginning of a much larger project for us.