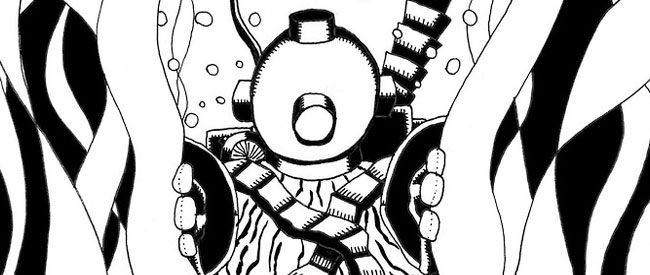 An original, well-made graphic novel that is mythological in both scope and concept, and nearly flawless in execution.
Book of Da is a Kickstarter-funded graphic novel from the writer/artist team of Mike McCubbins and Matt Bryan. With Bryan's black-and-white art at its center, this sci-fi-flavored fantasy comic focuses on an enigmatic deep-sea explorer and the religious following that has formed around him.
Known only as "the diver," this explorer was the first to seek out, and defy, the titular entity Da, a half-squid, half-pyramid being in control of the collective emotions of all sea life. Assisted by a great race of whales known as the Baleen, the diver sets out for "a place beyond the kelp, where the sea is very deep." If the dying Baleen he meets along the way is to be believed, it is here that our main character may be able to find answers. Why do the creatures of the sea share the feelings of Da, the "squid with many faces?" And why has the diver's refusal to obey Da upset the balance of the entire sea?
The diver's journey is told largely in monochromatic, storyboard-like silence, and the brief conversation with this near-death whale is the only time lettering is used in the main narrative. While this relative scarcity of dialogue may be a problem for some other comics, with Book of Da it works more effectively than a dialogue-heavy story ever could have. Instead, the story of the diver's progress through the ocean and his encounter with Da is driven solely by Bryan's artwork. On the surface world, the Reverend, a fedora-wearing, amphibious religious leader who serves as our narrator, tells his congregation (and us) all about the Diver's encounter with Da, recounting the major plot points as they arrive.
The stark black and white art and hand lettering lends a pleasantly handmade feel to this book. Bryan's surrealist style and darkly elegant, at times Lovecraftian aesthetic gives this book a unique flair that permeates virtually every page. While it may be a little too odd or slow for some, what McCubbins and Bryan have managed to create is truly an all-around beautiful comic.
Mike McCubbins (W), Matt Bryan (A) Self-published, $20. Available here.