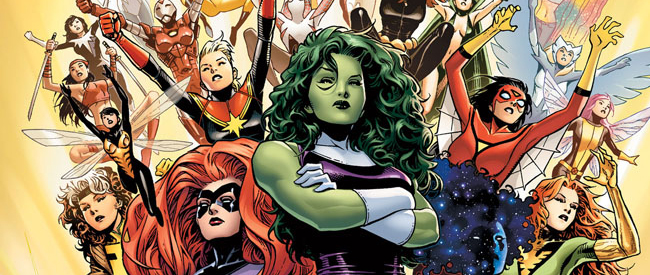 When reading Marguerite Bennett's work, you're immediately struck by the depth of characterization and the masterful pacing of her stories, and that's quickly made her a force to be reckoned with.
Marguerite Bennett is contributing to the Broken Frontier Anthology, created to celebrate the magic of creator-owned comics. Check our Kickstarter campaign and please share it with your friends on social media using #BFanthology. You can find Marguerite on Twitter @EvilMarguerite.
Marguerite Bennett's star sure is on the rise, as she's landing writing gigs at both major mainstream publishers while maintaining a furious schedule of creator-owned projects and collaborations. Most recently, Marvel Comics announced she'd be teaming up on A-Force a heroine-centric book with G. Willow Wilson.
Set during the publisher's massive new crossover that revisits the Secret Wars concept, A-Force may just be the most accessible, accurate representation of the all-female superhero team to hit the shelves in years – if not ever.
With such a diverse output and an ever-increasing profile in the fickle world of funny books, it's no wonder we tapped Bennett as one of the contributors to Broken Frontier's first original anthology.
You're no stranger to collaboration, teaming up with the likes of G. Willow Wilson, Kieron Gillen, and Arash Amel. What are the benefits of working with another writer? What is your collaborative approach or role in these situations?
I've been unspeakably lucky to work with the talented writers I have. Having someone else working alongside you allows you to create an even deeper image of your world – allows you to explore elements you had not considered, perspectives you had not explored. I made Batman the unwitting villain of my first published comic, because Scott Snyder's run had clarified how deeply intertwined Batman's sense of justice was with his sense of obsession.
If you're thinking to collaborate on your own projects, I might suggest knowing up front what is expected of each of you. Talk about your strengths, your insecurities, your vision for the project, what aspect you are most excited about, least excited about, what your own flaws are, and what you're hoping to do with your collaborator.
Be specific. Don't say "Well, I like writing dialogue"; think. Are you good at writing funny dialogue? Are you good at quick exposition? Do you prefer prose and captions? Fight scene one-liners? Terrifying threats? Banter, flirtation, sound effects, comic book science, sweeping speeches, eerie non-sequiturs?
What are you not good at? I'm dreadful at fight scenes – I defer almost entirely to my collaborators beyond, "Hmm, I was thinking this move might be cool, and this beat might showcase her speed, or we could show off the grandeur of their environment if we did this, but I'm not sure how that would look on the page." Work with each other. Everyone wants this project to succeed. Communicate and be supportive.
Your work on books such as Swords of Sorrows and A-Force shine a spotlight on both female comics characters and female creators. How have gender roles changed in the medium, both on and off the page? How much more growth need to happen in this area?
You're not going to be happy with me – I can't give a definitive answer. I only know what I've experienced. "How have gender roles changed in the medium, both on and off the page? How much more growth need to happen in this area?" could be the subject of a book, a class, a social movement, and – ideally – my entire life's work. I'm not going to be able to answer it in a paragraph.
I will say this: the awareness of the female market has not necessarily come with the recognition that women are people.
Too often I see "Oh, stick some romance in it for the ladies, stick in a woman who's an awesome fighter in it for the girl readers, it's true that neither of them has any personality or clear arc other than to help the lead realize his goals, but look!! We have women in it!!" You can't phone in cultural change.
It's exceptionally difficult to quantify that growth; life influences art which influences life which influences art and on and on. We see stories that treat women as prizes, as window dressing, as kick-ass second-best sidekicks and romantic interests, and women grow up believing that is what they're good for. We've engineered a society that insists that romance and traditional femininity are all women are good for, and then promptly shames them for it. We have EONS to go.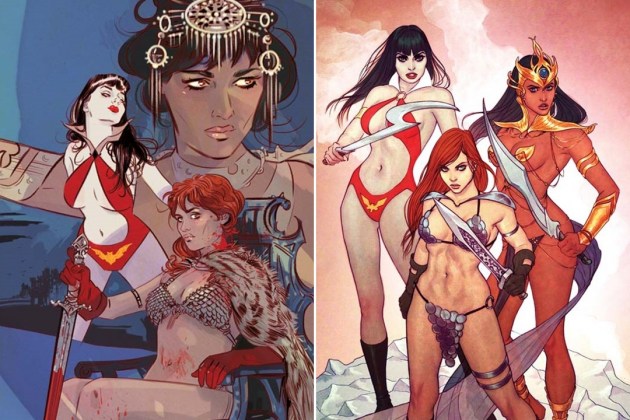 Do gender roles figure prominently in your writing or do you tend to focus more on the story at hand?
It's as impossible for me to write without an awareness of gender roles, as it would be impossible for me to write without an awareness of my senses. Gender roles influence everything that I say or do, no matter how insignificant. Every interaction is charged with gendered expectation. The same clerks are far kinder when I wear makeup; retail workers are more patient when I am well dressed.
I am expected to be patient and deferential. I am expected to act surprised, humbled, and flattered when being told I did good work. Men grow angry when I do not smile on command; they call me slurs when I don't respond to their flirtations on the street and well-meaning friends ask if I wasn't maybe wearing too low a top and should have prepared for that reaction, hmmm?
Even my answer is going to be accused of sounding bitchy or being hypersensitive. The topic can't even be discussed without already being steeped in expectation. Everyone else has made my gender the single most importance thing about me, and there's only so long before you break under that yoke.
I think only once have I ever written a story where gender roles were the focus, but it permeates my entire life and the entire life of every person on this planet, whether or not they choose to acknowledge it.
You seem to move pretty easily between mainstream comics, with your work for DC and Marvel, and your projects for smaller publishers such as BOOM!/Archaia. Do you have a preference? Is there a difference in the way you write for each market?
I think that diversity allows me not to go crazy. I would burn out if I worked on multiple projects identical in tone or theme. My Marvel work is a bit too dark and my DC work is a bit too cheerful. My BOOM! work is bizarre and fanciful and my Archaia work is hard realism.
Solid character development is a hallmark of your comics stories. Generally speaking, what comes first for you, the character or the plot? What major themes do you seem to return to in your writing?
That is very kind of you to say, thank you! For me, character must come first. I honestly even just walk around the house imagining being that character, how they might approach responsibility, what they would eat and why, how they would handle stressors of the day in light of their own backstories and concerns and priorities – sometimes even lying in bed at night, worrying about what I imagine they would worry about.
After I feel like I know what makes them tick – what makes them proud, anxious, uncomfortable, tender, grateful, unhappy – I can start constructing a story that will provoke them.
As far as themes, I vacillate. Body horror isn't a theme, but it is a state of being that appears in my work over and over. Obsession with another person, whether or not they think of you the same. The mistreatment and marginalization of other human beings.
What can you tell us about your story for the anthology? What attracts you to the anthology format?
Anthologies allow me to be free and weird and to tell stories no major label would touch. My first anthology experience was with Rachel Deering's In the Dark through IDW – a story about a pair of murderous Victorian lesbian monsters taking revenge.
It also allows me to pull in brilliant new artists. I can't wait for you to see Varga Tomi, who's been a friend of mine for a few years and who I can finally collaborate with publicly. His colors are just divine. I can't wait for y'all to see.