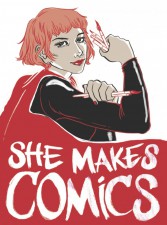 The Sequart Research & Literacy Organisation is still a few thousand dollars short from its Kickstarter campaign target with only five days to go.
She Makes Comics will highlight "the untold history of women in comic books", by delivering a documentary film featuring female creators and comic industry executives. It will record the history of these women; the vital contribution they have made and continue to make to the medium.
The project already boasts interviews from women such as the underground cartoonist Joyce Farmer – the co-creator of Tits & Clits Comix; Karen Berger – Executive Editor at Vertigo and Miriam Katin – the creator of Letting it Go. A host of rewards are available for backers, from DVD copies of the documentary and your name in the credits, to receiving artwork, to even being named 'executive producer'.
Kickstarter inducements aside, there is really only one reason to back this project, and that it is because it is sorely needed. In another week where the female demographic is being cited as crucial for the continuation of the medium, this project could not be more timely.
As a historian, I can attest that the true feminine contribution to society, and certainly to comics, is hard to know because our efforts are all too easy to hide or dismiss. The vital contribution of a mother encouraging her child to read by using She-Hulk is not catalogued, for instance. Therefore, in an industry where women's voices are still struggling to be heard, the real and important history of women making and editing comics must be a cause of celebration. We have to shout out about this and make people realise that women have ALWAYS BEEN IN COMICS.
So time to get your wallets out. Let's back this campaign and send a signal that women are here and are here to stay