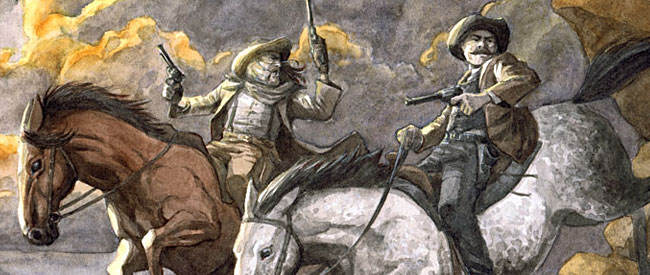 In 2009, Dave Wachter and James Andrew Clark launched their webcomic, The Guns of Shadow Valley, a mystical western. In subsequent years, the series garnered both an Eisner and Harvey nomination.
After a brief hiatus from the comic in 2011, the creators are back working on their series and have launched a Kickstarter for the complete book. With just a little under a week left in their campaign, we talked to the pair on the crowdfunding project and the series itself, starting with how the story came about four years ago…
JAMES ANDREW CLARK: We had just finished our 5-issue series Scar Tissue and were discussing what to do next, when Dave presented the idea of super-powered gunslingers in the old west. I really liked the sound of it and together we starting hashing out the particulars of theme, plot and characters until The Guns of Shadow Valley was born.  Our original intention was to create a standard comic book series like we'd done previously. We shopped it around to publishers, but never got a deal that was right for us.
DAVE WACHTER: We were disappointed with the kind of deal the publishers were offering and not sure how to proceed. My friend Bryan Deemer, from Comic Geek Speak, had suggested we try it as webcomic. It was not as if we were going to make any money through publishing, and this would be a low cost way of getting the story out, and hopefully build our own audience on our own terms. Jim agreed that it was a good idea and we went from there.
What appeals to you about the mix of genres you have in this book? There aren't a lot of supernatural westerns out there.
 
JIM: There have been a few, I think. But I don't know of many westerns that start with super-hero lore and mash it up with sci-fi, steampunk, horror and mysticism. We wanted to create a world where anything goes, but within a logical construct. This gives us a lot of freedom to do all sorts of cool things with the story and have a lot of fun with it. But it also provides a challenge to keep it gritty and realistic while all this other-worldly stuff is going on.
DAVE: Two of my favorite genres growing up were the Western and Superhero. When I started to think of them, they just seemed to fit together naturally. When you think about American legends and folklore, John Henry, Paul Bunyan, many of the figures are super heroic. Why is the gunslinger so fast? Because he's like the Flash. It turned out to be two great tastes that taste great together. From there, it acts as a springboard from which we can invent characters and stories.

How does the co-scripting work between you two? Do you both plot while one dialogues? Is it a constant mix?
 
JIM: We have meetings where we discuss the story and major plot points. Then we each take turns with the writing. We often alternate duties from chapter to chapter; one of us will write the outline, then the other will write the first script draft. Notes and revisions follow over email. Once we have a script that we both agree on, Dave gets to work on the art.
DAVE: For the art, I do the layouts, pencils and inks. Often there's still work to be done in the beats and pacing of any particular page or scene. Then I do the colors and send the pages off to Tom Mauer for letters.
The webcomic is basically at its halfway point. A lot of story has been told so far, but there still seems to be so much more left to tell. Even setting aside the main story itself, I'm anxious just to see more interaction between our heroes now that they're finally together. Was there any temptation to see how long you could make the story go?
 
JIM: There is definitely a beginning, middle and end. But we also have ideas for how sequels would shake out, so there's potential to keep things going if we wanted.
DAVE: There was a lot to do to get our characters all together, now that they are, the ball really starts rolling. A lot is going to happen in the second half.
Along the same lines, did you always have this endpoint in mind when you first created the series? Is the end we're going to get something that was planned all along or something that came up as the story was being told?
JIM: We knew where the story was going when we started. There were a few things we came up with as we were writing it, but essentially we knew what's waiting for us at the end of the tunnel.

In the first chapter, Franklin acted as the focal point of the story. Since then the book has spread the focus equally among the cast. Do you see this as being one person's story (Franklin or not) or is about the ensemble?
 
JIM: It's an ensemble story, with everyone playing a particular part. But I like to think of Frank being at the heart of it.
DAVE: Many of these characters have just met, some have known each other a while. As the story progresses we'll get to see how their relationships with each other grow. Frank was the first character created. And while he is the main focus, you can really choose your favorite character and follow his or her path through the story.
What did you learn about pacing from doing this as a webcomic? Both in terms of how you pace each page so that one day's story can satisfactory in itself, and how you pace out the entirety of your story. Were there any changes you had to make initially?
 
JIM: Great question, because I think writing a serialized webcomic requires some effort as to how the story unfolds. Each page has to be a somewhat self-contained scene or be strong on its own. It has to advance the story enough on its own to maintain the rhythm. I think it puts some interesting challenges on us creatively, to write for something that the reader absorbs in short little bursts. It has to capture and hold their attention a bit at a time, but it also has to work when read all at once. Dialog pacing becomes more important; if a conversation starts on one page, there's potential for it to be awkward to carry over to the next page a week later.
DAVE: Ours is different from many other webcomics, because it's essentially a graphic novel, produced a page at a time online. So it has to work from page to page, and make sense as a whole. But it also allows for new kinds of freedom. We are not bound to the 22-page chapter of a regular comic book series, if a chapter needs to be 40 pages, it can be. If it needs to be 10 pages, it can be that too, if that's what the story needs.
Turning to the Kickstarter, what value does the PDF digital copy add to the reader that is appealing for a work that is already published as a webcomic?
JIM: It's kind of nice to have it all together in one easy-to-read format, especially for viewing offline and on portable devices.
The goal is to eventually have this series released by a publisher. What was the appeal of initially going to Kickstarter, as opposed to shopping the comic to a publisher right away?
 
JIM: We initially shopped it around to publishers before we decided to make it a webcomic. There was some interest from a couple places, but never any deals that we felt comfortable with. We were either asked to make creative changes, or give up a lot of the rights, or both. It seemed better for us to bide our time until the right deal came along that made sense for everyone involved.
DAVE: In purely practical terms, no publisher would offer any amount up front that would allow me to finish the art. But mostly, I like the idea that fans of the work have a major hand in getting it to become reality. They are the ones who first encouraged us to do a Kickstarter.
It's been over a year since the last installment went up on the website. What caused the delay and how is this Kickstarter getting things back on track?
DAVE: While we were doing the webcomic, I became a full time comic book artist. While it has been awesome working on projects for places like IDW and Dark Horse, it became harder and harder to both meet the demanding deadlines of those paying gigs and continue to produce pages for the webcomic.
As a result, new pages slowed to a trickle and finally dried up when we had to announce that the comic was going on hiatus. As I was planning out a few upcoming jobs, I saw that after I finished those gigs, I had the opportunity to take some time off and do the Kickstarter. People had been suggesting it to us for a while.
When I mentioned the idea to Jim at last year's San Diego Comic Con, his face lit up. He had a couple of successful small campaigns already, so he was on board immediately. With the successful funding of this Kickstarter, I will be able to work full time finishing the artwork for the rest of the story. I've already informed my editors that I'm not available for any new work for a while.

When can we expect the next installment?
 
DAVE: Give me a couple weeks after the end of the Kickstarter, and we should have some new pages going up. Running the Kickstarter turned out to be a full time job, but I'm really anxious to get back to work on the pages and get the webcomic back onto a regular release schedule.
 Anything else you can tease about the second half of this journey?
DAVE: We've got two large forces heading towards a convergence and there will be plenty of conflict when that happens, not to mention other criss-crossing plot threads. Answers to some mysteries will be revealed, while new mysteries will present themselves.
You'll definitely get a closer look at our characters, what brought them to this point, and you'll see them in action flexing their muscles and slingin' some lead. And the readers will journey along with them into the heart of the mysterious Shadow Valley.
If you want to help the creators and get a book for yourself, along with some nice stretch goal extras, visit The Guns of Shadow Valley Kickstarter page and back them.