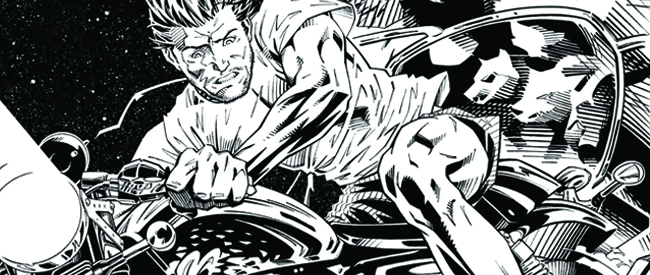 While it's not altogether uncommon for someone's birthday plans to fall short of their expectations, creators Colin Westerfield and Mac Cooper have decided to push the boundaries on just how disastrous this day can go in their new comic, White Knuckle Birthday.
And while it might mean a day from hell for their main character, Rob Powell, for the readers it makes for one harrowing adventure chock-full of action, mystery and romance.
Colin and Mac put out the first issue of White Knuckle Birthday back in 2012 (debuting at Rose City Comic Con). It sold very well, but the 20-page introduction to the story only served to whet readers' appetite. The creators soon had a dedicated fan base clamoring for more, but the demands of life and busy schedules made it difficult to get to the subsequent issues.
That's why this month they've turned to Kickstarter to help to fund the entire 75+ page graphic novel. In their interview with Broken Frontier, Colin and Mac tell us more about their campaign, share some preliminary artwork from the book, and let us in on what the future holds for White Knuckle Birthday.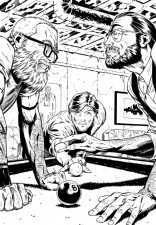 Where did the idea for White Knuckle Birthday come from and how did you two start collaborating on it?
Colin: I've always loved the intensity of the phrase, "white knuckle". A few years back, I realized "White Knuckle ___" would make a great comic book title, but I needed the third word. I started riffing on gritty words, but everything sounded ridiculous. Like, "White Knuckle Hitman" or something. So, I went in the direction of funny and discovered "Birthday". It cracked me up and I knew I had something.
When I moved to Portland, I experienced the gnarliest six-month stretch of my life and thought, "This'd be a good time to plumb some dark subject matter." Watching Deadwood and reading Cormac McCarthy inspired me to write a crime comic where the characters had to make really tough choices and live with harsh consequences.
So, I fleshed out the story arc, wrote the first issue, and posted a Craigslist ad. Mac sent me a sequential art sample he'd drawn/inked and it blew my mind. He was barely out of art school and I thought, "I need to work with this guy right now, 'cause I won't be able to afford to for very long." We met at a coffee shop, talked for about three hours and we were in business.
I remember picking up my copy of the first issue at Rose City Comic Con two years ago. It looked really good and there was a lot of buzz going around the show about it. If you don't mind me asking, what kept you from being able to build on that momentum and what have you two been up to since then?
Colin: Thank you, Tyler, that's an amazing compliment! We had such an awesome experience at the fist Rose City! A month before, I'd picked up a box of 250 comics (our first print run) on a Monday and got a call three days later saying I got accepted to grad school. I'd been waiting tables for 12 years and wanted out in a really big way. So, I had my creative dream taking shape on the one hand and a ticket to the life I wanted in the other. I decided to put my writing on hold and pursue a Doctorate of Occupational Therapy. So, I've spent the last two years being a healthcare nerd and waiting for the moment I could start writing again.
Mac, your artwork on this book is really sharp. Who were some of your artist influences, in comics or otherwise?
Mac: I've always been drawn to high contrast levels, creative and dramatic composition, and stylized realism. Outside of graphic novels, Rembrandt and Schiele definitely come to mind, though for different reasons.
Within comics, though, it's the greats – Frank Miller, Keu Cha, Jim Lee, Scott Williams, David Finch and Joe Madureira, to name a few. They're also all exceptionally good at building believable worlds around their characters that you can really immerse yourself in, which is another area I'm into and always think about when I draw/design/create.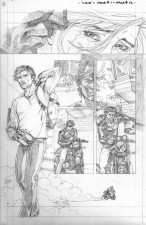 Now that you're back to work on WKB, why did you decide to do it all at once in a complete graphic novel rather than continue in shorter issues?
Colin: Our lives got incredibly busy after we launched the project in 2012. As I charged through grad school, I started eyeing this brief lull that arrived this Fall, when I knew I could squeeze in some writing. I figured, "We need to go all in and just finish this project before a few more years get in the way". I'm in my final 10 months of grad school, then I jump into a full-time career, so it's time to pull the trigger.
Mac, how do you feel your style or approach has changed in your time working on WKB?
Mac: I think my style has definitely solidified more. The effect of my influences is harder to see around a line that I hope is more my own, and I want to keep pushing in that direction. I'm also a detail-oriented perfectionist, so it's easy to get lost in the minutiae or hate what I've finished as soon as I'm done, but I'm feeling confident about the work I'm putting out now and the balance of detail and flow and speed that it has. I know the WKB world very well now too, so it's a lot easier to imagine these characters in it. Gotta keep pushing, though…
The events of the story takes place during the birthday of your main character (Rob Powell), but a lot of the trouble he runs into on that day is the result of things set into motion much earlier. What can you tell us about Rob's past and what he has to do to dig himself out of these situations?
Colin: Rob's been operating from a dangerously comfortable place in life for years. He makes decent money as a bartender and solves most of life's problems with his handsome facial structure and sharp wit. But he wants more. And he's stuck.
He loves motorcycles and dreams of opening his own shop. He discovers a business opportunity that involves the same shortcuts that got him stuck in the first place. So, he makes the choice not to grow or transcend the people and behaviors that have been holding him back all along.
From that one choice, his entire world explodes. And a lot of people get hurt or die. To dig himself out, he needs to turn inward and face his shadow. He also needs to turn outward with big guns and huge friends that punch really hard.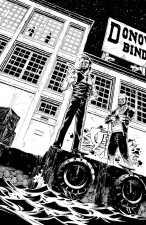 What made you decide to go with Kickstarter to help you finish this book? What are your expectations for the campaign?
Colin: Kickstarter is the linchpin that holds this project together. I'm on a grad school budget, so I'd have to wait another year before I could start saving to pay Mac and Jeff (the letterer) and cover printing/shipping costs. We'd be several years out before anything could get going. Kickstarter allows us to fast-track the process and take advantage of this finite moment.
Our main objective with Kickstarter is to reach our funding goal. That'd give us the resources to print/ship the book and pay Mac and Jeff for their hard work. At the same time, we love this project and we know there's an audience out there who enjoys creator-driven, independent art/comics.
We're working really hard to make something lasting and special for everyone who supports our project. Kickstarter offers the visibility and online resources to reach a wider potential audience than we could find on our own.
To find out more about White Knuckle Birthday, visit the creators' website or go directly to their Kickstarter page and check out some of the great rewards before the end of the campaign on November 16th.