UK creators Lyndon White, Paul Clark-Forse, and Tyler Wilson craft a unique, fully-realized fantasy adventure infused with teen angst, gritty atmosphere, and thoughtful world-building.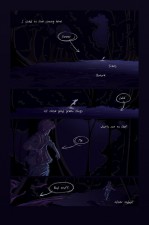 It takes perseverance, fortitude, and no little animal cunning to run a successful Kickstarter campaign and self-publish your own comic. If you're the creative lads behind A Tale of Shadows: Something for Nothing, you're also imbued with a healthy graphic storytelling smarts and mad world-building skills.
On the surface at least, A Tale of Shadows is another in a seemingly interminable line of secondary-world fantasy epics in which a young male protagonist embarks on a quest of self-discovery, while saving the realm from catastrophic danger. However, if you dig a little deeper, you discover a multilayered tale addressing themes that resonate just as powerfully in this world.
Although lacking the subtlety and breadth of scope of a true allegorical work of fiction, there are familiar ideas and concepts that stand in for the ones we encounter in the here-and-now. Institutionalized religions, cultural intolerance, teen angst, and rampant classism all plague the young protagonist Felix as he struggles to navigate a warren of violence, cruelty, and intrigue.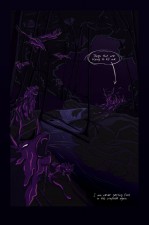 A loner who calls the streets his home, Felix quickly finds himself entangled in a simmering war of ideas that threatens to explode into a conflagration of widespread violence between zealous religious fanatics (Men of the Way) and revolutionary champions of science (the Sciencestitions). At the centre of the conflict looms a forbidden Machine that, when activated, could endanger the entire town of Wavefront.
Don't worry. It's not as complicated as it sounds – or as dark and dreary. The creative team balances out the book's darker moments with scenes of wonder and even joy. Illustrators White and Wilson work quite well together, using a combination of a finely tuned yet versatile colour palette and rough-hewn, kinetic pacing that reinforces the highly imaginative world-building of A Tale of Shadows with its own unique visual tone.
If there's one caveat with my assessment of the illustrations, it's the use of white in some of the line work in this first issue. At times it works remarkably well; at others it sometimes allows facial expressions to fade into the background.
According to the handy-dandy video on the project's Kickstarter page, White and Wilson brought in writer Paul Clark-Forse to smooth out the rough edges of their core concept and add some of his own ideas to the storytelling mix. It was a very smart, very humble move to recruit the scribe to their creative team because he delivers on both counts.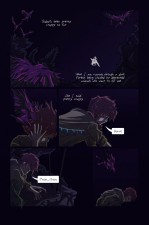 There is a sense of refinement found throughout this first issue that refrains from becoming cloying or confining. Rather, through the deft use of character interaction and crisp, organic dialogue, Clark-Forse lends the world of A Tale of Shadows some definition and solidity.
All successful high fantasy stories feature a unique, well-realized world at their cores – places readers can believe in and escape to with relish. Thanks to a winning combination of lush illustration and smart storytelling, A Tale of Shadows has just that.
You can support this book's push towards its stretch goals by checking out the Kickstarter page here.
Paul Clark-Forse (W), Lyndon White & Tyler Wilson (A)