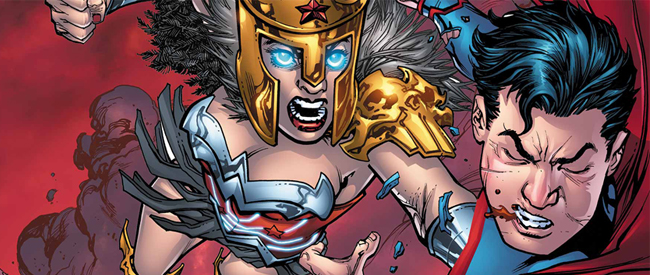 Since his debut in the 1990s, Tom Raney has steadily built a career as one of the premiere go-to artists for publishers such as DC, Marvel, and Valiant. Whether you're a fan, critic, or editor, if you have a particular yearning for slick, dynamic superhero pages, then Raney's your guy.
Tom Raney is contributing to the Broken Frontier Anthology, created to celebrate the magic of creator-owned comics. Check our Kickstarter campaign and please share it with your friends on social media using #BFanthology. You can find Tom on Twitter @tomraney_art.
With celebrated runs on Stormwatch (with Warren Ellis), The Outsiders (with Judd Winick), and Mutant X (with Howard Mackie), Raney has worked with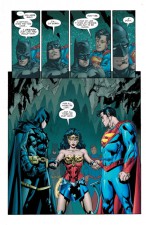 some of the most respected writers in comics.
Over the past couple of years, the fan-favourite artist has provided interior art and covers for a wide range of books, including Batman/Superman for DC Comics, The Incredible Hulk for Marvel, and Q2: The Return of Quantum and Woody for Valiant Comics.
Teamed up once again with frequent collaborator Greg Pak (Batman/Superman, The Incredible Hulk) for Broken Frontier's original comics anthology, Raney spoke to us about his current projects, the allure of creator-owned work, and the expansion of graphic storytelling into new and exciting directions.
Tom, please bring us up to speed on your career to date. How did you break into the comics biz? What are you working on, now?
TOM RANEY: Let's see… I'd just graduated from the Kubert School and began to hit the bricks. Back then you could still set up a meeting with an editor to show your portfolio. So I put together a bunch of pages and started calling around. Fortunately, I was close to Manhattan, so it wasn't too much trouble going in to meet editors.
I picked up some work from DC that thankfully was never printed, and did a little bit of indie work that also thankfully also went unprinted. Got back to DC and did a little bit of work on Forgotten Realms, a Dungeons and Dragons book they were producing. Right after that I was offered work on that year's X-Men annual and it's been pretty steady since then.
Recently, I've been doing various jobs for DC: Future's End, Infinite Crisis [Fight for the Multiverse], Batman/Superman, and some covers – and a nice batch of covers over at Marvel as well.
I'm also putting together some creator-owned work, some by myself, some with others. This is one of those projects! Creator-owned work is new ground for me so I'm very excited!
You're primarily known for your mainstream work drawing dynamic superhero stories. What initially drew you to this genre of comics? What keeps you coming back for more?
I'm drawn to comics in general. "Superheroes" is a big bold genre that's a lot of fun to read, and to draw! For most of my career it's the genre that's dominated the shelves. So that's where the work has been. And I've loved it!
But my tastes are pretty broad. I'm thrilled with the way the medium has expanded to include so many different genres. I can't wait to try my hand at all of them.
When I lived in a rural town I really didn't have access to comics on a regular basis. There weren't any comic shops yet. So I read whatever I could get my hands on. I don't recall what my first comic was, but in the batch that I remember was Avengers, House of Secrets, and Archie.
I loved it all. My imagination was sparked right from the get-go. And I think it's that feeling of wonder that keeps me coming back. That feeling that you can do anything.
I'm still a big reader, I pick up a bit of everything. The broad range of style and genre is bigger today than any time I can recall… how could I not keep coming back?
There's been a recent trend of migration by top comic-book talent towards anthology projects. To what do you attribute this trend – especially considering anthologies have been a tough sell to publishers and creators, not to mention consumers, in the past?
You know, I've never gotten why it was a hard sell. When I was a teenager some of my favorite stuff was in Heavy Metal, 1984, and Epic Illustrated. And going back further, look at the Warren magazines.
It seems to me that anthologies provide a nice framework to work within, and to read. If you don't dig a story, move on to the next one. Certainly you can find something you'll enjoy!
I feel like there's more freedom to experiment, to try new things in an anthology. Also, there's something nice about getting a complete story all at once. There's a real skill in being able to condense a story down to 10 pages or so. Personally I'd love to see more of them!
For the Broken Frontier anthology, you've been paired up with Greg Pak. What do look forward to most about working with him on this story?
I worked with Greg on the Hulk. I'd already been reading his work and knew right off the bat I'd enjoy working with him. I was correct! Imagination is a key factor for me, and Greg's is wild! We've got a fun idea, so the thing I'm looking forward to the most is bring that to life!
Can you give us any hints as to what readers can expect from your story?
Action, a touch of the supernatural, and – most importantly – fun!
How do you plan on approaching your contribution? Will it differ from how you approach long-form or ongoing stories?
A shorter story gives me more of an opportunity to view it as a whole, so that should affect the storytelling a bit. You have to be a bit more direct in places compared to a longer format. But overall the job's the same.
What attracted you to this particular anthology project?
Honestly? Working with Greg! That's the top point. But I'm also very interested in more opportunities for creative voices to be heard. I see this kind of project as doing just that. And I'm very excited about seeing where this goes!