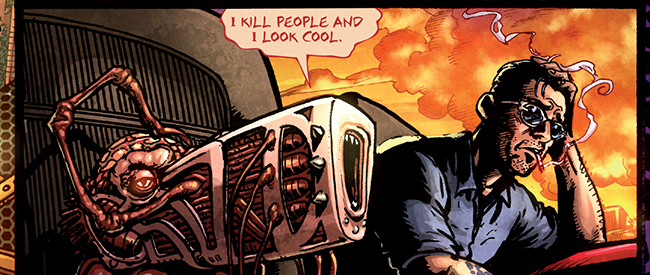 Adam Egypt Mortimer burst onto the comic scene, quite literally, with a punch to the face in the pages of Ballistic, his hyperactive sci-fi collaboration with Darick Robertson (available now in a collected edition from Black Mask Studios).
Adam Egypt Mortimer is contributing to the Broken Frontier Anthology, created to celebrate the magic of creator-owned comics. Check our Kickstarter campaign and please share it with your friends on social media using #BFanthology. You can find Adam on Twitter @adamegypt.
Even if you hadn't heard Mortimer's name before, you may have seen his work behind the camera, directing music videos for artists like Against Me! and Lunik, as well as short films.
Mortimer may bring a cinematic flair to the comic page, but he's also got a rich background in the medium and a feel for its particular advantages – so much so that Publishers Weekly is already hailing Ballistic as "a future classic."
Before you catch him in the pages of the Broken Frontier anthology, get to know the man behind the madness – and get a sneak peek at what you can expect when you contribute.
You've worked behind the camera for a number of music videos and short films, and in 2013 you entered the comic world with the acclaimed Ballistic. How did you decide that this story was suited to the comic page rather than the screen?
It's funny, I was trying to get into comics years and years ago, but it actually was somehow easier for me to break in to filmmaking than it was to break into comics, and I ran with that. I did write a wild psychedelic short comic that Arik Roper painted – that was years ago, for Meathaus.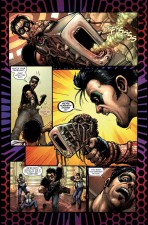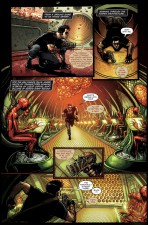 In the case of Ballistic, I went into it deliberately thinking about how to tell that story uniquely as a comic, and not as in the kind of "storyboard for a film pitch" style that a lot of folks take these days. This is why Ballistic is full of diagrams and crazy panel structures and pages that are inspired by the Family Circus or Chris Ware as much as it is inspired by Cronenberg or Lethal Weapon or Burroughs.
Darick and I wanted to use all the tools of comic books to create the feeling of being unrelentingly in a totally insane future. And because it is a comic, the form started to inform the content, and that's when we were able to push the story and the concepts into a direction that's been uniformly described as "batshit."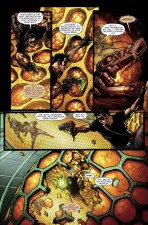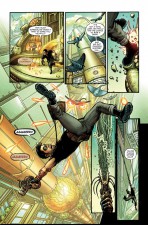 What drives you in your approach to making comics?
There is something that drives me insane-in-a-good-way about comics – the shelves in my living room full of comics are this colorful universe of inspiration, with highlights such as Charles Burns, Fletcher Hanks, Michael Kupperman, Marjane Satrapi, drugged-out maniacs from the 70s, action-packed adventures by Ellis and Morrison.
Looking at pages from Steranko's Nick Fury makes my brain go crazy. I love that brain-go-crazy fizzy pop art feeling I get from the comics I love – that feeling you get at the best parts of Comic-Con when you see a thousand screaming pieces of media all at once.
The film world to me is a little different than that fizzy pop crazy feeling, and so that is what I was chasing all the way through Ballistic. I hope to continue chasing that feeling on the next thing!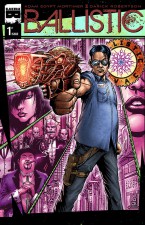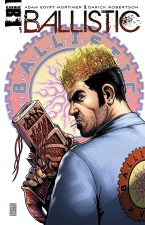 What can you tell us about your work for the Broken Frontier anthology?
Well first off, you guys hooked me up with Jeff McComsey, who is an utterly amazing artist and storyteller. I mean, what a great gift!  As soon as I saw he was willing to work with me I had to up my game.
I knew I wanted to do a story about death and dying, and to explore my understanding of and theories about the death experience. I described a simple initial concept to McComsey, and of course after one brief exchange he'd gotten me to make it much more interesting than it started.
So we're tackling death and we're doing it with cool sci-fi twists and scares, and it's going to be so rad for me to see this collaboration come together.
Grant Morrison called Ballistic his favorite comic of 2013, and you're now working with him as the director of his first feature film, Sinatoro. What can you tell us about how this collaboration got started?
It was so awesome that he liked Ballistic as much as he did – that was a nail-biter for me, sending off the first issue for him to check out after I've lived a life of reading his comics.
But I've known Grant for years and years. He's always been one of my favorite writers and I'm super lucky to have him and Kristan as close friends. We've been trying to do different projects together for a long time.
One of those projects has been Sinatoro, which just recently has come together as a comic through Black Mask, who published Ballistic and who are super radical maniacs. We'll keep pushing it up the hill – I can't say anything more than that just yet!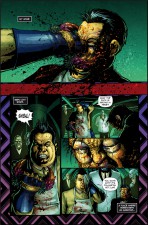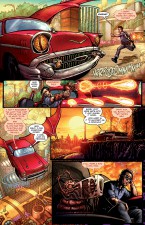 What other current and upcoming projects are on your schedule?
I'm just this month finishing post-production on my first feature, a horror film called Some Kind of Hate. It will be finished in April and will hopefully start screening in some festivals.
I'm producing a horror anthology called Holidays, which is letting me work with all these amazing directors. That will actually be completed in June, if all goes well. And I'm trying to put together my next film to direct right away.
All comic art by Darick Robertson
Some Kind of Hate teaser courtesy of Caliber Media via BloodyDisgusting