Clear your social calendars, save up your pennies, and get ready to celebrate two of the most eagerly anticipated anthology releases of 2016!
On Friday April 29th, at London's acclaimed Gosh! Comics, a whole host of comics craftspeople will be on hand for the European launch of the Broken Frontier Anthology and also the long-awaited debut of the Broken Frontier Small Press Yearbook 2016. The evening kicks off at 7pm and goes on until 9pm with plenty of opportunities for attendees to get their books signed by at least 14 creators involved with the two projects.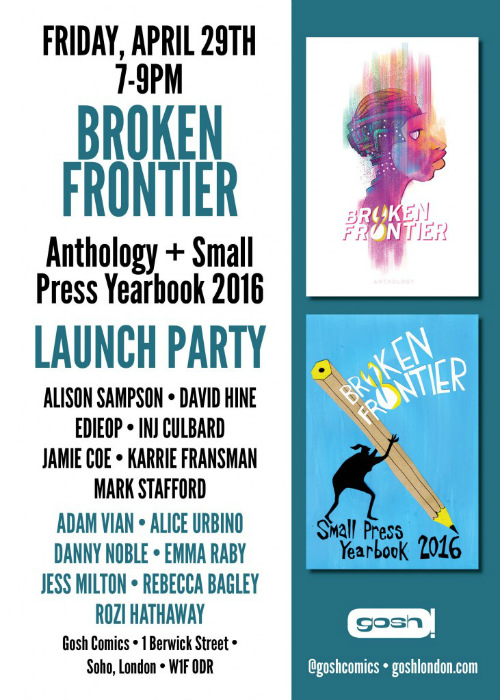 The Broken Frontier Anthology is a creator-owned hardcover collection of stories about breaking boundaries and exploring the great unknown by some of the most inventive talents in the medium. It's not at all hyperbolic to say that its crowdfunding campaign last year was possibly one of the most dramatic Kickstarters in comics history!
The book boasts the incredibly diverse styles of 50 creators from across the comics spectrum including Marguerite Bennett, Steve Orlando, Greg Pak, PJ Holden, Greg Pak, Carla Berrocal, Box Brown, Noah Van Sciver, Cullen Bunn, Toby Cypress and many more.
Attending the launch at Gosh! will be BF Anthology stars Alison Sampson, David Hine, EdieOP, I.N.J. Culbard, Jamie Coe, Karrie Fransman and Mark Stafford. Get a flavour of the anthology in the video clip below.
The Broken Frontier Small Press Yearbook 2016 is a showcase celebration of the work of BF Editor-in-Chief Andy Oliver's 2015 'Six UK Small Press Creators to Watch', as featured throughout last year in our 'Small Pressganged' column. Designed to promote the exceptional up-and-coming creative voices of Rozi Hathaway, Jess Milton, Danny Noble, Emma Raby, Alice Urbino and Adam Vian, the Yearbook also features a special guest story by Rebecca Bagley, and illustration by Kim Clements.
The 100 pages of this publication don't end there though! Back-up contributors to the Yearbook consist of established self-published creators who have gone on to be picked up for publication by the likes of Avery Hill, Blank Slate Books, Myriad, SelfMadeHero, Escape Books and Vertigo. That full roster of shorter stories includes strips by Gareth Brookes, EdieOP, Gill Hatcher, Paul B. Rainey, Mike Medaglia, Owen D. Pomery, Donya Todd, Jessica Martin and Alex Potts.
Rozi Hathaway contributes 'Afloat' to the Yearbook (left) while Jess Milton's 'The Young Marquis De Sade' is right
Danny Noble's story 'Plain as the Nose on Your Face' (left) and Emma Raby's tale 'Burke and Hare' (right)
Alice Urbino's 'Teenage Dirtbag' (left) and Adam Vian's 'Court of the Mapkeeper' (right)
Attending the launch at Gosh! will be the complete line-up of the 'Six UK Small Press Creators to Watch in 2015' – Rozi Hathaway, Jess Milton, Danny Noble, Emma Raby, Alice Urbino and Adam Vian (check out pages from their stories above) – plus Rebecca Bagley who was recently announced as one of 2016's incarnation of the BF 'Six to Watch'. You can also expect to see other Yearbook creators on the night like Gareth Brookes, Jessica Martin, EdieOP and Kim Clements.
Our friends at Gosh! always put on a top do for their regular event launches and this star-studded evening of creative talent promises to be a special night indeed. We're looking forward to seeing you all then as the spotlight falls on some of the very best talent of the UK indie comics scene!
You can visit the Gosh! Comics website here for details of all their launches. Join the Facebook event group here.