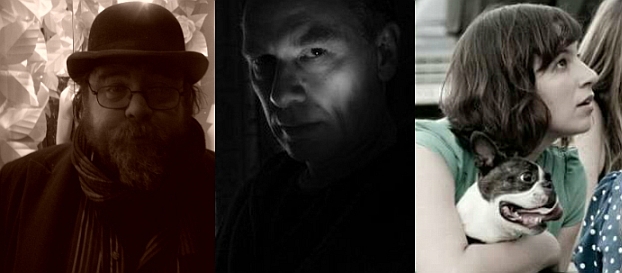 With less than two weeks to go until the next Gosh! Comics/Broken Frontier Drink and Draw, Mark Stafford's fantastic new poster for the event (below) is now doing the rounds on social media. What better opportunity, then, to give some profile time for the three guest creators (Mark Stafford himself of course, David Hine and Danny Noble) who will be attending the evening on Thursday 30th July in London's The Phoenix Arts Club? You can find full details on the Drink and Draw, co-hosted by myself (Broken Frontier Editor in Chief Andy Oliver) and Gosh's Tom Oldham, in our previous blog piece here and join the Facebook event here.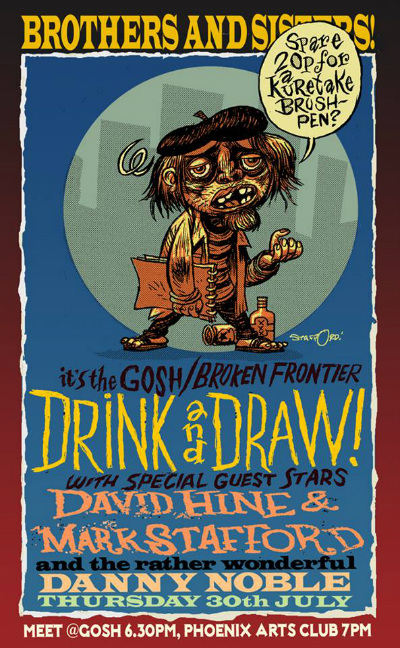 I recently interviewed our amazing poster designer Mark Stafford at Broken Frontier here when he gave me the memorable soundbite "I'm not interested in heroes or idealised characters. I'm all about the doubt" to describe his often macabre approach to the comics page. Mark has worked with the legendary Bryan Talbot on the graphic novel Cherubs!; has been a frequent collaborator with David Hine on projects like the Victor Hugo adaptation The Man Who Laughs from SelfMadeHero, 'The Bad Bad Place' in Soaring Penguin Press's Meanwhile… anthology, and in the pages of the upcoming Broken Frontier Anthology; and contributed to group projects like Ravi Thornton's graphic memoir HOAX Psychosis Blues (BF review here) and Jamie Smart's all-ages comic Moose Kid Comics (BF review here). Mark is also the Cartoonist-in-Residence at London's Cartoon Museum, currently hosting the excellent Alice in Cartoonland exhibition.
Let's enjoy some of Mark's amazing work…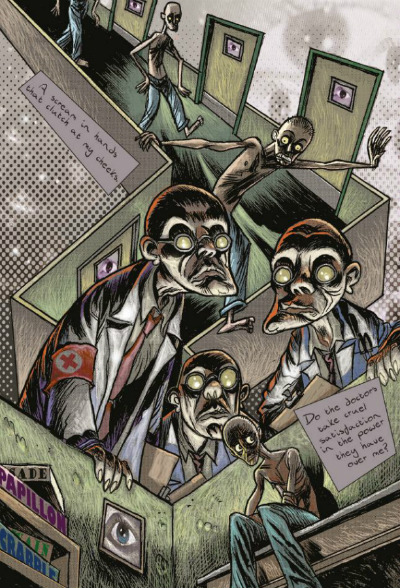 A page from Mark's section in HOAX Psychosis Blues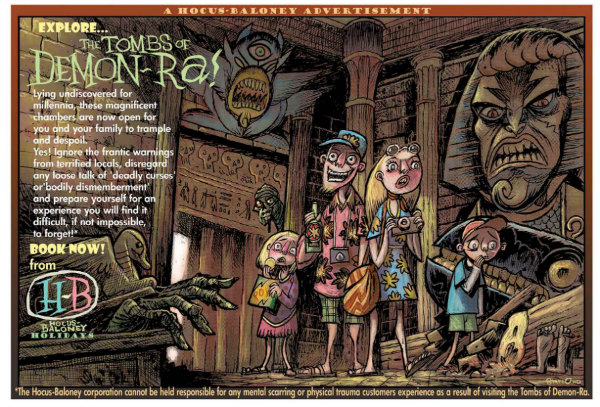 One of Mark's spoof ads in Moose Kid Comics #1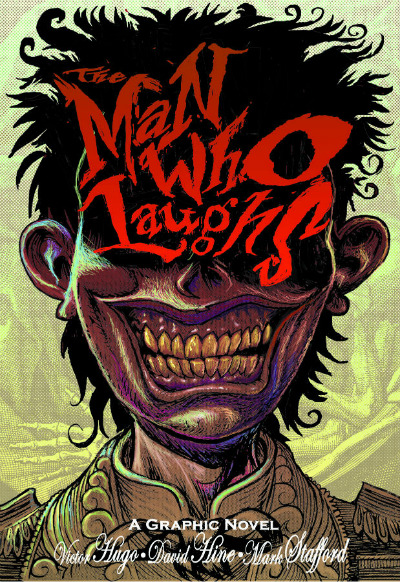 That amazing cover from The Man Who Laughs, a collaboration with David Hine from SelfMadeHero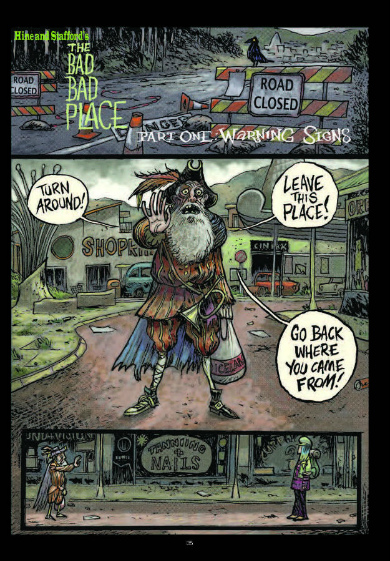 The Bad Bad Place with Hine, currently being serialised in Soaring Penguin Press's Meanwhile…
My Broken Frontier editorial colleague Tom Murphy interviewed David Hine in April here when David stated with a raw and refreshing honesty about his writing "I find myself returning to themes of death, disease and mental and physical corruption. I honestly don't feel the slightest impulse to write happy stories about pleasant characters. It's so much more important to confront my fears and phobias on the page."
David has written for Marvel, DC, Image and Top Cow among others, and has made his mark on characters like Batman in Detective Comics, Will Eisner's The Spirit, Spider-Man Noir and Spawn. At BF, though, we're huge fans of his work on the cult classic Strange Embrace (see Tom Murphy's interview here) and The Bulletproof Coffin (see my two-part interview with David Hine and Shaky Kane here and here).
Let's take a look at some of those projects…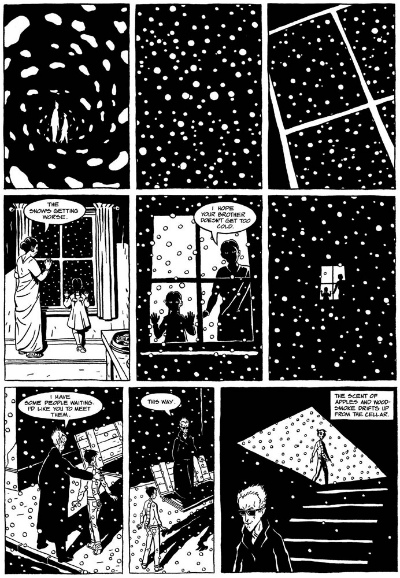 David both wrote and drew the unforgettable Strange Embrace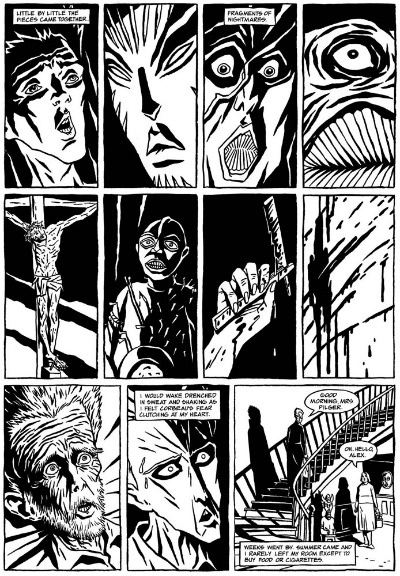 More from Strange Embrace, available digitally on Sequential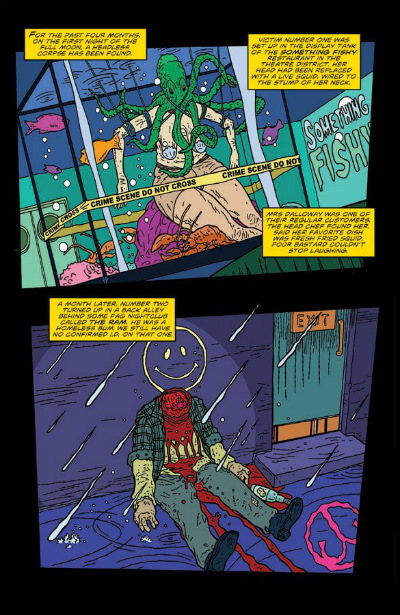 The gloriously meta The Bulletproof Coffin, written by David, visuals by Shaky Kane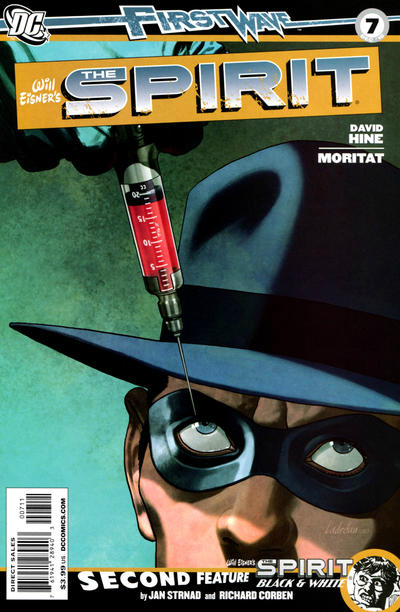 David worked on DC's last take on Will Eisner's The Spirit as writer. Cover here by Ladronn
The whirlwind small press phenomenon that is Danny Noble is not just our Drink and Draw's regular Artist-in-Residence but is also one of my 'Six UK Small Press Creators to Watch in 2015' in my regular 'Small Pressganged' column at Broken Frontier. Danny's comedic genius has taken the British self-publishing world by storm this year with her perpetually naked Alan and Ollie characters in Was it… Too Much for You? (review here) gaining their own committed online following on social media. One that effortlessly bridges the divide between traditional and non-traditional comics readers.
I spoke to Danny for Broken Frontier in March here in an interview in which practically every sentence was a brilliantly witty quotable soundbite. But if I had to choose just one it would probably have to be her description of that moment of epiphany when she realised her artistic calling on Was it… Too Much for You? – "I had a purpose. I needed to bring Oliver Reed and Alan Bates' cocks to the people."
I've also reviewed Danny's work in Monday Morning here and the recent reprint of Hangover Farm here. She's also sings with her band, Brighton-based ska n' soul group The Meow Meows. My word-weaving skills don't extend to music reviews but they have a dedicated spot on my iPod. Check out their online store here.
You can buy Danny's comics online here.
Ready for some skewed Noble takes on reality? Okay, you've been warned…


Danny's brilliant panel-to-panel comedy timing displayed in my favourite strip from Monday Morning

Toddlers in adult form – Ollie and Alan from Danny's Was it… Too Much for You?

Best. Crossover. Ever. BF's Ed-in-Chief Andy Oliver enters the world of Alan and Ollie in a strip exclusive to Broken Frontier.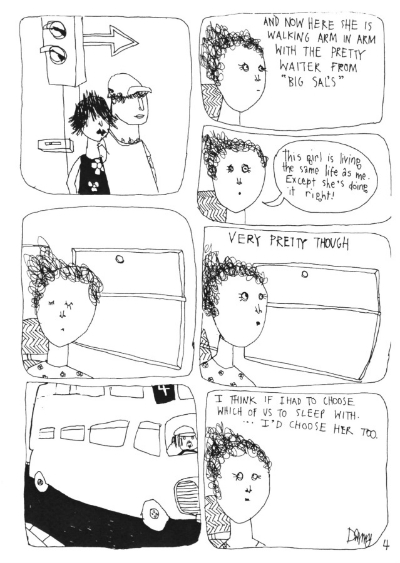 A page from Hangover Farm, Danny's very funny but also profoundly poignant comic
So there you have it. A quick guide to the work of our guest creators on July 30th. Head down to Gosh at 6.30pm on the night for the opportunity to buy their comics at a discounted price and then get over to The Phoenix at 7pm when the fun really kicks into gear.
We look forward to seeing you there!