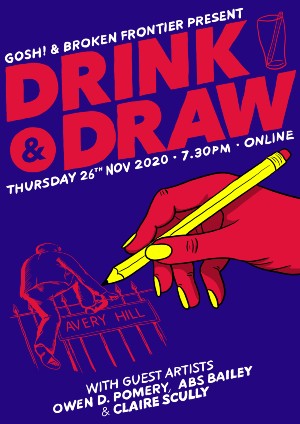 Our long-running, fortnightly online Gosh! Comics and Broken Frontier Drink and Draw returns this Thursday November 26th with an Avery Hill Publishing Special! As usual we start at 7.30pm UK time on Twitter. Not only do our online D&Ds keep all those who would meet at The King's Arms in Soho, London every month (in those fondly remembered pre-March 2020 days) in regular contact, they also allow us to expand our reach for the event to a more global audience.
(Poster art, right, by Joe Stone).
So, once again if you're joining us online, here are the "rules"…
We're using our regular pub format, adapted for a digital platform. So if you've never attended one of our monthly sessions this is how it will work. Our guest artists will each choose a drawing theme for three sessions across the evening. We'll post each of these prompts with the hashtag #GoshBFDD in three batches at 7.30pm (GMT), 8.15pm and 9.00pm from both the Gosh! Comics Twitter account and the Broken Frontier Twitter account. You have 30 minutes to draw something fitting that theme, after which we'll spend 15 minutes picking a winner before the next round begins. Don't forget to post your drawings with the #GoshBFDD hashtag so everyone can see and join in. And also so we can easily retweet!
Let's meet our guest artists…
We've been covering the work of Owen D. Pomery since 2012 back in the days when he was self-publishing Between the Billboards. Owen's work often includes a sense of the psychogeographical, informed by his architectural background. This year was a major year for him with the release of not one but two graphic novels – the arctic thriller British Ice from Top Shelf Productions and his most recent book Victory Point from Avery Hill Publishing.
British Ice
Victory Point
Abs Bailey is a 2019 Broken Frontier 'Six to Watch' creator whose self-published comics include Swim and Beyond Death. Abs was first published by Avery Hill as part of the Comic Book Slumber Party anthology Escape from Bitch Mountain. This year Avery Hill published her excellent debut graphic novel Zebedee and the Valentines a moving look at the music biz. We described it as "an intense and rewarding character study with surprising hidden depths."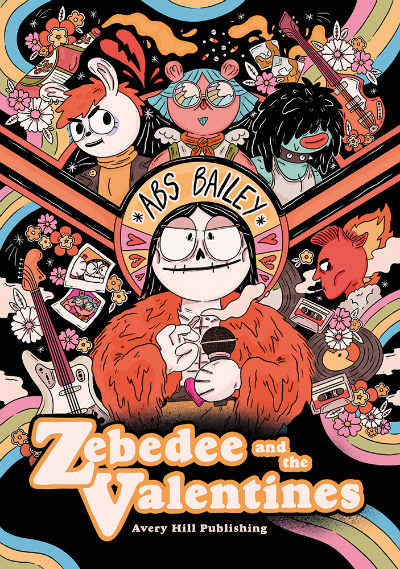 And finally this time we have Claire Scully whose experimental use of graphic storytelling in two Avery Hill releases Internal Wilderness and Desolation Wilderness underlines the breadth of possibilities inherent in the form. Claire's work also has a psychogeographical element with her silent landscape comics inviting the reader to interact with their pages on a more instinctive and immediate level. We said of her last AHP comic: "Desolation Wilderness asks questions of how the echoes of remembrance shape our perceptions and in so doing creates a truly unique graphic narrative experience."
We'll see you all again on Thursday! Whether you're a regular or a newbie all are welcome so please do join in and be part of our international Drink and Draw fun! And if you enjoy this event why not check out the Gosh! Comics webstore here?
You can also buy plenty of holiday gifts from the Avery Hill store here.