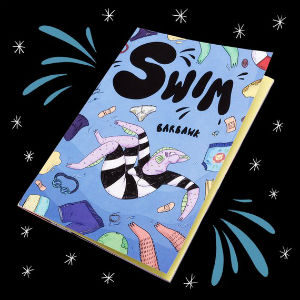 Last Autumn when I reviewed the latest Comic Book Slumber Party anthology Escape from Bitch Mountain, published by Avery Hill Publishing, there were a couple of artists in that collaborative effort whose work particularly stood out. One of those creators was Barbawk (aka Abi Bailey) whose pages toyed with traditional panel-to-panel sequential storytelling with a self-aware sense of fun. Last week we named Barbawk as one of our 2019 Broken Frontier 'Six Small Press Creators to Watch' underlining what an exciting emerging talent we believe her to be.
Swim is a self-published offering from Barbawk which was created for her final degree project. On a surface level it's the story of the "trout girl" Fish who has a rather ironic problem. She can't swim and is terrified of water. We follow Fish, who lives in a reality of anthropomorphic animals, as she seeks to conquer her fear with a trip to the local swimming baths. It's there that we observe her day as she attempts to bolster her failing confidence and overcome her trepidation. But will Fish leave the pool with a sense of triumph or will it simply re-enforce her insecurities?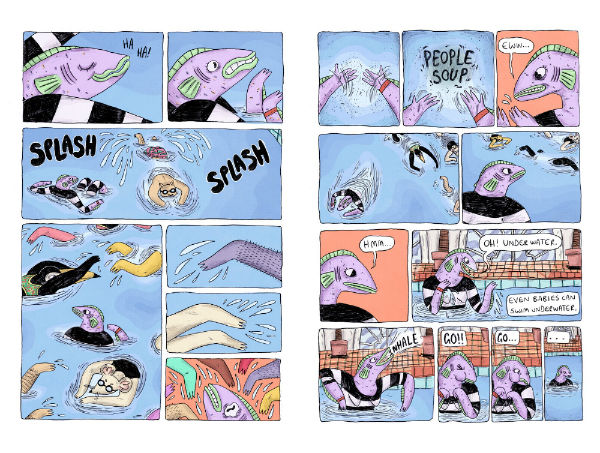 While that may sound like the slightest of plots for a 28-page story Swim is, in its own quiet way, a beautifully profound piece of storytelling. It's told with minimalist first-person narration giving us direct insights into Fish's state of mind. But the majority of the storytelling relies on a far more intuitive form of communication between page and reader as we watch Fish nervously coming to terms with this new environment, slowly interacting with it with a sense of fearful intrigue.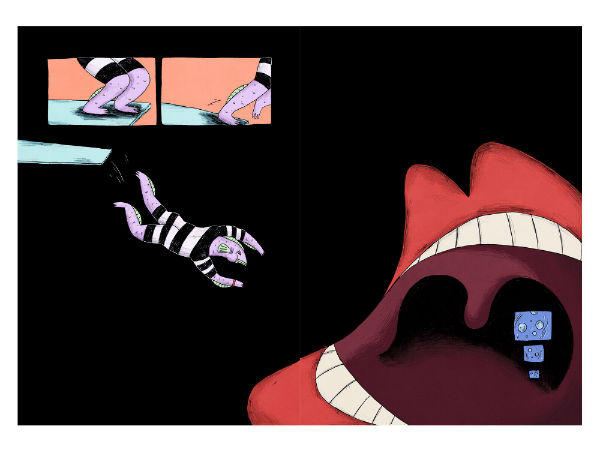 Visually, Barbawk creates an engagingly caricatured animal world that feels all the more human for its detachment from reality. Her sequential storytelling is particularly strong, especially in terms of a sense of movement and of time's passing (full-page shots with multiple iterations of Fish moving through the image are most memorable in this regard). One important sequence (above) sees her taking the bold step of diving from a high board. It employs a daunting piece of almost absurdist visual metaphor to underline the awe-inspiring endeavour, and leads into an underwater digital collage sequence which uses a physical model of Fish to create a haunting sense of otherness in a key segment of the book (below). Indeed, Barbawk's ever-changing use of perspective and character viewpoint is used effectively throughout to transform the swimming pool from a place of leisure to an aquatic arena full of its own multi-faceted challenges.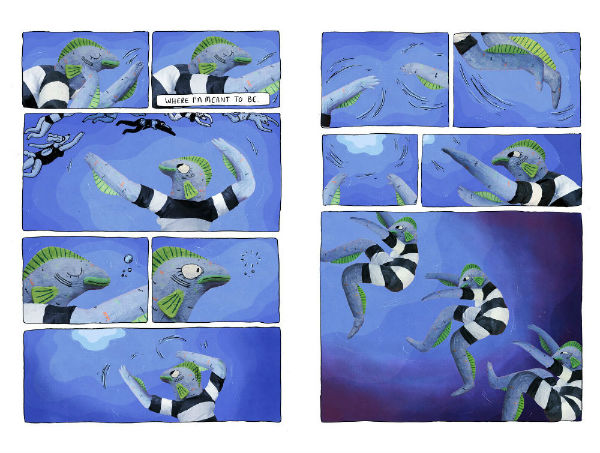 While we can interpret Swim as being simply a slice-of-life story it can also be taken as an allegorical piece about facing our fears, accepting our limitations and approaching challenges with optimism and hope. Swim ends on a touchingly uplifting note that reminds us that success can come in many different forms and smaller achievements can be just as important and worthwhile as the more ostentatious ones. Subtly feelgood comics like this may be just what many of us need moving into an uncertain 2019…
You can visit Barbawk's site here, buy Swim from her online store here and also follow her on Twitter and Instagram.
For regular updates on all things small press follow Andy Oliver on Twitter here.
Review by Andy Oliver