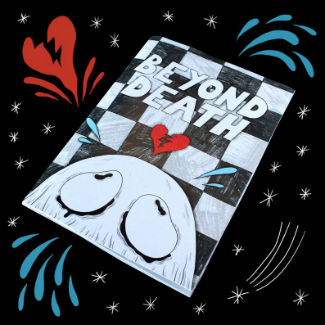 Described as a collection of "short comics made in the aftermath of a break-up" Beyond Death is a minicomic offering from Barbawk (aka Abi Bailey), one of our 2019 Broken Frontier 'Six Small Press Creators to Watch'. If this review is your first exposure to Barbawk's work then you may also want to check out her contribution to Comic Book Slumber Party's Escape from Bitch Mountain published by Avery Hill Publishing (covered here on the site) and the self-published slice-of-lifer Swim, also reviewed here earlier this year at Broken Frontier.
Beyond Death is a solid example of just how versatile Barbawk's comics storytelling talents are. Whereas Swim takes the form of longer-form narrative and 'The Quizzard' in Escape from Bitch Mountain displays an intuitive understanding of how page structure and design can complement a story's themes, Beyond Death is a more immediate and raw offering of fragmentary autobiographical vignettes dealing with the impact of separation.
Beyond Death begins with the fateful words "I think we should call it quits" and a vulnerable Barbawk slowly sinking to the floor as early scenes depict her confusion coming to terms with events. She portrays herself (and other characters) in a more representational manner; stripping individuals back to recognisable traits as anthropomorphic creatures that appear all the more human for their detachment from overt realism. It's a visual shorthand that ensures our empathy throughout this compilation of brief comics and illustrative metaphor.
From druken solo singing to ABBA to an extended trip to London (above) the jumps between pure comics and single but involved images foster a sense of time's passing; that we are witnessing the embodiment of her experiences rather than a linear progression. "Home is where the heart is and I have moved out" reads one particularly affecting page of symbolism with another showing Barbawk's literally broken form floating on a mass of advice about moving on, capturing her numbness and emotional isolation with great poignancy. Identity too becomes a question for exploration when your whole adult life has been defined in terms of partnership.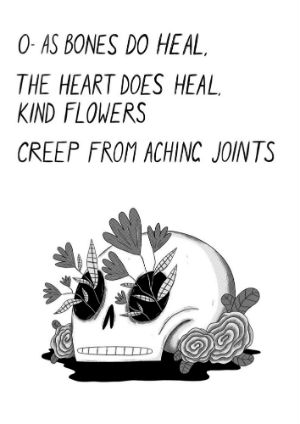 Beyond Death is a far more hopeful comic than the dramatic title may suggest though. Indeed, it's as much a story of recovery and moving on as it is a monologue on loss and heartbreak. Use of lettering is particularly powerful in its thematic articulacy. In one notable panel early on Barbawk's maudlin introspection is interrupted  as a co-worker's abrupt "Hey" rips through her head; elsewhere words hang portentously over her on-page incarnation's head or swim around her as if refusing to let her escape her darker moments. At other points the confines of the page mirror her feelings, as in one memorable instance where even a panel seems to be constricting her mental state and must be broken free of.
Whether exploring these experiences is truly cathartic is something only the artist can  know. But what stands out in Beyond Death is Barbawk's understanding of how to embed theme and emotional resonance into the very fabric of the comics page. Her artistic style is recognisable in all three comics reviewed here at Broken Frontier but each one has been very different in structural approach, signifying a creator with a deep understanding of the singular possibilities of sequential art.
You can visit Barbawk's site here, buy Beyond Death from her online store here and also follow her on Twitter and Instagram.
For regular updates on all things small press follow Andy Oliver on Twitter here.
Review by Andy Oliver
Barbawk is exhibiting at the Cardiff Comics Carnival this Sunday March 24th.