Abs Bailey is one of a number of our Broken Frontier 'Six to Watch' artists over the years to join the Avery Hill Publishing line-up (alongside such talents as Ellice Weaver and Shanti Rai) so it will come as no surprise to our audience when we say that her AHP graphic novel Zebedee and the Valentines is one of our most anticipated titles of 2020.
We've reviewed a number of her books over the last year or so including Swim and you can also read a major interview and a creator commentary with Abs (aka Barbawk) at BF. Today we have a short video and preview art from Zebedee and the Valentines to whet your appetite and more information via Avery Hill's latest press release.
FIRST LOOK:
Zebedee and the Valentines by Abs Bailey
Published by Avery Hill Publishing
18th June (UK) / 18th July (USA)
Paperback, 100 pages
£12.99 / $15.95
*
1982. A pub, somewhere in a small suburban town in the South of England. Zebedee and The Valentines have just played the gig of their lives. The seven people watching them agree.
With a big battle of the bands approaching, lead singer Zebedee and his motley crew of punks seem ready to blow up. But when the Devil is booking your gigs and the competition is fierce, was it ever really going to be that easy?
The debut graphic novel from incredible new creator Abs Bailey, Zebedee and The Valentines is a psychedelic tale of betrayal, tragedy and triumph told through the lens of the 80s, and with the amps turned up to 11.
***
"Bailey's pages toy with traditional panel-to-panel sequential storytelling with a self-aware sense of fun… What stands out is Bailey's understanding of how to embed theme and emotional resonance into the very fabric of the comics page . . . [She is] a creator with a deep understanding of the singular possibilities of sequential art."  –  Broken Frontier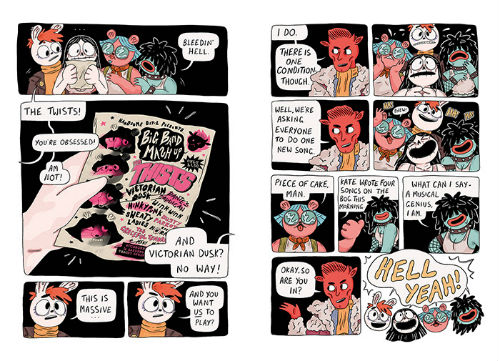 ***
Abs Bailey is a comic artist and illustrator living in Bristol. She studied illustration at the University of South Wales. Abs' work was featured in Comic Book Slumber Party's Escape from Bitch Mountain (published by Avery Hill in 2018). In 2019, she was on Broken Frontier's '6 To Watch' list, which showcases the work of up-and-coming comic artists.