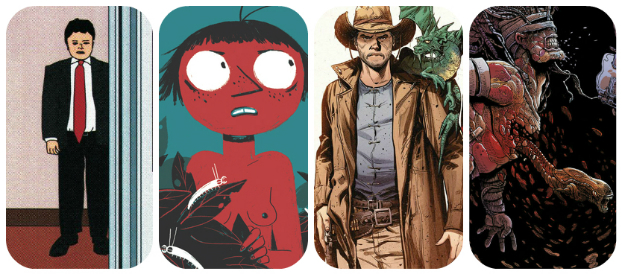 It's nearly Wednesday, and you know what that means: a fresh load of comics and graphic novels! With so many publications hitting your local comics store or digital storefront, the BF team are here to lead you through the woods with our weekly staff picks. Satisfaction guaranteed!
Comic of the Week
Ghosts, Etc.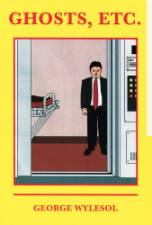 We always gravitate towards like-minded comics folk here at BF which is why Avery Hill Publishing – those fine purveyors of work by the hippest new kids on the block – maintain such a regular presence on the site. This year has already seen Charlo Frade's impressive debut comic Goatherded released by the AHP team with Broken Frontier 'Six Small Press Creators to Watch' artist Ellice Weaver's hugely anticipated Something City launching at ELCAF.
This week, though, it's the turn of the versatile George Wylesol to take a turn in the AHP spotlight with Ghosts, Etc. – a diverse collection of three short-form comics narratives – underlining yet again the South London outfit's keen eye for new talent. Wylesol's work combines the hauntingly psychogeographical with a careful sense of graphic design in this trio of tales that cover themes of isolation, grief and the existential. You can pre-order the book online here.
George Wylesol (W/A) • Avery Hill Publishing, £9.99
– Andy Oliver
Aliens: Dead Orbit #2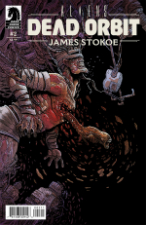 Last month Dark Horse debuted the new series Aliens: Dead Orbit featuring the masterful writing and artistic talents of Orc Stain creator James Stokoe; while, earlier this month, theater-goers were treated to the new, much-anticipated Ridley Scott prequel film Alien: Covenant. So, it seems that one of sci-fi's most popular ET's suddenly finds itself back in the spotlight. This week, issue #2 of A:DO hits the stands at comic shops, a perfect time to capitalize on the newly re-awakened interest in the franchise.
Having read A:DO issue #1 and having watched Scott's film, I feel confident in saying that Stokoe's endeavor is the better of the two; at least as far as I'm concerned. While both comic and film attempt to take the well-loved franchise in new directions, Stokoe (who's done extensive research for A:DO) succeeds more at retaining the tone – visually and narratively – of the original two films which put Alien/Aliens into the canon of supreme sci-fi.
His story fits more comfortably into the established framework of the franchise – it really feels like a natural extension of the world that fans love. And, nothing against Ridley Scott (huge fan here), but Stokoe is doing almost all of the work to bring things together by handling the writing, drawing, inking, and lettering; whereas Mr Scott required an army of technicians to execute his vision.
While the film was certainly done well, I'm more interested to see where Stokoe will take us with his story. And, I think you should be too!
James Stokoe (W/A) • Dark Horse Comics, $3.99
– Matthew Box
Canopy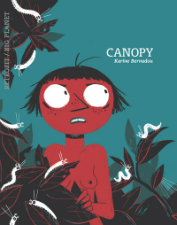 The latest Retrofit Comics subscription Kickstarter may well have recently made its funding target but there's still work from the last season of books making its way to comics shops this week in the shape of Karine Bernadou's Canopy.
This wordless tale set in a fantastic forest follows the titular character as she grows up in her magical environment and recounts the encounters she has with the odd cast of characters that inhabit this domain, all interspersed with explorations of the parent-child relationship. A triumph of "silent" panel-to-panel storytelling Canopy is one of this week's unmissable comics treats.
Karine Bernadou (W/A) • Retrofit Comics/Big Planet, $15.00
– Andy Oliver
Kingsway West TPB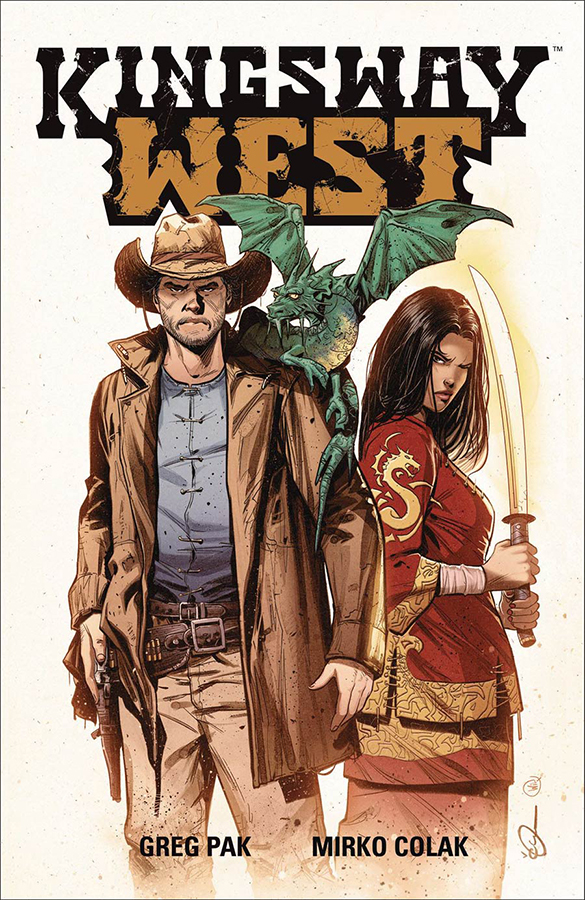 In one of the most unique westerns you'll find across any medium, Kingsway West is a Chinese gunslinger who once fought in the war that reshaped the old west, spitting the territory into Golden Mountain Empire and the Republica de los Californios.
Now he wants nothing more than to live out his life in peace. But a man of his skills can never completely disappear. So when a new cache of magic gold is discovered and and when his wife is kidnapped, Kingsway is thrust back into a conflict he thought he had left behind.
Greg Pak (W), Mirko Colak (A), Wil Quintana (C) Simon Bowland (L) • Dark Horse Comics, $14.99
– Tyler Chin-Tanner
Saga #43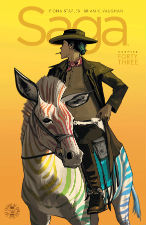 A family drama like no other, Saga's bold approach to mixing science fiction and fantasy has witnessed writer Brian K. Vaughan bringing characters together and smashing their world apart, sometimes in the span of a single issue. He's given us star-crossed lovers fleeing two warring armies whose dialogue at times mirrors that of any couple you know. He's given us lethal darlings and killed them off in swift and spectacular fashion. And through it all he's placed a premium on family and its resilience through hardship, loss, and constant challenge.
With issue #43, the Eisner Award-winning series starts a new story arc that takes Marko, Alana, and Hazel to the westernmost edge of the universe. Issue #42 was a real tear-jerker, so I'm hoping for an adventurous reprieve (requiring fewer tissues) to begin the new arc. And following on the heels of Image Comics' mega-successful 25¢ Walking Dead issue, Saga #43 is also 25¢. This is an ideal point to get someone you know hooked on one of the industry's best titles.
Brian K. Vaughan (W), Fiona Staples (A) • Image Comics, $0.25
– Karen O'Brien