Of all the recent press releases from Dark Horse about their upcoming projects this is the one that intrigues me the most. The Horror, a prequel to Conrad's Heart of Darkness, stirs up all sorts of memories of A-Level English Literature classes in my dim and distant past. Full details in the press release below.
'THE HORROR', A GRAPHIC NOVEL PREQUEL TO JOSEPH CONRAD'S 'HEART OF DARKNESS' ARRIVES OCTOBER 2023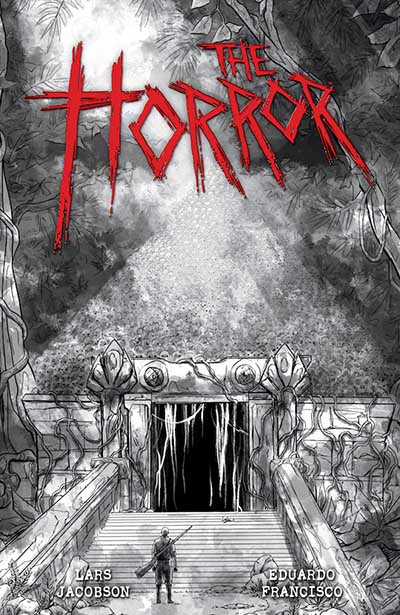 Were Kurtz's final words a confession–or perhaps, a warning?
Dark Horse Books presents The Horror, a graphic novel prequel to Joseph Conrad's classic Heart of Darkness. Written by Lars Jacobson in his comics debut and paired with the art of Eduardo Francisco (Aliens: Defiance, Mass Effect), The Horror explores the origins of one of the most enigmatic characters in storytelling history.
Travel with Kurtz and his family as they enter the "heart of darkness" on a humanitarian mission for Belgian King Leopold's Congo Free State, tasked with opening a trading post in the uncharted interior of the Congo to promote free markets and end slavery. However, deep in the jungle, they encounter a primordial evil, the origins of which date back to the womb of civilization, perverting minds and corrupting souls while preying on the worst instincts of mankind. The locals speak of this insidious evil in fearful whispers, calling it, "The Horror."
The Horror TPB will be available in bookstores October 24, 2023 and October 25, 2023 in comic shops. It is now available for pre-order at Amazon, Barnes and Noble, and your local comic shop and bookstore. The Horror TPB will retail for $19.99.