Smart, stylish, and still schooling us all in the subtle intricacies of graphic storytelling, Dean Motter's latest foray into the winding streets and twisted psychology of the city known as Somnopolis is a testament to Mister X's enduring relevance and originality.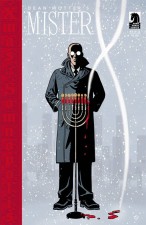 For just over 30 years, Dean Motter's Mister X has been pushing the boundaries of graphic storytelling and design. His work has inspired a generation of fans and creators with innovative page layouts, striking characters, and an undeniable zeal for "retrofuturistic" design elements.
With a genre-bending central concept that pulls from science-fiction, crime noir, architecture, and psychology, Mister X continues to adapt and evolve as both Motter and the medium itself grows and matures.
The challenge for any intellectual property that has enjoyed the longevity Mister X has is finding a way to remain relevant for both new readers and its established audience. Motter's solution to this conundrum? Keep it simple and trust in your craft. There are few creators in the medium today who understand this maxim as intuitively as Motter, let alone have the talent and vision to follow it through.
In his newest limited series from Dark Horse, Motter moves the focus away from his titular protagonist and presents a pair of separate yet interconnected holiday-season tales featuring two of Mister X's leading ladies: intrepid reporter Rosetta Stone and Mercedes, the insomniac architect's girlfriend. With each story coming in at 11-12 pages, Motter's storytelling ability is on full display as he utilizes each and every panel to further plot and character development without sacrificing a wonderfully jaunty pace.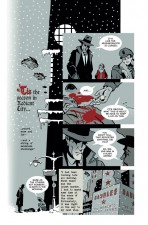 The influence of comics luminary Will Eisner is fully evident in Motter's work, from his integration of story titles into the artwork to his ability to create distinct, emotive characters that straddle the line between realism and caricature. It is this exquisite balance between design and substance that keep readers coming back for more Mister X and more Motter year in and year out.
Also integral to Mister X's success is the book's unique setting of Radiant City. Also known as Somnopolis by the locals, Motter's crowning achievement is the creation of a fictional world that operates according to its own set of physical and psychological tenets.
An ever-changing, impenetrably corrupt metropolis in desperate need of a savior, Radiant City alternates between two opposite poles of atmospheric claustrophobia, marked by looming Art Deco constructs and a sprawling imaginary landscape where nothing is as it seems.
Motter underscores Radiant City's ambiguous nature in his two interwoven tales by first presenting what seems like a typical murder mystery revolving around cultural differences, then turning the whole scheme on its ear in the second story, where we find out the true villains of the issue. Although Mister X himself seems almost tangentially involved, it is through the misadventures of his lady friends that we gain true insight into this living city's convoluted "personality".
A welcome return to the stylish, shadowy highways and byways of Radiant City, Razed is a fantastic, refreshing respite from the hollow spectacle of mainstream comics. Motter once again cements his status as one of the medium's most accomplished storytellers and distinctive stylists with this latest installment of his seminal work.
Dean Motter (W/A) • Dark Horse Comics, $3.99, February 25, 2014.