It's almost Wednesday, and you know what that means: a fresh load of comics and graphic novels! With so many publications hitting your local comics store or digital storefront, BF is here to lead you through the woods. These are the books that need to be on your pull list this week.
Comic of the Week
Curse #1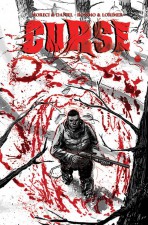 Set in 'America', a horrifying dystopia where life-saving medical care is only available to those rich enough to pay for it, this nicely executed first issue (of four) introduces Laney Griffin, a down-on-his-luck single father whose son is suffering from leukaemia and who is facing a custody battle for the boy from his cop sister-in-law.
When a bounty is offered for the capture of a brutal murderer who has left a trail of mutilated bodies in the surrounding countryside, Laney sees an opportunity to grab a pay day that could save his son's life and keep the pair together. However, the nature of the killer he confronts turns his life upside down. This is a classy horror comic, giving a smart contemporary twist to a classic subject; Moreci and Daniel's smart script is brought to pulsating life by the art team of Colin Lorimer and Riley Rossomo.
Michael Moreci & Tim Daniel (W), Riley Rossmo & Colin Lorimer (A) • BOOM! Studios, $3.99
– Tom Murphy
Miracleman #1
For panelologists of a certain age, the week's most interesting release will probably be Miracleman #1, prompting nostalgia for a game-changing piece of work and curiosity about how it's going to be received three decades later. Sure, some of the work seems a bit stylistically creaky in these shiny modern times, but there's no doubting its pivotal place – either side of Watchmen – in the treatment of superheroes and the career of Alan Moore.
Quite apart from the $5.99 cover price, the stir caused in the past few days by The Original Writer's latest – and possibly final – missive about the state of the comics world and his place in it makes this a book that's likely to provoke some interesting opinions. If you've never read Miracleman (or Marvelman) before, put your prejudices behind you and try to imagine the impact this story made in the early '80s. KIMOTA!
Mick Anglo (W/A), 'The Original Writer' (W), Garry Leach (A) • Marvel, $5.99
– Tom Murphy

EGOs #1
Calling EGOs the 'brainchild' of writer Stuart Moore is right on the money: this new Image series – running for four issues with more depending on sales – is an idea-rich, high-concept futuristic story where planets get eaten, egos clash and relationships destroyed.
Many moons ago, EGOs was a superhero team that split up because everyone decided to go their own way. Now that the band's biggest villain – a sentient galaxy called Masse – has returned, one of the original members reforms the team but not without crossing a line with his wife that can't be uncrossed.
Featuring art by talent-to-watch Gus Storms.
Stuart Moore (W), Gus Storms (A) • Image Comics, $2.99
– Frederik Hautain

Disney Kingdoms Seekers of the Weird #1
Back in 1965, Disneyland Imagineer Rolly Crump designed the Museum of the Weird, an attraction that was to house a creepy collection of mystical artifacts from around the world. Following the death of Walt Disney, however, the plans were left unused. Until now.
Marvel Comics had teamed up with parent company Disney to release the first comic in the new Disney Kingdoms imprint with Disney Kingdoms Seekers of the Weird #1. The imprint will feature adventures based on the attractions, worlds, and characters of the Disney Resorts.
Scheduled as a five-issue series, the story of issue #1 centers around brother and sister Maxwell and Melody, who, along with their Uncle Roland, work their way through the perilous Museum of the Weird to rescue their kidnapped parents while saving the world. The creative team of Brandon Seifert (Witch Doctor) and Karl Moline (Avengers Arena) have high expectations riding on one of the new year's most anticipated series.
Brandon Seifert (W), Karl Moline (A) • Marvel Comics, $3.99
– Karen O'Brien
Skyman #1
Joshua Hale Fialkov had been on such a tear last year that he is one of those creators I'm keeping a close eye on in 2014. His work on Ultimate Comics: The Ultimates was way more entertaining than it had any right to be with such a silly title. The Bunker is one of the brightest spots in the world of digital-first comics.
The comic of his that we're keeping an eye out for this week is Dark Horse's Skyman, a mini-series focusing on the creation of a new Skyman after the last one drunkenly kills an innocent man. Joining Fialkov on the book is artist Manuel Garcia, fresh off work on Valiant's Bloodshot series. As Dark Horse is fond of reminding us, this is The Year of the Horse, and that year starts with the company doubling down on their superhero properties.
This looks to be a worthy addition to the stable of books that have already premiered in 2013.
Joshua Hale Fialkov (W), Manuel Garcia (A) • Dark Horse Comics, $2.99
– Levi Hunt
Monsters And Other Stories
I made the decision to pick this book up based on the title and the art alone. Gustavo Duarte's line work is so clean, vibrant, and brilliant (think CreatureBox meets Pixar) that his stories don't even need words (which is good because these stories don't have any).
Featuring three stories about giant monsters, aliens, and other strange creatures, Duarte's book is an inspiring look at what can be done through the comics medium. His characters are well-designed and his eye for comedy is on point. Plus, at 152 pages it's well worth the price. If you're a fan of cute giant monsters or just good art, Monsters is the way to go.
Gustavo Duarte (W/A) • Dark Horse Comics, $12.99
– Jonah Lang
Ghosted #6
If you've seen the first splash page of Ghosted #6, you know Jackson Winters isn't out of the woods just yet.
Although he regained his freedom after successfully conquering a haunted house in the book's opening arc, the master thief will soon find out the hereafter has still got him in his sights. Also, some of the people who fell prey to Jackson's mischievery way back when hunt him down, not with the intent to off him, but to get him to find a missing girl.
Ghosted was one of the nicest surprises coming out of Image Comics in 2013 and quickly expanded from mini to ongoing series as readers fell for Joshua Williamson's supernatural action thriller. Issue #6 kicks off a new arc, in which Josh has invited some witches, ninja assassins and bloody crow demons to the party. Duck, or run away screaming.
Joshua Williamson (W), Davide Gianfelice (A) • Image Comics, $2.99
– Frederik Hautain