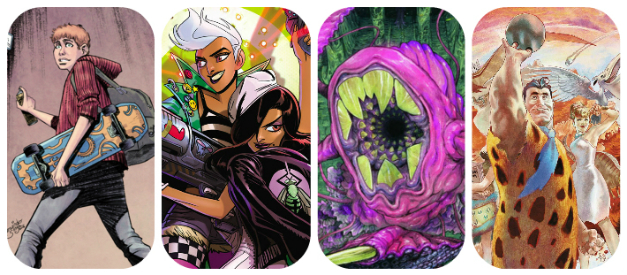 It's nearly Wednesday, and you know what that means: a fresh load of comics and graphic novels! With so many publications hitting your local comics store or digital storefront, the BF staff is here to lead you through the woods with our weekly staff picks. Satisfaction guaranteed!
Comic of the Week
Brik #1

Brik tells the story of a young Jewish lad named Drew struggling to grow up right in a neighbourhood plagued by Russian mobsters on a vicious mission to take over local businesses. Springing from the imagination of Adam Glass (the CW's Supernatural) and Mike Benson (Luke Cage: Noir, Moon Knight), Oni Press's newest series touches upon themes of bullying, organized crime, and grief on the streets of Yonkers, as Drew uncovers an old family secret that offers him the power to strike back at his enemies.
Billed as a modern urban fantasy fusing elements of the Amazing Spider-Man and The Iron Giant, Brik explores the classic comic book theme of using power responsibly, through the lens of the mysticism found in the Jewish Kabbalah. Featuring art by talented newcomer Harwinder Singh and a gritty, understated palette from colourist Gonzalo Duarte, Brik brings the hard luck streets of Yonkers alive with the dark magic of Drew's quest.
A refreshing spin on tried-and-true themes, this absorbing modern fable turns the classic heroic quest into a metaphor for the emotional pitfalls awaiting us on the road to adulthood.
Adam Glass and Mike Benson (W), Harwinder Singh (A) • Oni Press, $1.99 USD
– Jason Wilkins
Infundibulum: Stories of Non-Ordinary Reality by Women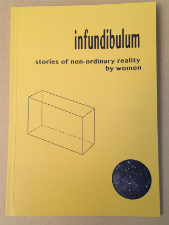 It won't have escaped any regular visitor to Broken Frontier of late that it's Small Press Day in the UK and Ireland this week as comic stores the length and breadth of both countries celebrate the allied worlds of self-publishing, micropublishing and DIY Culture.
At the Decadence Comics signing at London's Gosh! Comics on Saturday Emix Regulus (whose comics I gave a very positive review to here last year at Broken Frontier) will have copies of a new anthology zine effort Infundibulum: Stories of Non-Ordinary Reality by Women.
A mix of comics and prose we're promised that this all-woman collection of sci-fi/horror/fantasy stories will cover "meat horror, archaeological findings, psychic invasion and lycanthropy." Early visual teases on social media indicate that this is a must-grab item on Small Press Day. Those not at Gosh! on July 9th can order the book online here.
Anthology – Various creators • Self-published, £7.00
– Andy Oliver
Bounty #1
Kurtis Wiebe (Rat Queens, Peter Panzerfaust) has proved himself adept at breathing new life into flagging genres. In Bounty, though, he and artist Mindy Lee face their toughest challenge yet: that of the sci-fi bounty hunter.
A glance at the series' technicolor cyberpunk future is your first hint that this isn't your usual monotone dystopia. Sisters Georgie and Nina, AKA the Gadflies, are a pair of hard-traveling, quip-slinging "specialists" tasked with keeping the city's shining streets free of the criminal element – but they're not the only ones.
In Bounty, bounty-hunting has become a mainstream obsession with a massive following that tunes in daily for the "Catch of the Day." How are a couple of girls supposed to make a name for themselves with stakes like these – and is it too much to hope for a crossover with Kim & Kim down the line?
Kurtis Wiebe (W), Mindy Lee (A), Leonardo Olea (C) • Dark Horse Comics, $3.99
– Paul Mirek
Batman '66 Meets Steed and Mrs. Peel #1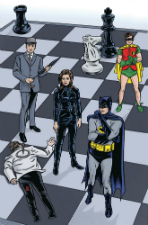 After the fun fusion of the worlds of the Adam West incarnation of Batman and those dashing Sixties super-spies in Batman Meets the Man from U.N.C.L.E., a second team-up of pop cultural icons from the grooviest decade of all is a welcome treat.
This time around it's the much-loved heroes of the cult British TV show The Avengers who get to trade quips with the Dynamic Duo although, for obvious reasons, they're billed as "Steed and Mrs. Peel" on the front cover.
The various Batman '66 series and one-shots have been enormous fun over the last few years and this latest arc pits the Caped Crusader, the Boy Wonder, the debonaire Steed and the formidable Emma Peel against the machinations of Catwoman. An unmissable DC Comics/Boom! Studios co-production for lovers of high camp and retro heroic action.
Ian Edginton (W), Matthew Dow Smith (A) • DC Comics, $2.99
– Andy Oliver
Negative Space TPB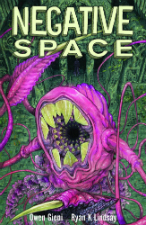 Writer's block is nothing to scoff at, and creators Ryan K Lindsay (Chum, Deer Editor) and Owen Gieni (Shutter) take the affliction to a wholly wild level in the mini-series Negative Space which sees its long-awaited release this week in trade paperback from Dark Horse, collecting all four issues.
"Guy" is, well, as his name suggests, an "everyman" writer battling depression. He's reached the end of his rope, hits bottom, and decides he can't go on. Only, he's also suffering from writer's block and can't conjure up a suicide note for himself. He decides to hold off, take a walk, and think things over. From there, Negative Space delves into a strange tale mixing dark humor, psychedelic grotesquery, bizarre science fiction, and damn-fine narrative and art. More importantly, the series explores the natures of existence and happiness, with a few monsters thrown in for good measure.
There is no doubt that Negative Space is, for all of its strangeness, one of the most interesting and unique stories you're likely to read. Suicide and depression are themes that Lindsay has revealed to have touched his family in the past, and it's clear that Negative Space was intended as a journey not only for readers, but also for himself – a way for him to exorcise some demons and gain a new perspective on a tragic experience.
Rather than dragging folks bluntly through this intimate muck, he instead gathers a team of talented people to create a brilliantly entertaining comic. They bring to life a story that will surely remain relevant for years to come.
Ryan K Lindsay (W), Owen Gieni (A) • Dark Horse, $14.99
– Matthew Box
The Flintstones #1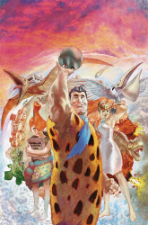 It's fair to say that reactions to DC's re-imagined Hanna-Barbera comics were somewhat mixed when the books were announced last year. For many, some of those proposed radical new takes on beloved favourites had drifted so far from the original concepts as to render them unrecognisable.
What can't be argued with, however, is that the premises of these rebooted series certainly got people talking and generated significant interest in the books from outside of the traditional comics press.
The latest launch in this family of titles gives us an alternative take on that most fondly remembered "modern Stone Age family" the Flintstones. Written by Mark Russell with art by Steve Pugh this new run promises a satirical edge and less cartoony visuals for the denizens of Bedrock. Whether it appeases the hardcore fans or alienates them remains to be seen but The Flintstones is certainly one of DC's most intriguing debuts this month.
Mark Russell (W), Steve Pugh (A) • DC Comics, $3.99
– Andy Oliver