One of the particular perks of being a part of a platform like Broken Frontier is getting to see work-in-progress long before it reaches publishers and eventually book shop shelves. A few years back I got to read early work from UK small press stalwart Emilia McKenzie's But You Have Friends and knew then that it was going to be a very special project. Coming from Top Shelf Productions next month this is going to be a must-read piece of graphic memoir.
(Content warning: suicide)
Coming in August: a vibrant, moving portrait of loss and joy.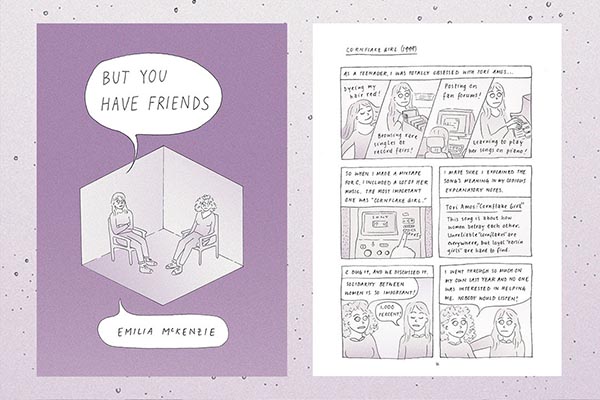 Praise for Emilia McKenzie's But You Have Friends:
"A tender graphic memoir about the loss of a close friend… thoughtful, loving, and honest." — Kirkus Reviews (starred review)
When a dear friend dies by suicide, Emilia is left with only memories. Full of humor and poignancy, this graphic memoir is a meditation on the meaning of friendship and a love letter to an irreplaceable friend.
Emilia first met Charlotte in their school locker room in the late '90s. They quickly bonded over indie music, feminist literature, a love of purple, and a shared sense of outsiderness. Their joyful, intense friendship evolved through the years—until Charlotte died in 2018 following a long struggle with depression.
Now, Emilia assembles her memories into a graphic memoir reflecting on the bond they shared and the ways it shaped them. As they pass in and out of each other's lives, teenage ideals collide with adult realities, prompting reflections about the meaning of friendship.
But You Have Friends is a tender tribute to an irreplaceable friend and a sharply observed, personal account of the aftermath of loss. It is also a humorous, candid memorial that will resonate with anyone who has ever loved.
But You Have Friends by Emilia McKenzie
ISBN 978-1-60309-527-3 | Diamond: MAR239302 | $19.99 (US) | 120 pages
5.75″ x 8.25″ | For mature readers (16+)
Coming August 8, 2023!
Pre-order from your local comic shop | elsewhere