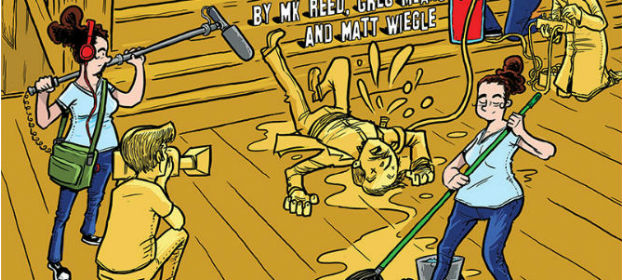 There can be such a joy in making a thing that what you are creating becomes secondary to the act of making it. In the case of Penny Nichols by MK Reed, Greg Means, and Matt Wiegle the filming of a low budget schlock horror film bonds a cadre of loveable misfits together, giving them all a second chance at escaping the drudgery of their suburban existence. Where the casts of other stories might come together to put on a show to save the local community center, here the communal effort is about saving one another. Reed and Means' characters come to life through their sharp dialogue and sardonic social satire in combination with Wiegle's ecstatic off-kilter cartooning, making them feel both human and vital in a way that invests the reader in their struggles, particularly the titular Penny Nichols' journey to find her place in the world.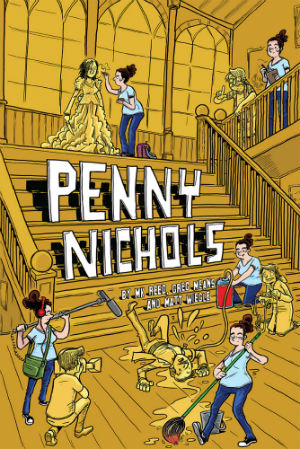 The book begins with Penny sinking into the quicksand of mid-20s ennui. Roped into working a shift at her sister's juice-cleanse booth at a wellness expo, Penny makes no effort at embracing the artificial congeniality of handing out free samples. Her acerbic nature only further reinforced when she dresses down her dimwitted blind date for his total inability to relate to women outside of an online role playing game. Penny is right for wanting more out of life than a dinner at a spy-themed restaurant followed by a screening of a vapidly hetero-normative romantic comedy. But it is revealing that her roommate harangues her for being an old maid who spends every night listening to Brit Pop and reading YA novels. While clearly unhappy, Penny is also inert. It is only due to her chance encounter with goof ball local filmmakers Sam and Bobert at the wellness expo that she is finally given a chance at a life less ordinary.
What quickly becomes apparent is that Sam and Bobert are as lost at making a film as Penny is at living her life. It is a keen observation on human nature by Reed and Means that, for all his enthusiasm, Sam lacks the organization and drive needed to actually bring his vision to life. Sam is that particular type of dreamer who doesn't really want to succeed lest he be critiqued, so he self-sabotages in a million tiny ways. His shortcomings are nicely shadowed by Bobert being a competent cinematographer and editor, but whose primary motivation for being involved in filmmaking is to meet women. Only teenage special effects wizard Spazzy and lead actress Lix seem fully up to the task of completing filming on the marriage-themed slasher revenge movie Blood Wedding. In sensing the vacuum in command, Penny starts to rise to fill it, giving the film the focus and direction it will need to get done in time to screen at an upcoming horror convention.
Just as the murderous bride of Blood Wedding is driven to her killing spree by the pressures put upon her to conform to middle class domesticity, so to is Penny coming into her own in opposition to the life that had been laid out for her. She goes from disillusioned temp-slave, browbeaten by her older sister, to scriptwriter, set dresser, prop master, grip, casting and assistant video editor. Along with her, the cast and crew shift into their best selves in a way that bonds them together not just as co-workers but as friends. Their filmmaking misadventures trying to buy a cheap wedding dress, spray-painting stained grass green, and stealing wheelchairs from a hospital in the middle of the night are filled with joy. It is an infectious joy that spreads to Penny's formerly bratty nieces when they are brought to set beneath the radar of their overly prescriptive mother. A joy that shines out the faces of the crew as they rehearse their lines, spray fake blood and organs around the set, act out their over the top death scenes, and on the penultimate day of shooting dance against a backdrop of 4th of July fireworks.
Through his cartooning Wiegle transmits both the mirth and the pain that lies beneath the character's snark in a way that makes them lovable. In exuberant panels the characters bend and wiggle their noodlely limbs, while in other more sedate scenes they pose naturally with realistic weight. Wiegle expertly draws their mouths and eyes charmingly contorting into unnatural yet complexly expressive shapes. Though the grounded proceedings primarily keep the characters feet on the floor, in a strong sequence he deftly renders the energy and movement of Lix's dance around the Our Lady of Perpetual Sorrow – 2nd Chance Store. He also instantly communicates the hammy thespian "acting!" of last-minute-addition-to-the-cast Adam, as he appears on set delivering a monologue from the creature in Shelly's Frankenstein.
Wiegle truly shines when it comes to illustrating Blood Wedding's gruesome murders, be it eyeballs rocketing out of a priests skull, or a caterer's face being melted with cooking spray. There is a palpable joy in the way he tweaks the vocabulary of his dense scrimshaw inking in these horror movie sequences. The reader sees it in the nightmarish German Expressionist angles of the compositions and the warping and twisting of the figure of the bride into a blood covered knife tornado. A prime example is when rather than focus on Penny and Bobert as they edit in cartoonish fart sound effects of blood shooting out of another victim's rectum, he confidently and gleefully draws the violence of the scene as filmed. For Wiegle, just like for the cast and crew of the film, nothing is more fun than filling the frame with buckets of blood.
Penny Nichols is a book about difficult people making art out of pretending to do gruesome things. Yet because they do so with such an earnest passion to make something they believe in, the reader cannot help but root for them. Stories of finding one's tribe, even if it is among the freaks and ghouls, will always resonate in a world where everyday life might be the scariest movie of all. Reed, Means and Wiegle's greatest success with this graphic novel is in bringing us together to laugh in the face of horrors both real and imagined.
MK Reed, Greg Means (W) Matt Wiegle (A) • Top Shelf Productions, $19.99 
Review by Robin Enrico