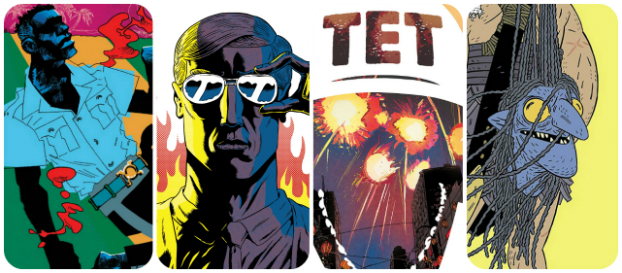 It's nearly Wednesday, and you know what that means: a fresh load of comics and graphic novels! With so many publications hitting your local comics store or digital storefront, the BF staff is here to lead you through the woods with our weekly staff picks. Satisfaction guaranteed!
Comic of the Week
Virgil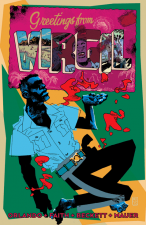 Our ongoing love affair with Jamaican culture hides a very dark secret. Behind the easy going image is one of the worst countries in the world in which to be gay, where more than two out of three people think gay men should not have equal rights.
Against this backdrop, writer Steve Orlando and artist JD Faith have crafted a blistering piece of "queersploitation". Looking to do for LGBT characters what Shaft and Cleopatra Jones did for African-Americans in the 1970s, it carves out the tale of an outed cop who, betrayed, beaten and banished by his own, fights his way across Jamaica to save his man and get revenge!
Originally funded via a Kickstarter campaign in 2013, Virgil is now ready to explode into comics shops. If you've been enjoying Steve Orlando's work on DC's Midnighter, then you'll love this two-fisted examination of power, masculinity, sexuality and the heroism of outsiders who risk everything for the right to be themselves.
Steve Orlando (W), JD Faith (A) • Image Comics, $9.99
– Tom Murphy
Tet #1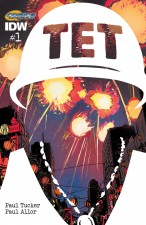 The Vietnam War was one of the most divisive conflicts in modern history. Forty years after the official end of the war, its repercussions are still being felt in the US and Southeast Asia. It's a period well documented in comics, with works such as The 'Nam and The Light and Darkness War providing startling insight into the fears and motivations of a generation literally fighting in the streets to define themselves.
Set against this complex, intriguing backdrop, Paul Allor (TMNT) and Paul Tucker (The Underworld Railroad) construct a tightly wound and atmospheric procedural that blends elements of hard-boiled detective fiction, romance, and the horrors of war into a breathtaking exploration of the human condition.
When a fellow Marine is found murdered during the Tet Offensive, Eugene Smith feels honor-bound to unravel the crime. Allor and Tucker remain ever-conscious of period politics in their treatment of the conflict, but more than that, they explore (with maturity and sensitivity) the severe and often unjustified social ramifications plaguing military veterans years after they return home from the battlefield.
Haunting, emotionally intense, and suspenseful, Tet resets the bar for timely and resonant war comics and positions Allor and Tucker as breakout talents to watch this year.
Paul Allor (W), Paul Tucker (A) • IDW Publishing, $3.99.
– Jason Wilkins
Terror Assaulter: O.M.W.O.T.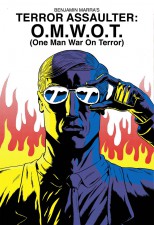 Benjamin Marra loves animals, religion, the American way of life and … art and stuff. The man is a compassionate human being. But this being of pure inner peacefulness also has a dark side. A. Very. Very. Dark. Side. So dark that he unleashes the full might of the Terror Assaulter on your unsuspecting superhero loving @ss.
After the terrifying violence of rogue rappers in Gangsta Rap Posse, the 1980s slasher terror of Night Business and the demented fantasy scribblings of Zorion the Swordlord comes the full unleashed might of the Terror Assaulter! He must defeat Terror at all costs, diverting only for steamy dates with hot chicks. Nothing is spared in this searing and hilarious indictment of US foreign policy over the last decade, whether it be neocon philosophy, the state of American masculinity and sexuality or the male power fantasy in escapist entertainment.
So whenever you can't handle the world and you're not feeling 'up' to it, grab a copy of Benjamin Marra's Terror Assaulter, let it all hang loose and let's all be safe in the knowledge that in the world of comics, justice will always prevail for your friends, family, coworkers and pets. Benjamin Marra, ladies and gentlemen.
Benjamin Marra (W/A) • Fantagraphics • $14.99
– Bart Croonenborghs
Palefire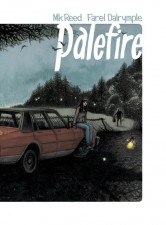 Farel Dalrymple, honoured as "Best Artist – Independent/Creator-Owned" in the 2014 Broken Frontier Awards, teams up with acclaimed author MK Reed for this small-town high school drama. Dwayne is a troubled pyromaniac with a chip on his shoulder. Holly is the girl who dares to look beyond what everyone else sees.
Will Dwayne make the most of his second chance? Will Holly survive her dangerous attraction? And what is the connection (if any) to Nabokov's imposing 1962 work of metafiction?
Together with new anthology Fresh Romance, Palefire makes a strong case for the ongoing revival of the romance comic genre.
MK Reed (W), Farel Dalrymple (A) • Secret Acres, $11.95
– Paul Mirek
Head Lopper #1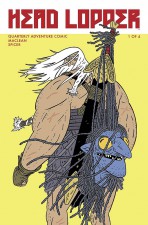 Fresh of the success of his ApocalyptiGirl graphic novel, Andrew Maclean returns to his critically acclaimed indie title by launching a new four-issue quarterly series through Image Comics!
Mighty swordsman Norgal and his unlikely companion, the severed head of the Blue Witch Agatha, have been summoned to the Scottish Isle of Barra to get rid of the sea monster plaguing its shores. But what the duo did not intend is to find that a much more sinister and ancient evil awaits.
Filled with mythical beasts, sword fighting, and, of course, plenty of decapitation, this dark-humored adventure begins with a giant 80-page issue that reprints the first two independent issues (which is good because the originals would cost about $50 each on eBay), as well as a brand new story and premium pin-up gallery (Mike Mignola, James Harren, Toby Cypress), all for only $5.99.
Andrew MacLean (W) Andrew MacLean & Mike Spicer (A) • Image Comics, $5.99
– Tyler Chin-Tanner
One Year Wiser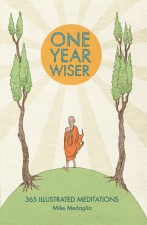 The pensive and contemplative comics of Mike Medaglia have proved a particular favourite in my 'Small Pressganged' column here at Broken Frontier over the years. I first discovered Medaglia's work via the newspaper-style anthology The Comix Reader, but it was the philosophical approach of Wu Wei, his collaborative anthology of spiritual comics that included contributions from creators of the calibre of Owen D Pomery, Lizz Lunney, Andy Poyiadgi, Francesca Dare and Richy K Chandler, that firmly established his distinctive voice and vision.
Medaglia's One Year Wiser is published by SelfMadeHero and comprises a collection of 365 illustrated meditations. The reflective words of figures from across history, including Mahatma Gandhi, Marcus Aurelius, Mark Twain, Buddha, Martin Luther King and Virginia Woolf, are visually interpreted to provide the reader with an enlightening daily thinking point. Mike Medaglia will be signing copies of One Year Wiser at London's Gosh! Comics this Wednesday 9th September. Full details here.
Mike Medaglia (W/A)  • SelfMadeHero, £12.99
– Andy Oliver
Tyson Hesse's Diesel #1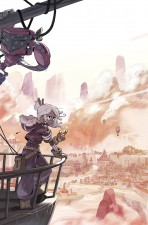 Artist Tyson Hesse honed his animation- and anime-influenced style with his webcomic, Boxer Hockey. He hasn't given up hope of finishing the webcomic someday, but it's on hold for the time being. Hesse did cover work on Adventure Time and Bravest Warriors before his impressive work on The Amazing World of Gumball.
Hesse is bringing an original four-issue series to the shelves this week. It's an exciting coming-of-age story that fans of Kazu Kibuishi's Amulet or Hayao Miyazaki's Howl's Moving Castle will enjoy. In Diesel #1, Diandra Diesel is the daughter of the famous Tungston Diesel, and she doesn't have any discernable talents worthy of her family's great reputation. She is in charge of picking up trash on her family's airship and dreams of something better when, according to the BOOM! Studios media release, a "mysterious flying engine crashes into Diesel's life and takes her on a journey through the skies."
"Tyson did an awesome job on covers for Adventure Time and Bravest Warriors," said BOOM! Studios editor-in-chief Matt Gagnon, "and his work on The Amazing World of Gumball left us in stitches with his flair for characterization. Diesel is his first original series, and it's an incredible debut! You've got airship fights, robots, and a mysterious flying engine. At the same time, you also have the story of a young woman trying to find her place in the world while standing in her famous father's shadow. Tyson has created a stunning new world…"
Tyson Hesse (W, A) • BOOM! Studios, $3.99
– Karen O'Brien
Rebels #6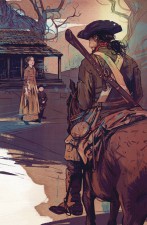 Proving that their strong first issue was anything but a fluke, Wood, Mutti, and Bellaire have been doing something special in the pages of Rebels. Issue #6 serves as the conclusion to "A Well-Regulated Militia," the first arc of the series.
It's easy enough to enjoy the team's modern take on Harvey Kurtzman and John Severin's gritty wartime tales (issue #4 featured a particularly cinematic opening sequence showcasing Mutti's extensive talents). From this American reader's perspective, though, the book also serves a more powerful purpose.
Rebels flies in the face of current "us vs. them" rhetoric with its thoughtful, incisive take on the nature of patriotism – and its costs. Wood sets the personal struggles of young newlyweds Seth and Mercy Abbott against the broader landscape of the United States' birth, offering an illuminating look at the men and women who ushered in a new era.
Brian Wood (W), Andrea Mutti (A), Jordie Bellaire (C) • Dark Horse Comics, $3.99
– Paul Mirek
King Tiger #2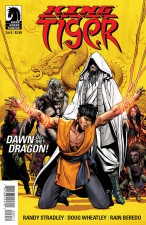 After laying the foundation for King Tiger's unique corner of Dark Horse's old Comics' Greatest World universe with a stunning and masterful first issue last month, Randy Stradley (Aliens) and Doug Wheatley (Star Wars) ramp up the action in this latest installment of mystic martial arts madness.
When last we saw our mysterious protagonist, he and Milo had just stumbled into an ambush after investigating a mass murder in the middle of the desert. Stradley and Wheatley hit the ground running this issue, pitting Tiger and his friends against an ancient evil with surprising ties to our hero.
It's all-out action and adventure in this rousing second chapter as secrets are revealed and enemies unveiled, and worldwide supernatural Armageddon looms in the background. If you're sick to death of "secret crises" and perpetual universal do-overs, then King Tiger's gorgeously illustrated, brilliantly paced big-screen style of comics is the cure for what ails you.
Randy Stradley (W), Doug Wheatley (A) • Dark Horse Comics, $3.99
– Jason Wilkins