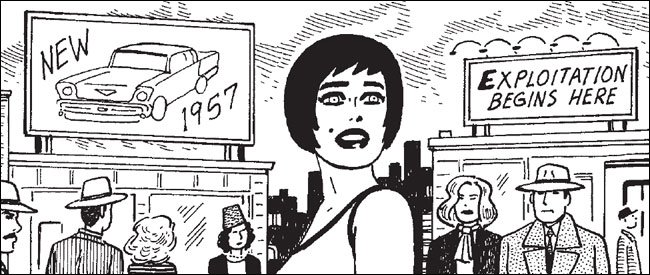 After a couple of decades and hundreds of pages, the latest 'B-movie' comic from Gilbert Hernandez sees a lot of pieces fall into place.
"When the film [Maria M] was released years ago, the studio didn't like it at all and had it edited down quite a bit. Pipo fought them for years to have this new restored version released." ('Luba in America 2', 2006)
Despite having pored over the work of Gilbert Hernandez for 25 years now, I admit to still being at a bit of a loss over how to respond to his 'Fritz B-movie' stories. These small but beautifully formed hardbacks present comic adaptations of the low-grade exploitation films starring Rosalba 'Fritz' Martinez, the vulnerable and complex psychotherapist-turned-movie star who has played a key role in his work over the years.
Having been imprinted on the Heartbreak Soup stories back in the day, just as I was beginning to appreciate the scope and potential of comics, I've found it hard to know how to assess these works. Should they be considered against the standards of their grindhouse movie inspirations, or a body of work that goes from 'For the Love of Carmen' to Marble Season?
However, I think Maria M, held in place by an almost mind-bogglingly complex cat's cradle of metatextual references and correspondences, has finally made the breakthrough for me – the way an old Magic Eye illustration would suddenly snap into sight.
As with all of the B-movie books, there's a very simple generic core to Maria M: a buxom Latina ingénue arrives in the US to find herself an object of desire, exploited and sucked into a decadent world of gangsters, violence and corruption.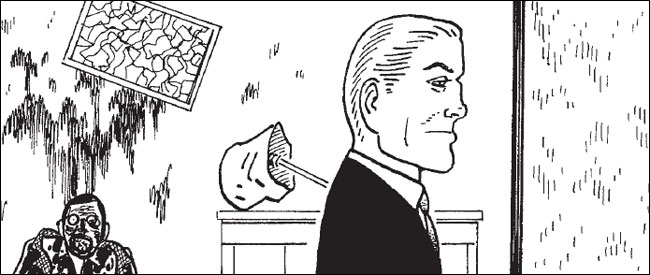 However, there's another layer to the story, which leans heavily on Beto's earlier work Poison River – a dense and complex tale published in 11 parts in Love and Rockets between 1989 and 1993. The events of Maria M take place largely in parallel with those of Poison River; much of it seems to be based on what happens off-page while the earlier story was focusing on the eventful upbringing of Maria's abandoned daughter, Luba.
"Now here's where it gets weird! Fritz played her own Mom!" ('Down in Heaven 4', 2006)
But the real measure of Beto's magic is the third level of meaning he brings to the book, with the awareness that Maria is being played by another of her daughters, Fritz (although the fact is never alluded to in the book). Maria M provides a callback to the references to the film of the same title that have cropped up in Beto's work for years, as well as the knowledge that making the film was enormously traumatic for Fritz:
"It's been six years since Tia Fritz took the role of playing their mother. Six years since Tia Fritz has been able to speak with her sisters. So, Tia Fritz cries a lot. And drinks. And cries some more." ('Another Story Altogether', 2006)
The repeated pattern of exploitation between Maria in the film and what we've seen of Fritz's life elsewhere in Beto's work gives some of the scenes a chilling resonance. When a modelling agent writes off Maria as having a figure "more suited for a sideshow than modelling… Waste of beautiful skin", the look of unhappiness on the woman's face is clearly as much Fritz's as Maria's. It's her attributes as much as her mother's that are being assessed and ridiculed.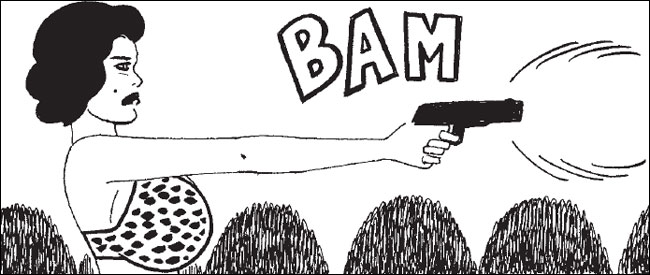 Later, we can't help but wonder how Fritz feels to be complicit in the depiction of her mother as "The supremely untalented yet not entirely unappealing bovine bombshell Maria Martinez" (in a script 'written' by Fritz's niece – and Maria's granddaughter – Doralis). Even after hundreds of pages over a couple of decades, having Fritz 'play' Maria invites you to look at their relationship in a new light. In another way, Maria's story becomes Fritz's.
The metatextual rewards keep coming; Maria's brutal 'guardian angel', Gorgo, and his father are given a comical Hollywood recasting, from the grotesques of Poison River to lantern-jawed matinee idols. A previously unseen brother – Herman, naturally – also turns up.
In a much darker connection, a single shot of the film seen originally in 'Blackouting' (2006) – "Maria, your skin…" – is seen in its full and more disturbing context: a possibly not-entirely-consensual gangbang. It also recalls the earlier story's reflection on Fritz's difficult relationship with her father, including the possibility of childhood sexual abuse. When the old man blasts Fritz as "just like your mother…A no-good lying selfish tramp", the only way Fritz can regain her sense of worth is by going to make another film for Pipo – and the cycle continues.
Stylistically, Maria M doesn't offer any surprises, fitting in with the elliptical bang-bang-bang storytelling Beto has been perfecting since Poison River and Love and Rockets:X. If this was a film, it'd probably be the most brutally edited, migraine-inducing flick ever, with scenes often broken down to a sole beat or line of dialogue in a single frame. The small format, low frame count and simple storytelling create a pacey cadence that sends you racing through the pages.

Even though I still can't hold Maria M in the same affection as Beto's more 'human' material, the depth he instils into what is ostensibly a trashy genre narrative highlights the complexity of the fictional tapestry he has been weaving since Luba and her hammer rolled into Palomar all those years ago. Like his brother Jaime, Beto is showing no sign of slowing up 30-plus years into his career – an incredible achievement.
Gilbert Hernandez (W/A) • Fantagraphics Books, $22.99, November 2013