Described by no less a cartooning legend than Doonesbury creator Garry Trudeau as a "beautifully-rendered account of a rookie's initiation into state politics: an exhilarating baptism of fire, and a sorely-needed love letter to the power of public service", Radical: My Year with a Socialist Senator by Sofia Warren debuts in June from Top Shelf. More info about this much anticipated graphic memoir in the press release below.
Activist organizing meets government gridlock in Radical!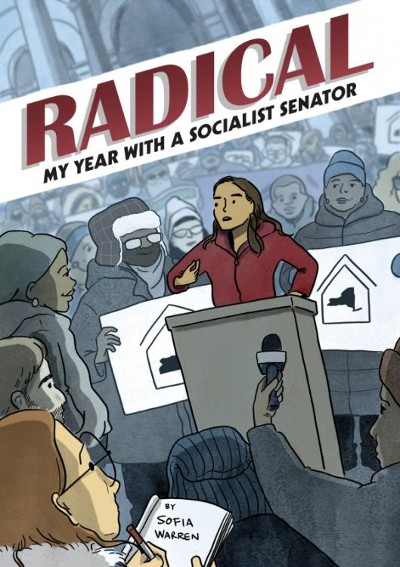 You won the election… Now what? Activist organizing meets government gridlock as a millennial New Yorker cartoonist follows a first-year state senator on her unforgettable journey from outsider to insider.
Radical: My Year with a Socialist Senator is a remarkable graphic memoir of Sofia Warren's experience embedded with New York State Senator Julia Salazar and her staff during her first year in office. From candid conversations and eyewitness experiences, Warren builds a gripping and intimate portrait of a scrappy team of community organizers battling entrenched power structures, particularly to advance Julia's marquee issue: housing rights.
At every key point during the year—setting up an office, navigating insider politics, public pushback, testy staff meetings, emotional speeches, protest marches, setbacks, and victories—Warren is up close and personal with Julia and her team, observing, questioning, and drawing as they try to translate their ideals into concrete legislation.
Along the way, Warren works toward answers to deeper questions: What makes a good leader? What does it mean to be a part of a community? Can democracy work? How can everyday people make change happen?
All these themes are explored—with nuance, compassion, and humor—in Sofia Warren's remarkable debut.