Emotive subject matter tackled with grace and serenity, this is Julian Hanshaw's finest book to date.
Julian Hanshaw's graphic novel Tim Ginger from Top Shelf Productions was our Broken Frontier 'Comic of the Week' a fortnight ago. I spoke then about Hanshaw being one of those rare cases where the use of a seemingly clichéd phrase like "unique creative voice" was most assuredly not hyperbolic or trite.
Hanshaw first came to prominence when he won the Observer/Cape/Comica Short Story Prize in 2008 and since then has been responsible for two very distinctive books from Cape – his debut graphic novel The Art of Pho and his short tales compilation I'm Never Coming Back. He was also one of the contributors to Ravi Thornton's Broken Frontier Award-nominated graphic memoir HOAX Psychosis Blues.
Tim Ginger follows its titular English protagonist in the autumn years of his life when he has retired to a caravan in the New Mexico desert, filling up his days playing cricket with a similarly-minded group of ex-pats. Ginger is an ex-test pilot who, years ago, had an inexplicable otherworldly encounter on a mission that cost him an eye …and the air force a 45 million dollar plane.
On returning to Earth his life was changed forever, not just by his ethereal experience but also because at the very same time his wife Susan had been killed by a drunk driver. When we join him it's many years later, he's written a successful if niche book, and has been persuaded to take it out to the convention circuit by his agent. It's here that a chain of events begins that will change Tim's life forever as Anna, an old friend from his pilot days, re-enters his world, and a badgering conspiracy theorist attempts to make life difficult for him…
Julian Hanshaw's idiosyncratic but meticulously crafted narratives and his stunning visual world-building have, of course, become signature elements of his work. But Tim Ginger is notable also for the level of autobiography that Hanshaw injects into the plot, with Tim's love for cricket being one of the most obvious examples. The central theme of the book however – indeed its core arc – is an exploration of the conscious decision of couples like Tim and Susan not to have children. Something the artist elaborated on as having a personal resonance when I heard him speaking at the Graphic Brighton conference this past May.
Tim's friend-cum-romantic interest Anna joins him on that convention tour with her self-published series of slice-of-life comics detailing personal accounts of those for whom the patter of tiny feet will be forever muted. Pages from her work (below right) are interspersed throughout the book giving alternative perspectives on that central discussion that Hanshaw delicately and respectfully overlays on events.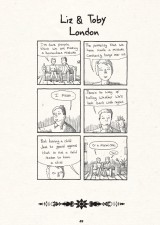 The main storytelling thrust of the book – and perhaps the hook that will draw many readers in initially – may appear to be that account of an ageing serviceman with a mysterious secret in his past, but Hanshaw is actually investigating far simpler, more human themes in Tim Ginger. And yet there's a profundity and a poignancy to them that, in their own way, overshadows the more fantastical elements of the graphic novel.
Not just accepting our life decisions but also – to use a rather hideous piece of modern parlance – taking a degree of ownership of them is a constant within these 150 or so pages. So much of Tim Ginger revolves around not just the consequences of a child-free lifestyle, but also its effect on how those that choose it are perceived by others and, perhaps more crucially, on how it impacts their own sense of identity and self-perception.
One of my favourite facile criticisms of comics is from those who will dismiss them as an inherently childish form and then in the same breath – and with a staggering lack of self-awareness – say "and I don't understand how to read them anyway…" Those who embrace that nonsensical reasoning as an argument will find Tim Ginger a terrifying prospect indeed. That's because, while the sophistication of Hanshaw's storytelling technique may be cloaked deceptively in the seemingly ponderous and leisurely narrative pace of the book, there's a command of the medium that is breathtakingly assured throughout, grasping the opportunity to exploit every element of comics' unique properties as possible.

The intercut topical asides, Tim's past represented as an argumentative doppelganger (above), panel-less sequences where the passage of time flows within a single image, personal history constantly juxtaposed against the present adding emotional significance to both with a kind of symbiotic melancholy (below), evocative visual metaphor … I could go on. It's the language of comics spoken with an articulate confidence. Hanshaw's characters always have an eccentric physicality that is nonetheless highly expressive in terms of visual characterisation, and there's an oblique beauty to his art that is heightened by that carefully muted colouring, accentuating the subdued mood of the piece.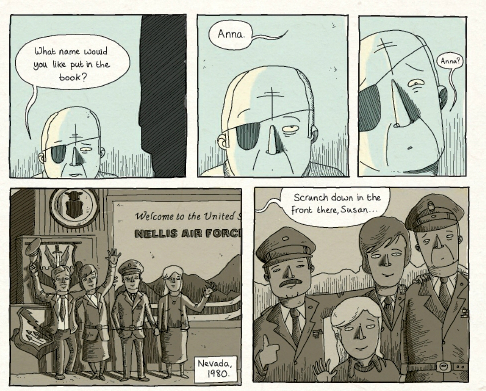 Tim Ginger rewards not just a second reading but a third and a fourth – each revisit adding extra layers to its thematic core, and revealing subtle nuances to the interrelated plot threads that lead in to that final, awe-inspiring revelation. Emotive subject matter tackled with grace and serenity, this is Julian Hanshaw's finest book to date.
Julian Hanshaw (W/A) • Top Shelf Productions, $19.99, July 2015
Julian Hanshaw is in conversation with Steven Walsh tonight Wed August 5th at the Gosh! Comics Process Group. Details here. Tim Ginger is launched at Orbital Comics this Friday. Details here.