Broken Frontier Award-nominated creators Peter and Maria Hoey of Coin-Op fame have a new comics anthology collection coming from Top Shelf Productions this December. The duo's work is very highly regarded here at BF with a number of reviews available to check out on the site here. We've been privy to an advance peek at the book and can assure you all it's going to be one of 2021's key releases. More info in the Top Shelf press release below.
The Hoey Siblings (Coin-Op) Return with ANIMAL STORIES!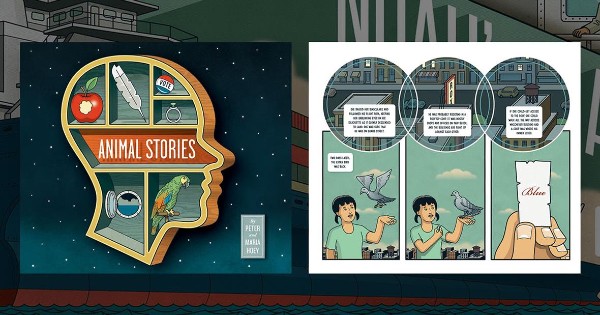 PRAISE FOR PETER & MARIA HOEY:
"Spectacular… each page is a feast for the eyes. Challenging, entertaining, and crisply beautiful stories." — Publishers Weekly (starred review)
"Right up there with Chris Ware for craft, composition and complexity… like nothing at all that I can recall." — Page 45
What separates us from animals? What connects us? Award-winning cartoonists Peter and Maria Hoey probe these mysteries across six surreal and interconnected stories.
After tremendous acclaim for their series Coin-Op Comics, two brilliant creators present their first graphic novel: a menagerie of wild tales. Pushing the boundaries of their dazzling and unique narrative style, Animal Stories weaves together six short stories exploring the mysterious relationships between humans and other animals.
A girl who keeps pigeons starts receiving messages from a new bird in her flock. A ship's crew rescue a dog, only to find far stranger things in the sea around them. A reincarnated cat with criminal intentions, a parrot who leads a revolution, and a squirrel who tempts a woman in a beautiful garden glade.
Drawing inspiration from Aesop's Fables, film noir, and the Old Testament, Peter and Maria Hoey apply their singular and sophisticated visual storytelling to create a new set of modern animal tales for modern times.
Animal Stories by Peter & Maria Hoey
ISBN 978-1-60309-502-0 | Diamond: AUG210540 | $19.99 (US) | 176 pages
full-color softcover graphic novel with flaps
10″ x 8.5″ (landscape) | for young adults and up (13+)
Coming DECEMBER 2021!
Pre-order from your comic shop | IndieBound | Top Shelf | elsewhere