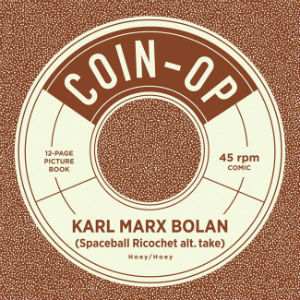 Sibling creative duo Peter and Maria Hoey's Coin-Op anthologies have had some significant coverage here at Broken Frontier over the last couple of years We've reviewed the most recent issues #7 (The Doppler Issue) and #8 (Infatuation), as well as the 20-year retrospective collection from Top Shelf Productions. I've described the Hoeys' practice as the "ultimate testament to the sophistication and articulacy of the language of comics" and their deft exploitation of the potential of the form in terms of structure, presentation and visual experimentation has gained them an Eisner Award nomination (as well as a Broken Frontier Award one!).
The Hoeys' early work appeared in the pages of anthology BLAB! and they started self-publishing back in 2007. Apart from the album-sized anthologies they have also produced a number of "single" issues which are one-shot tales presented in a format resembling a 7-inch vinyl record sleeve. The most recent issue has the enticing title of Karl Marx Bolan (Spaceball Ricochet alt.take) with a musically based fun version of a What If…? story.
Set shortly after Elvis Presley's death in a celestial bar somewhere in the afterlife, Karl Marx Bolan (Spaceball Ricochet alt.take) sees bartender Karl Marx sending rock stars Eddie Cochran and Gene Vincent to avert Marc Bolan's death and ensure the planet will still have "a working class hero who knows how to boogie". Causing history to divert onto another path, their actions have far-reaching consequences as Bolan becomes a figurehead for a growing movement and the global political stage is changed forever…
With a fondly formed irreverence at its heart, Karl Marx Bolan (Spaceball Ricochet alt.take) is a parody of alternate history fiction that never takes itself too seriously and yet, for all its appealingly nonsensical frivolity, still has something to say about challenging the establishment and its entrenched power structures. Crashing pop culture and the socio-political together, it's full of neat cameos and playful embellishments on established history. Karl Marx's delightfully incongruous speech patterns are a particular thrill!
Visually this is a less experimental piece than you may be used to if you're already a Coin-Op anthology reader with more traditional panel layouts and sequential structuring. But tighter-panelled, compressed storytelling comes with its own challenges and the Hoeys use it to both control pacing and speed up the reader's interaction with the page where appropriate (the landscape centre-spread is an excellent example of each aspect in different sequences).
Check out as well the varying degrees of greys and their contrast with black in each panel to evoke atmosphere and differing mood. A three-panel shot of Margaret Thatcher (above left) slowly sinking into despair as she realises her own downfall is imminent perfectly displays the subtlety of their delivery in that regard. Whether you're already a fan of their larger format books or simply looking for a minicomic entry point to the Hoeys, Karl Marx Bolan (Spaceball Ricochet alt.take) will expand the Coin-Op experience for readers new and old. It almost pains me that their work isn't more widely lauded as a paragon of comics' unique narrative possibilities.
Review by Andy Oliver