Last year Top Shelf released a collection celebrating two decades of brother and sister creative team Peter and Maria Hoey's Coin-Op Comics Anthology, a book that we included as part of our ELCAF Fortnight coverage in 2018 when the Hoeys were exhibiting at the East London Comics and Arts Festival. Our Ally Russell reviewed it here at BF describing it as "a dense patchwork of refreshingly different comics" and saying that potential readers should "expect to come away from it rich in movie, book and album recommendations, and a whole lot of bang for your buck."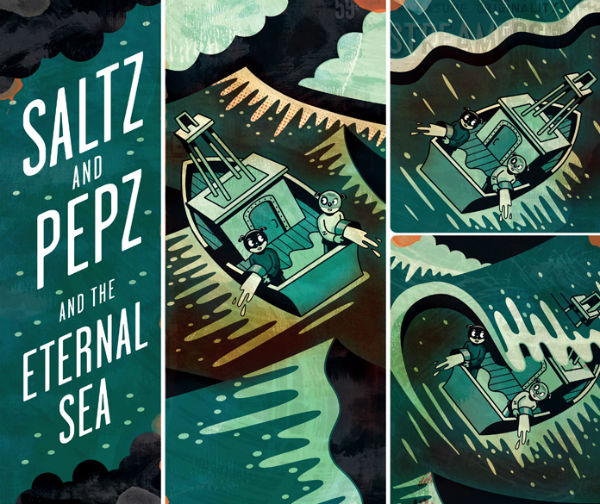 Saltz and Pepz and the Eternal Sea
The Hoeys' early work appeared in BLAB! Magazine with their self-published Coin-OP comics debuting in 2007. This seventh edition is subtitled 'The Doppler Issue' and showcases the spectacular sense of design to the duo's sequential art. The six entries herein range from lyrical slice-of-life to a distinctively different take on science fiction, with a love of classic animation and film either influencing or at the direct heart of many of these offerings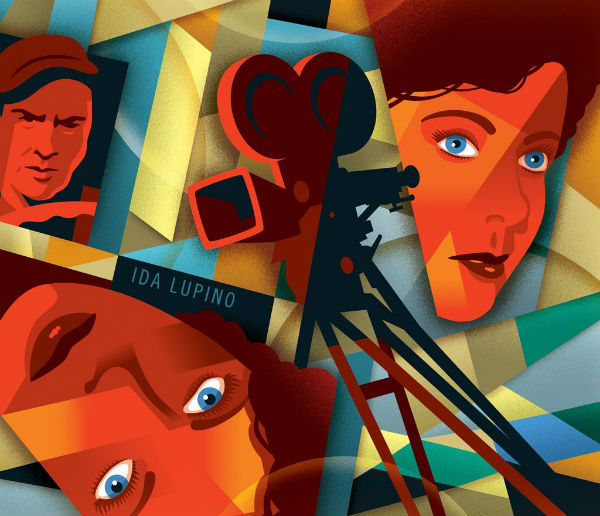 A homage to Ida Lupino in Coin-Op #7
Those who love experimental comics practice – graphic narrative that doesn't simply utilise the untapped possibilities of the page as much as look for entirely new potential in its storytelling structure – will find themselves staring at each carefully crafted sequence in Coin-Op #7 in rapt awe. 'Supply Chains' the first tale in this issue, follows the life of a failed novelist, interweaving his personal history and relationships with the reformatted paper of his first pulped novel which enters and leaves his life at multiple pivotal moments without his realisation. Literal recycling mirrors an almost existential recycling of life's key points in a story that is presented in the format of flowing paper reels.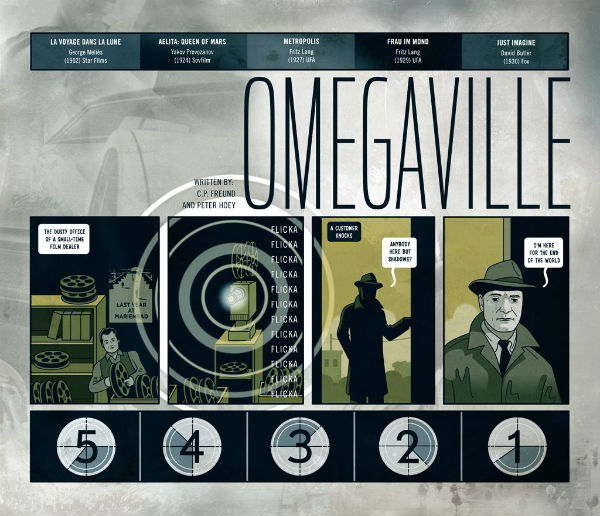 Omegaville
That's symptomatic of the pure joy of Coin-Op comics for enthusiasts of the essential language of the medium. Every story is impressive for the way it plays with narrative form and composition. The Hoey's retro animation-style characters Saltz and Pepz make an appearance in the silent 'Saltz and Pepz and the Eternal Sea' in a five-pager that employs a dreamlike internal logic and suitably cartoonish laws of reality, relying on a different approach to between-the-panels comprehension and a hypnotically symbolic symmetry. Part cinematic history and part meta sci-fi, the following story 'Omegaville' uses multiple but inextricably interlinked methods of sequential delivery across its pages, culminating in the eeriest of denouements.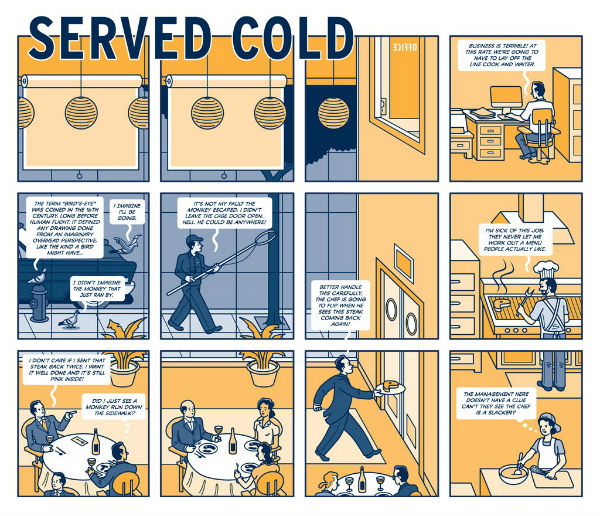 'Served Cold' is perhaps the most intriguing offering in terms of presentation with its account of a working restaurant that combines elements that are both recognisable and bizarre. Its 12-panel grid pages largely depict the same environment but subvert traditional ideas of strict panel-to-panel reading in a visual essay on perspective and comprehension. And for fans of film director Val Lewton 'The Spectral Screen: Val Lewton Walked with a Zombie' is not only a fascinating recap of the influence and output of the acclaimed cinematic figure but also one that uses the layout of the page to recreate his cinematic technique.
If you want to investigate further then you can quickly flick through the entire issue courtesy of the video below. Coin-Op is the ultimate testament to just how sophisticated and articulate the language of comics is and the perfect response to anyone who believes that sequential art is a juvenile and facile form of storytelling.
For more on Coin-Op Comics visit their site here and their online store here. You can also follow them on Twitter here.
For regular updates on all things small press follow Andy Oliver on Twitter here.
Review by Andy Oliver