ELCAF FORTNIGHT!
Anticipating brother-sister duo Pete and Maria Hoey's attendance at this year's ELCAF, we took their Coin-Op Comics Anthology for a spin. Spanning twenty years between 1997–2017, the new hardcover compilation via Top Shelf Productions collects issues 1 through 6 of the self-published Coin-Op series for the first time ever. The book also collects the Hoey's work on Monte Beauchamp's BLAB! magazine, culminating in 200 pages altogether of serialised stories, one-off vignettes, wordless sketches, biographical portraits, and illustrated poetry.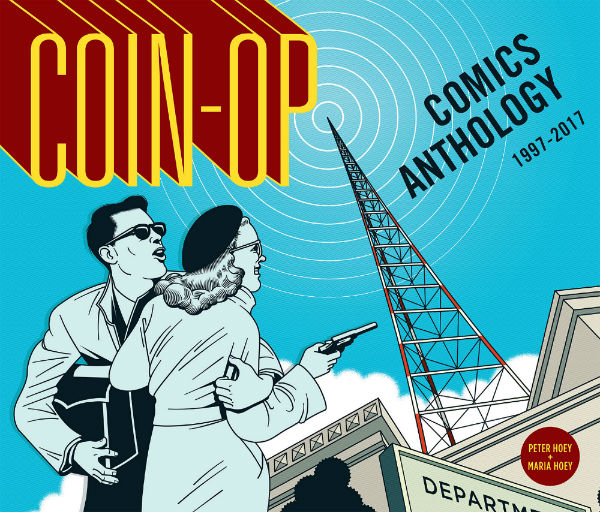 While its component segments are diverse in form and subject matter, Coin-Op's opening pages set up a number of motifs that run through the entire collection with remarkable continuity. Like the coin-operated laundry machines that give the series its name, elliptical shapes make the centre of many a page layout, and appear via repeated imagery of eyes, full moons, vinyl records, and bubbles in sea foam. Circular ideas also infuse a great many stories of being stuck in time and space, such as two characters going around and around on a looping videotape. Indeed the Hoeys' treatment of time, history and memory is irreverent, with panels becoming palimpsests on which the ghosts of classic cinema and jazz music interact with the surreal futurism of office block architecture, covert astronaut operations, and robot revellers at a sepia-toned speakeasy.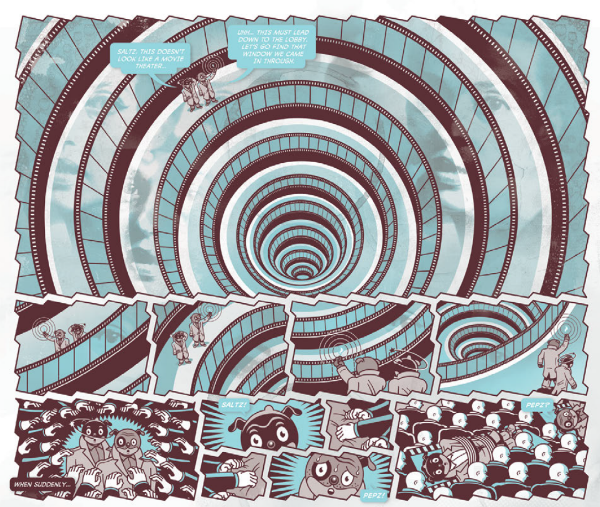 Coin-Op offers a twisted exploration of U.S. pop culture both past and present, bringing to mind the haunted Americana of Tim Lane with the strange, out-of-time existentialism of D. J. Bryant. The consistency of the Hoeys' writing and illustration, in partnership with their nostalgic tendencies, lends each page a self-contained familiarity verging on déjà vu. It's impressive for any body of work to maintain such visual and thematic coherency, let alone an experimental oeuvre twenty years in the making by co-creators living on opposite corners of the United States.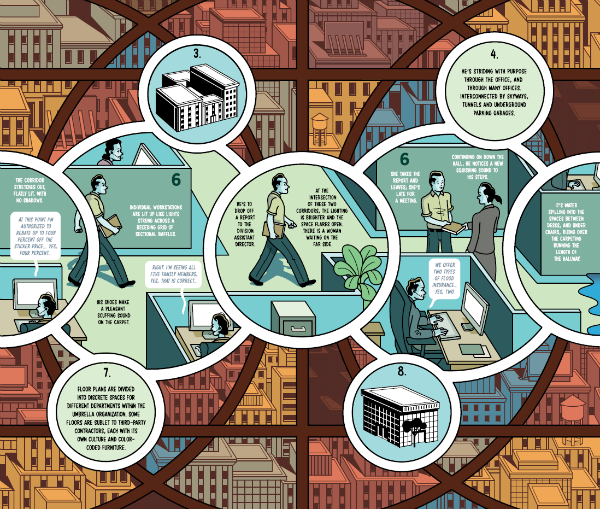 For all its smart references and ambitious concepts, Coin-Op nevertheless manages to remain human at its core. From Nicholas Ray and Cornell Woolrich, to Coleman Hawkins and Fats Navarro, the Hoeys present and illustrate the little-known personal stories of the unsung legends of film and music. These biographical vignettes, which more often than not culminate in untimely deaths associated with issues of addiction and mental illness, reveal a sincere passion for their subject matter, and are a high point of the collection. Meanwhile, the tragedies of these forgotten heroes are balanced by the levity of stand-out wordless sketches such as 'Nest Egg' and '50 Times Brighter than the Brightest Star', which deliver on syndicated strip-style gags with a decidedly darker edge. 
 Thoughtful in content and immaculate in presentation, Coin-Op Anthology is a dense patchwork of refreshingly different comics. Expect to come away from it rich in movie, book and album recommendations, and a whole lot of bang for your buck.  
Peter Hoey (W), Maria and Peter Hoey (A) • Top Shelf Productions,  $29.99
Peter and Maria Hoey are exhibiting at ELCAF. For more on their work visit their site here and follow them on Twitter here. 
Catch up on all our ELCAF Fortnight articles to date here. ELCAF runs from June 22nd-24th. Full details on the ELCAF site here and you can also follow the festival on Twitter here.