ELCAF FORTNIGHT!
One of our 2018 Broken Frontier 'Six Small Press Creators to Watch', Jayde Perkin's comics explorations of loss and grief are among some of the most powerful and touching examples of graphic medicine we have ever showcased here at Broken Frontier. I've said of her practice that "I firmly believe she's one of the most exciting prospects I've covered [at Broken Frontier] over the last couple of years", and her storytelling has noticeably evolved and grown since I first reviewed her comic Time May Change Me back in 2017.
Jayde has two new comics debuting at this year's East London Comics and Arts Festival including What a Life! (reviewed here at BF this week) and anthology collection I'm Not Ready. Today I chat to Jayde about the cathartic elements of graphic medicine, the responsibilities of autobio, and what the future holds for this rising star on the UK indie scene…
ANDY OLIVER: Can we start with you telling us a little bit about your artistic background and your wider practice to date?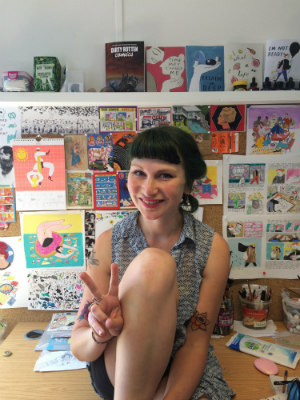 JAYDE PERKIN: I grew up in Devon, and after my A-levels went on to study an art foundation course at Exeter College, I actually studied Fine Art, but ended up realising that illustration was the right thing for me – I realised that illustration was this happy place where my love of literature and words, and my love of art and painting, could all combine. My tutor was wonderfully supportive, and as the only aspiring illustrator in a class full of aspiring Fine Artists and curators, she showed me picture books and helped me chose courses etc. I then went on to study illustration at UWE in Bristol, and I made lots of friends who are still some of the best people I know now. I loved the course, and fell in love with the city.
I stayed in Bristol after graduating, moved into a studio space immediately, worked a few part time jobs; the part-time work keeping me afloat whilst juggling sporadic editorial work. The studio became a place which kept me focused, it meant I was constantly around other creative people, and having this place to go to every day kept me making work, constantly exploring my discipline. I organised some exhibitions, and began making zines etc for comic fairs, through my pal Ed Cheverton, who set up Jazz Dad Books, a small press (now on a hiatus). After a couple of years of living and working in Bristol post-graduation, my partner David McMillan (he's also a brilliant illustrator) and I decided to change things up and move to Berlin. This next chapter of our lives was also lots of fun, meeting more amazing people, drinking cheap beer in the sunshine, and having the chance to live from illustration (almost) full-time.
I now reside back in Bristol, I'm back in the same studio I was in before, with lots of my pals. I've made work for a wide range of editorial clients such as: Penguin Books, The Pool, The Debrief, Das Magazin, Lagom, and Lenny Letter. I also make autobio comics which most of the time explore grief and loss, and I'm currently working on my first picture book (yay!)
AO: In terms of that comics work what have you self-published so far and what have been the themes of those books?
PERKIN: I've self-published a bunch of stuff over time, usually autobio stuff, some silly zines, sometimes just a bunch of stuff compiled together and collections of drawings inspired by my love of music. It's only been the last few years I've been honing my love of collecting stories, and compiling them together to make more linear and tangible narratives, in vignette-style minicomics.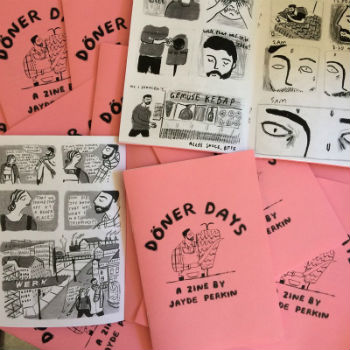 When we moved to Berlin I continued making 'zines and little comics, some funny (like Döner Days – which tells the tale of David's love of the Turkish-Berlin kebab) and some sad; stories about struggling with the language, being an ex-pat, and feeling like an outsider. People say that often the best art or music or poetry comes from heartache or darkness or sadness or melancholy or grief, and I agree, or at least, it feels natural for me to use art and comics as a vehicle for untangling difficult feelings.
Almost exactly a year after we moved to Berlin, I had to leave very suddenly. My mum was very ill, and she passed away a week later. I went back to Berlin for one night, to pick up my things, in a hazy dreamlike state. I moved back to Devon, and my storytelling began to take shape; making comics became a cathartic process for me. Exploring my grief through comic form, became a platform to understand these feelings of loneliness I was experiencing, it helped me make sense of a world which had suddenly turned upside-down, a world which felt like it was crashing down around me.
So, in answer, my comics generally explore themes of grief and loss, hopelessness and angst. And always with a musical reference, music is my other big love and, perhaps because I can't write music myself, I'm instead an admirer of those able to tell stories through song and poetry.
Short comics and zines which I've self published over the last couple of years include- Hausschuhe, Döner Days, Breathe in Deep, Pals, Time May Change Me, and I'll also have two brand new comics at ELCAF: What a Life; which tells the story of a residency I took part in, in Portugal last year; and I'm Not Ready; which is an 'anthology' of four shorter comics, three of which I've published online ('Paving Paradise', 'Fitter, Healthier', and 'Wish You Were Here') and a brand new one: 'Rauchen Kann Tödlich Sein'.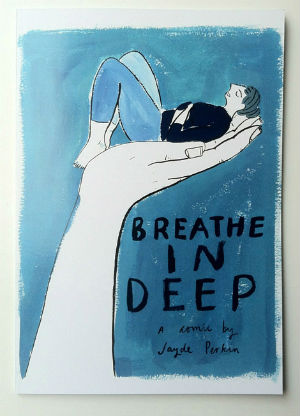 AO: Given that your comics like Breathe in Deep and Time May Change Me sit firmly in the areas of autobio and graphic medicine, what is it about sequential art as a medium that makes it so effective for you in communicating the themes of your work?
PERKIN: I think sequential art is something that has developed naturally over the past couple of years since I've gotten more into developing my work and telling my stories through comic form. Vignettes are such a lovely way of developing a story – each vignette can be quiet and abstract and silent, or they can be wordy and explicit and expressive. Sequential art offers a structure to help pace a story, to say as much or as little as necessary, because after all, sometimes not much has to be said at all. In both real life and on the page, often it's in the silences, the looks, the glances, the tender moments that tell the story, it doesn't always have to be so explicit. So much can be left to the reader to depict or attach their own meaning.
AO: Given the intensely personal nature of comics like Time May Change Me was there a sense of the cathartic about bringing those reflections to the comics page?
PERKIN: It was immensely cathartic, I've learnt so much about my own journey through grief from making comics, and one of the things I've learnt about myself is that when I feel sad or alone I just have to DO STUFF. I have to keep busy. So comics have bridged that gap for me, they've kept me busy, and are in away distracting, but equally, they've also become a platform for me to confront my grief directly.
Making comics hasn't 'solved' my grief, sometimes it's been a real challenge to make stuff, and other times it's been a way of me avoiding a lot of complicated feeling, but it has helped me begin to understand grief, and my own process.
Interior pages from Time May Change Me
AO: By their very nature autobiographical comics come with their own particular challenges. How do you approach the responsibilities of autobio work? And is there a sense of vulnerability about working in that area?
PERKIN: I began making comics for no other reason than "It felt right". It was a platform for me. The support in the comics world has been incredible, I'm humbled to have received so much praise and kind words about my writing and illustrations. Many people have gotten in touch who have lost someone close to them, and I hope that if my work has done just one thing, it has made someone feel less alone.
Grief is really complicated, it isn't linear, and everyone's experience of it is totally different. And that comes with responsibility. The thing about grief is that naturally it does make you feel very vulnerable, and then this has then opened up a complicated dialogue between myself and my own work. My artistic disposition and self-doubt can sometimes hit me in the face and make me think: "What the hell are you doing, Jayde?!" / "Why are you selling your grief at comic fairs?" / "You are over-sharing!". At times I can feel very guilty and self indulgent. Luckily, again, there's an amazing community of people out there supporting my work, and I also have a bunch of amazing friends who can tell me to shut up, and reassure me that I'm not doing any of these things, and instead they tell me that I'm sharing really tender and important stories, and I guess that's a good thing!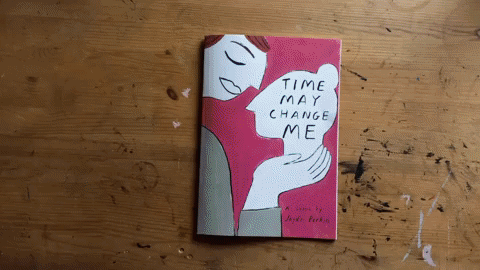 AO: One of the most effective aspects of your work is your distinctive visual characterisation and the angular, fluid feel of your highly expressive visuals which give such powerful emotional immediacy to your work. How has that style evolved?
PERKIN: I've always loved paint as a medium, even from a young age I enjoyed the fluidity of mark making with a brush. On foundation and at university I played a lot with collage, and photomontage, and then pencil crayon and print. But I always came back to using a brush, it feels very natural to me.
I remember during my third year at university, Ben Newman came in to do a lecture and some tutorials. I'd done a load of loose inky paintings and he said how much he loved the way I 'draw' with a paintbrush, and that has been something that has stuck with me. Since then I've continued to develop that within my visual language. What I love about illustration, is the playfulness – there are no rules; the flexibility to be able to accentuate features or limbs, distort the character or form, depending on what you want to say, or how you want to evoke an emotion or communicate an atmosphere.
I like embracing the mistakes a brush can sometimes make. It's fun because it's become my visual language, and I can make my own rules. My drawing style has developed very naturally, through my comics and narrative work, as well as my editorial work, and my love of painting and my love of painters has definitely informed this.
The fragile yet resonantly expressed poignancy of Jayde's autobio in 'Wish You Were Here' (left) and 'Paving Paradise' (right), both available in her collection I'm Not Ready, debuting at ELCAF
AO: Could you elaborate on that creative process, the mediums you work in and why they're most appropriate to the atmosphere and motifs of your storytelling?
PERKIN: My process is informed by painting, a few years ago I would paint all the elements in separate parts and piece them together on Photoshop. I don't tend to do that anymore, there's an old school part of me which loves the process of painting all in one go, making and creating original pieces; and now I have a collection of original paintings of everything I've made. I found piecing illustrations together meant the final artworks lacked something, a fluidity or tactility – I can't put my finger on it exactly, but it never felt quite right!
I love mixing my own colours and embracing the flow of the paintbrush. I work almost exclusively in gouache and Indian inks. I think these painterly textures and fluidity of lines lend themselves to the atmosphere of my illustrations, the way characters move within and throughout panels. And of course colour is super important to my work, I suppose that's why I like to have so much control over it, and use colour as my main vehicle to project feeling and atmosphere in my stories.
AO: Thinking about colour can you tell us a little about how you so evocatively use it in your work to accentuate mood, to make a connection with your readers and to create a sense of place and time?
PERKIN: Breathe in Deep (above) was the first comic I made in response to my mum's death, and it's painted almost exclusively in blues and black; this felt very right, as I was feeling, well, very blue. Blue is an amazing colour because there's so many shades, and so many feelings it can evoke, depending on the context. When blue is used predominantly on a page, it immediately evokes this overwhelming feeling of nighttime or moodiness or melancholia.
In Time May Change Me I played a lot more with different colours. My work is quite colourful anyway and I think a lot about the right colours to use. This story is told over several settings: Berlin / the airport / the hospital room / moving back to my home town / and some childhood memories. The Berlin sections are painted in colours inspired by my time there, and also the yellows, reds and blacks in the first few pages make reference to the German flag, and also Bowie in his Aladdin Sane phase.
I used pale greens and blues for hospital scenes- to indicate a subdued sterile-ness. I generally used muted colours for some of the childhood memories, and blues and yellows for moving back to the seaside town where I grew up. I use a lot of dark blues and blacks to indicate nighttime scenes, and general darkness. This theme has popped up a few times in various comics, using black spaces of ink to make reference to the dark space that began to grow around me during mourning and grieving, in my short comic 'Paving Paradise' (which is in the new anthology I'm Not Ready) I have these fluid panels where the character (me) is doing yoga and all the black ink flows around her movements and body.
But back to Time May Change Me, aside from all the over-thinking, some of the colours are actually just really honest. For example, when we were living in Berlin, I was always wearing this big thick red granny coat which I got for 6€ from a charity shop, and David was always wearing this massive bright yellow raincoat (above). So little things like this are also a little in-joke to anyone who knows us, and knows that we lived in those coats throughout the bitter and cold Berlin winter.
AO: Your new minicomic What a Life is coming out at ELCAF. I said of it this week at Broken Frontier that it "impresses as much for its ability to draw such powerful emotional reactions from its audience as it does for Perkin's distinctive visual style". What can festival goers expect to see in its pages?
PERKIN: What a Life (above) is inspired by an open school/artists residency I went on last September in Portugal. It was such a wonderful experience, I was immersed in this beautiful environment, in the sunshine, in the gorgeous countryside, and I wasn't in any way connected to my 'normal' life. I'd thrown myself into work and loads of other stuff since my mum had died, keeping busy all the time. And all of a sudden I was with these 11 strangers, who really quickly became my friends, and we were sharing this intimate learning experience. 'What A Life' became our sort of catch-phrase when we were all out there. We had all concluded that we had all needed this break from our day-to-day lives, and so every time one of us would crack open a beer, or get in the pool, or lay in the hammock, we'd say "What a life!"
It's in two parts, and both parts essentially tell the same story, but in a different way. They both tell the story of my friend Tina's ritual workshop, which we did on an empty beach, on the night of the full moon. We openly discussed our own relationship with daily rituals and routine, we did some sonic meditation, we swam in the sea, and we slept under the stars and the moon. Part two explores a more intimate and cathartic experience. We ended up having a very frank and open discussion about grief, my friend Gaïa had lost her mum around the same time as I had, and we really connected, and it allowed us both to let go in front of each other, and it was very cathartic. And we all skinny dipped and felt very at one with nature. It was such a wonderful time.
Jayde's two new comics debuting at ELCAF
AO: You also recently had your 'Fitter, Healthier' story published in the pages of UK anthology Dirty Rotten Comics.Can you go into more detail on the subject matter of that short?
PERKIN: The titles of almost all of my comics have a musical reference, this one is my Radiohead one.
I'm a sucker for routine and structure. When mum died, I left Berlin, and I felt like my life had been turned upside down. I moved back in with my dad, and that was all good, but it had all happened so suddenly. It was like I blinked, and everything was suddenly so different, and Berlin felt like a dream that had happened many moons ago. I found myself back in the town where I'd grown up. But as an adult, working from my dad's kitchen table, with only had a small handful of friends around who still lived fairly locally.
I hadn't given myself the time to adjust or really think about what was happening, and so I began grasping onto anything that would provide my life with some sort of structure, and in this instance it became exercise. I've always been a firm believer that exercise is a great way of warding off the blues, it's good for your body and good for your head. I used to run a lot in Berlin, and always found it a useful strategy for helping with some emotional and mental health stuff. But this comic explores this time when I began to crave that structure so much, that I almost depended on that exercise to make me feel in control of my life.
But with this one, I wanted to explore something more political than my own relationship with food and exercise. I'm constantly very angry at the media and the world of advertising and marketing. These companies who are constantly trying to make money from making people feel shit about themselves. It still shocks me when there's whole aisles in shops dedicated to making money from these 'quick fixes', and weightloss 'cures'. Maybe all you wanted was some shower gel, but instead, we are all being made to feel guilty for 'overindulging' if it's January, or that we should be 'beach body ready' for the summer.
The problem is, we shouldn't care, we are all beautiful and valuable. But everyone is more susceptible to feeling insecure when they're sad or anxious, no matter how supported you are, or no matter how many times someone else tells you that they love you. All this horrible clickbait and toxic marketing preys on us all when we feel at our most anxious or insecure or embarrassed or vulnerable. And I hate it. That's what 'Fitter, Healthier' is about. In a roundabout way.
AO: What are the advantages of self-publishing for you? Does it provide a greater sense of creative freedom and self-expression that wouldn't be so apparent in other forms of publishing? 
PERKIN: I think that's exactly it.
Self-publishing has given me unlimited creative freedom, and this has been such a huge advantage, because it's given me chance to explore my grief and in a way, digest it, process it. Which I suppose is why they are so raw and honest, because I've not had anyone else to answer to. But it also explains why most of my comics are so short, I'd love to make a longer form graphic novel, but I can't afford to take the time to work on such a long project, never mind get it printed. So I would love to collaborate with a publisher one day.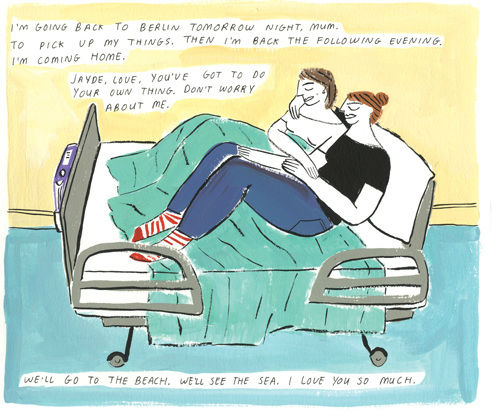 AO: As a more recent creator on the small press scene what would be your one soundbite of advice to newer creators in getting their work seen by wider audiences?
PERKIN: Just keep making work and sharing it! Go to comic fairs, meet people at comic fairs, make comics and zines and sell them at comic fairs, meet more new people at comic fairs, drink beers with the people you met at comic fairs. Immerse yourself in the community.
AO: And, finally, what's next for Jayde Perkin? What can we expect to see from you in the near future both in comics and in other areas of illustration?
PERKIN: Well, right now I'm working on my first children's picture book! Which is super exciting! I was actually approached by Greet (the founder) of Book Island at Bristol Comic and Zine Fair, she saw my minicomics Time May Change Me and Breathe in Deep, and has commissioned me to write and illustrate a book about grief, for children. It's been a little daunting and scary and overwhelming to write a book for children that's about loss. But I do feel that especially in British culture, death is still so taboo, and so I think that making a book like this is really important. It will be out in March 2019 – so watch this space!
I'm also working on a few ongoing comics projects, and my editorial work too. I really love creating editorial work because it provides me with a sense of balance, and is a nice break from longer ongoing projects – there's something really exciting and refreshing about having a brief, immersing yourself in the 'narrative' of the article or piece, and having a tight deadline to work to.
Jayde Perkin will be exhibiting at ELCAF. For more on Jayde's work visit her site here and her online store here. You can follow her on Twitter here.
For regular updates on all things small press follow Andy Oliver on Twitter here.
Catch up on all our ELCAF Fortnight articles to date here. ELCAF runs from June 22nd-24th. Full details on the ELCAF site here and you can also follow the festival on Twitter here.