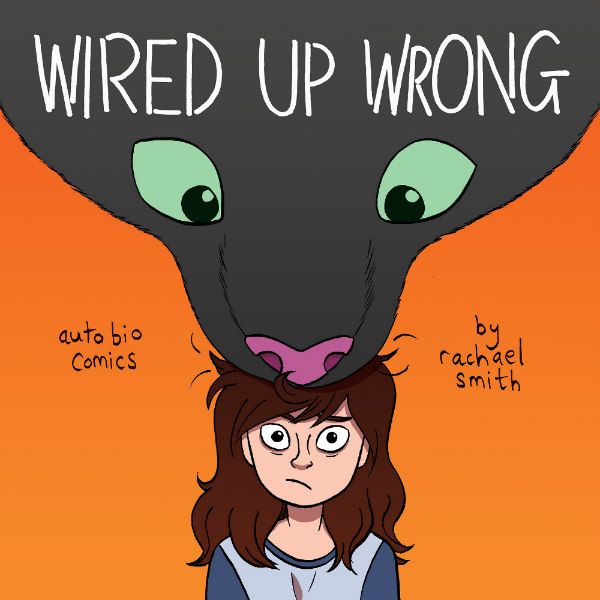 Debuting at Thought Bubble!
I can point to any number of reasons to enjoy Rachael Smith's work – her nuanced characterisation, her expressive cartooning or her authentic use of dialogue, for example, all spring rapidly to mind. But perhaps one of the elements of her practice that I haven't spoken about nearly enough in my coverage of the British Comic Awards-nominated artist's work here at Broken Frontier is its accessibility.
From I Am Fire to House Party, through to The Rabbit and Artificial Flowers, Smith is a creator with the ability to appeal to a broader audience outside of those who would traditionally label themselves as comics readers. Much of that draw is in her layered and complex characters who speak to us through their reactions to instantly recognisable scenarios that echo our own life experiences.
I've said of her comics in the past that such is the strength of her character-led storytelling that "you stop being a passive observer and immediately become an active participant instead". That power to bring you fully into the events of the page – to so effectively communicate the emotions of her protagonists – has never been more in evidence than in the pages of her latest Thought Bubble-debuting book.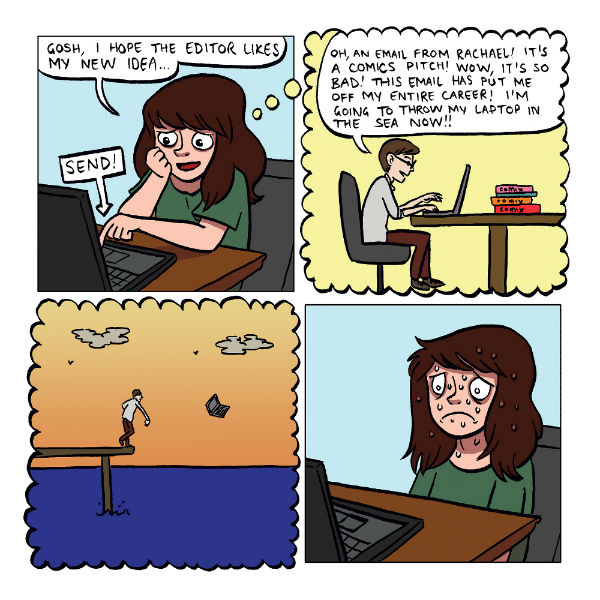 Wired Up Wrong hearkens back to Smith's diary comics days with a series of focussed autobio strips that fit firmly into the graphic medicine area of comics as she brings her experiences of living with depression and anxiety to the comics page. Presented as one-pagers or single illustrations the material herein is a seemingly incongruous and yet ultimately highly effective mix of light-hearted explorations and potent re-creations of her lowest moments.
Two key visual signifiers are used to examine that subject. While Smith is hardly the first to use the symbol of a black dog to represent depressive illness it's the manner in which she plays with that visual metaphor in the pages of Wired Up Wrong that is key here. "Barky", as he is called, morphs between forms to symbolise different aspects of her struggle. Sometimes he is an impishly malevolent, almost demonic presence, filling her with self-doubt and fear about work, money or how she is perceived by others. On alternative occasions he appears huge and all-encompassing; ready to almost smother her into apathy with his massive form.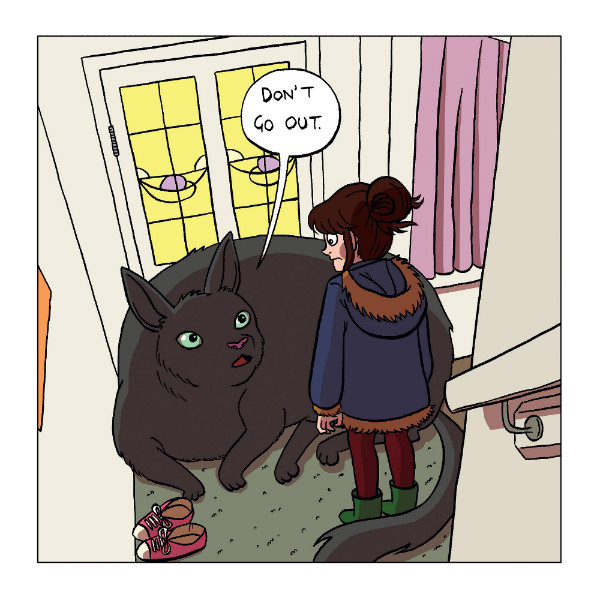 Similarly, the two roulette wheel-spinning characters in her brain – depicted as controlling her reactions to events with a casual randomness – are akin to a criminally negligent version of DC Thomson's The Numskulls. As comedic incarnations of her interactions with her environment, though, they act as easily comprehensible symbols to the reader of the sometime unpredictability of her responses, as embodied in the book's title.
Over the course of these near-40 pages we observe Smith's daily routine with partner and fellow cartoonist Adam Cadwell, cat Rufus and the ever lurking Barky. Seemingly larger worries like her fears over her development as an artist are frequent while sometimes the setbacks can appear more arbitrary – a panic attack over the barking of the neighbour's dog trapping her indoors or a dream about the fragility of a leaf taking on an overwhelming figurative importance. Each four-panel offering is impeccable in terms of timing and rhythmic build-up with the added bottom-of-the-page commentary on each strip – reminiscent of Ryan North's Squirrel Girl asides – adding extra layers of meaning to every entry.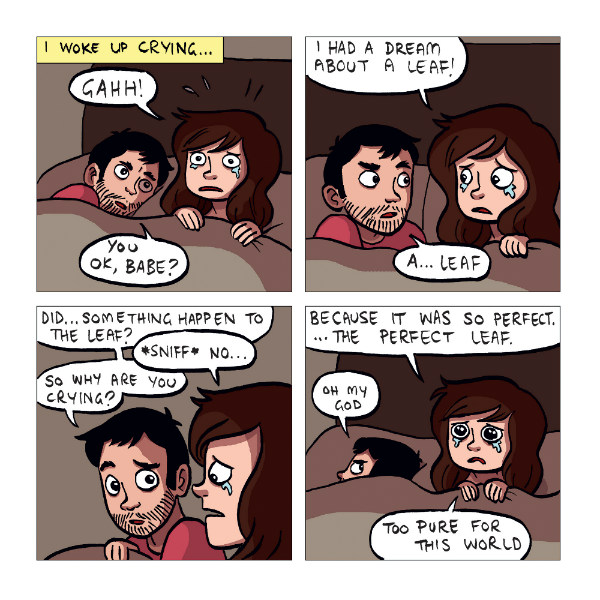 There's a feeling of Smith not just creating for an audience here but also seeking to make sense of the challenges she faces for herself and Wired Up Wrong feels all the more honest and affecting for that. It's self-deprecating in its humour but never loses sight of the issues involved or trivialises them for the sake of raising a smile from the reader, and is all the more empathetic in tone for that balance.
Approaches to depicting mental health issues in comics have been diverse in style and tone over the last few years. What Smith brings to the table here is an autobiographical account that embodies that sense of accessibility I was talking about at the beginning of this review with a gentle wit and clarity that never patronises its readership. Possibly the most vitally important use of the form yet from one of the now established mainstays of the UK indie comics circuit, Wired Up Wrong destigmatises and informs in equal measure.
You can pre-order Wired Up Wrong from Rachael Smith's store here priced £4.00. The book debuts at this year's Thought Bubble. For more on Rachael Smith's work visit her site here and follow her on Twitter here. 
For regular updates on all things small press follow Andy Oliver on Twitter here.