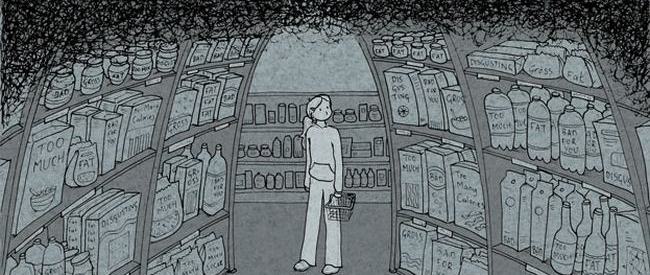 Lighter than My Shadow is an outstanding and courageous use of the graphic novel format to inform, to elucidate and to share.
Arguably, the graphic memoir is the strand of comics publishing most responsible in recent years for legitimising the form in the eyes of a wider audience and underlining that their assumptions about its inherent infantilism have been unfounded. As a subgenre of that, what has now been termed "graphic medicine" has played an integral part in taking that newcomers' appreciation of sequential art one step further, ensuring not only that they appreciate comics as a form but also understand its unique ability to convey emotion and share personal experience. Those looking for a prime example of that statement need look no further than Katie Green's autobiographical graphic novel Lighter than My Shadow – published by Jonathan Cape – described on its release at the end of last year as "a graphic memoir of eating disorders, abuse and recovery".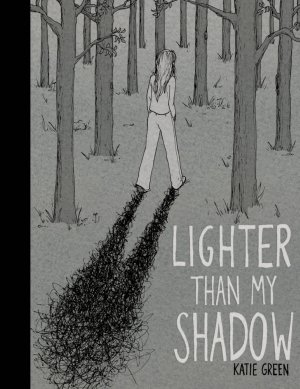 At 500-plus pages long, Green's account of her struggles with anorexia, self-esteem and a resulting betrayal of trust is a comprehensive and weighty tome.  It begins in her childhood portraying the family customs at mealtime, with early signs that all is not well as the young Katie begins hiding uneaten food in her bedroom. From there we follow the twisting psychological path of her illness through her school days, and her growing feelings of guilt in regards to food, to the eventual diagnosis of anorexia nervosa.
Throughout Lighter than My Shadow the darkness that permeates Katie's existence is a constant visual presence; its form depending on her state of mind at any given point in the narrative. Reflecting the intensity of her experiences it variously manifests itself as a scribbled black cloud hanging ominously over her head to a sea of blackness, enveloping the page and consuming the author in its malign embrace. It's a key storytelling technique in the book and one that has a commanding significance in terms of expressing the effect that the eating disorder has not just on herself but also on those around her. As the months and years progress, for example, we see its grip on not just Katie but also expanding to swamp her entire family.
One thing that becomes evident as the years pass by on the printed page is the complexity of the condition. There are no easy answers as to its origins, no pat explanations for its emergence. Green chronicles events but leaves it to the reader to draw what conclusions they may as to root causes. There are cycles of recovery and relapse; coping mechanisms that slip into ritual and obsessions. So much of her routine becomes an issue of control, perhaps hinting at a deeper catalyst for events but also trapping her within the confines of the recovery process. At points she even feels defined by her illness – "Nothing feels real except anorexia" – and clings to it as if it's an essential part of her persona "It's the only thing that's ever made me feel good about myself… and I like that it makes me interesting, different…"
As we approach the second half of Lighter than My Shadow, and the university period of its author's life, events take a more disturbing turn. It's here that the manipulative Jake – a self-styled healer and alternative therapist – makes his entrance. While his therapeutic influence at first appears to be beneficial it becomes readily apparent that his motivations are sinister in intent. Indeed, he's an abuser, preying on the trust of someone whose welfare he's supposed to be safeguarding. An appalling betrayal that shapes the book's narrative thrust for the remainder of its pages, resulting in some of Green's most striking and haunting imagery so far, and some extraordinary uses of the broader canvas of the comics page.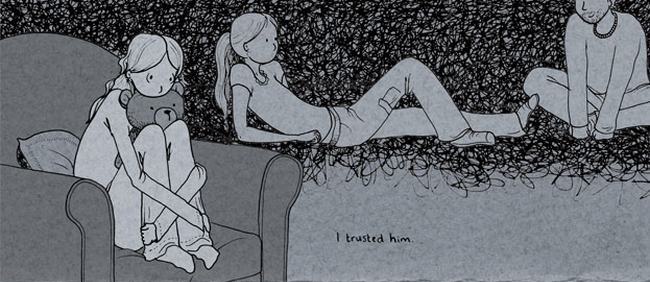 Green's style as narrator is uncompromising, raw and painfully honest – it's not so much what she reveals about the effects of living with her illness as what she discloses about her state of mind through each episode that makes Lighter than My Shadow such a compelling read. Artistically, it's a masterful use of the comics form. Green's understanding of how to use sequential art to communicate emotional states through visual motifs and storytelling devices unique to the form is quite astonishing, and fully vindicates her choice to recount her experiences as a graphic narrative. The borderline metatextual sequences in the final section of Lighter than My Shadow linger long after the book has been read and mentally digested.
This is a journal of not just struggle but of recovery and I give nothing away to note that the book finishes on a cautiously optimistic note. Reviewers, admittedly, tend to bandy about words like "powerful" to the extent that they lose all currency but, without a doubt, Lighter than My Shadow is the ultimate expression of that word in comics form. As an outstanding and courageous use of the graphic novel format to inform, to elucidate and to share, it would be woefully inadequate to describe Green's story as a tour-de-force of graphic memoir storytelling. It's a tour-de-force of graphic storytelling full stop.
Katie Green (W/A) • Jonathan Cape, £20.00, October 2013
You can read the first 24 pages of Lighter than My Shadow online here.