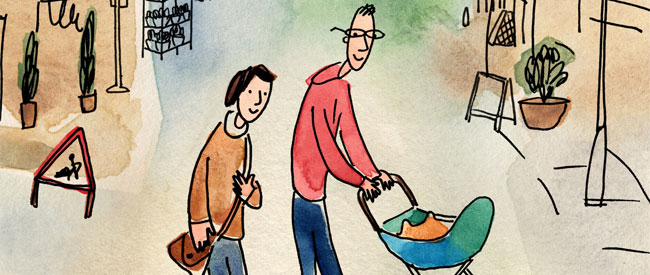 In Probably Nothing, her visual diary of pregnancy and cancer, Matilda Tristram uses wit and charm to relate what the cover of her book somewhat euphemistically calls "A diary of not-your-average nine months."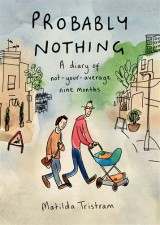 In the cartooning world, it seems that diary comics are like belly-buttons: everyone's got one, but that doesn't mean you have to show it off.
I know that's a creaky old simile, but in the case of Matilda Tristram's Probably Nothing, a handsome hardback published recently by Penguin's Viking imprint, it's got a strange resonance; one of the things that happens to her during the traumatic nine-month period chronicled in her book is the apparent loss of her belly button to a surgical procedure.
However, the book itself is a captivating piece of work that certainly does deserve to be seen as widely as possible.
Probably Nothing is a 96-page diary comic created during what must have been an unimaginably stressful time in Tristram's life. In early 2013, while pregnant with her first child, she was diagnosed with stage-three bowel cancer (having previously been sent home and told that her symptoms resulted from a gastric problem).
She was immediately faced with a dilemma: start chemotherapy straight away and risk foetal damage; terminate the pregnancy and start the treatment after that (with the risk of infertility); or wait until after the birth of the baby to start treatment.
Having chosen the first of those options, she made another decision at that early stage: to record her pregnancy and treatment as a diary comic – one that would subsequently stand head and shoulders above the narcissistic self-dramatisation of the millennial "if I don't share it, it didn't happen" crowd.
The fact that Tristram was creating her work "from the front line" provides it with one of its biggest strengths – an intense sense of immediacy that sweeps the reader along through the deepest parts of the darkness and the often unexpected glints of light. (And there's a lot of humour in the book, as Tristram casts an observant and quizzical eye on her own behaviour and that of those around her.)
In creating the comics that form Probably Nothing, Tristram didn't have the opportunity to look back on what had happened to her and mould it to the kind of narrative shape we might have expected from a more traditional "cancer book".

Instead, we're served up the good and the bad as they happen. Despite everything she's facing, Tristram does what she can to keep her life as normal as possible, until those occasions when – suddenly, the way a plane might plunge upon hitting a patch of turbulence – the enormity of the situation hits her and the void yawns before her.
The format of the book dictates its pacing and tone, to a degree; in the life that Tristram wants to lead, there's no time to dwell on what her body is inflicting upon her and what it might mean for the future; there are too many practicalities to be dealt with, too many relatives and fabulous OG hipster friends to see, too many exhibitions to visit. Packing events and emotional responses into a tight format based on a sixteen-panel grid gives the work a relentless rapid-fire rhythm that refuses to let the reader go.

However, although her natural lightheartedness and appetite for life shine through, Tristram is equally keen not to depict herself as a saintly, enduring invalid. Not surprisingly, she simmers with anger and resentment at times (while never missing her stop and ending up in bitterness or self-pity)
The intense sense of dramatic immediacy extends to the artwork, although the later addition of delicate watercolours has given a bit more depth to the sketchy but beautifully eloquent originals. As an experienced children's writer and animator, she has a beautifully honed sense of economical but evocative storytelling.

Hopefully it's not too much of a spoiler to reveal that the book ends abruptly after Tristram is given the post-treatment all-clear, with James (her son) developing nicely. There's no "what have we learned?" epilogue: this isn't that kind of book.
Instead, its author is keen to start the next chapter of her life – as impatient as always to get on with new projects. Let's hope that those include more insightful and moving comics like this one – but with a bit less cancer next time round.
For more information on bowel cancer, visit the website of the charity Bowel Cancer UK. 
Matilda Tristram (W/A) • Viking, £16.99, August 2014.