We've always been big believers at Broken Frontier in the power of graphic medicine to educate, inform and raise awareness so we're very pleased to be able to run this preview of a new downloadable comic from the Children's Tumor Foundation which was released online on Friday for NF2 Awareness Day. Full details and sample pages run below.
The Children's Tumor Foundation Debuts New Comic During Neurofibromatosis Awareness Month
Award-Winning Comic Creators Unite To Tell Story About Rare Disorder
The Children's Tumor Foundation (CTF) is proud to announce the release of their newest resource, Understanding NF2, an eight-page educational comic created in collaboration with award-winning storytelling studio Bottled Lightning. This memoir-style comic is part of the Children's Tumor Foundation's ongoing effort to raise awareness about neurofibromatosis (NF) and create new and interesting resources for the millions of people worldwide who live with this rare disease.
Written by CTF's Director of Communications Vanessa Shealy Younger and illustrated by Eisner-nominated artist Kevin Colden, the comic tells the true story of Billy Nguyen, who was diagnosed with neurofibromatosis type 2, or NF2, at the age of six. NF2 is characterized by the development of benign tumors on the hearing nerves, and sometimes leads to partial or complete hearing loss or other difficult problems.
Once Billy learns of his NF2 diagnosis, the story tracks his childhood struggle to understand the difficult disorder. His Vietnamese parents spoke some English, but all the medical terms were too overwhelming, leaving young Billy to make a lot of adult decisions on his own.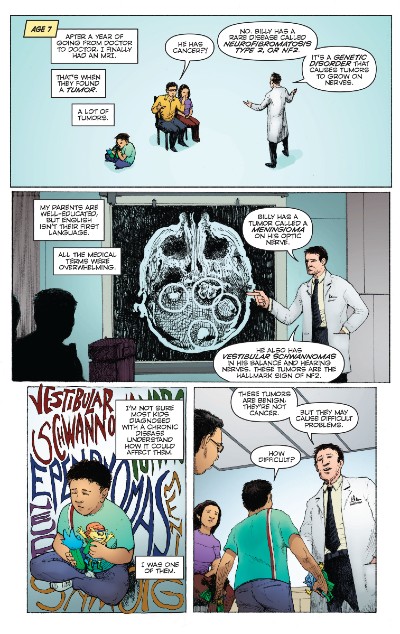 Now a fourth-year medical student at the University of California, Los Angeles, Billy was a part of the process from the beginning. After reviewing the final draft of the comic, Billy said, "I'm speechless. I think this comic is so beautiful, it still blows me away. I'm honored to have my story told in this way."
Artist Kevin Colden has a personal connection to NF through his wife, graphic novelist Miss Lasko-Gross. "My wife's second cousin has NF1, so I've personally seen how NF can affect families. Working with this script and being able to bring Billy's story to life was a wonderful opportunity," Kevin remarked.
"It was such a privilege to work with Billy, and then to engage an entire team of talented artists to work on this story. I'm excited about the potential at the Children's Tumor Foundation to make neurofibromatosis, and rare disease in general, more accessible to patients and caregivers through the use of graphic medicine and visual storytelling," said Vanessa Younger.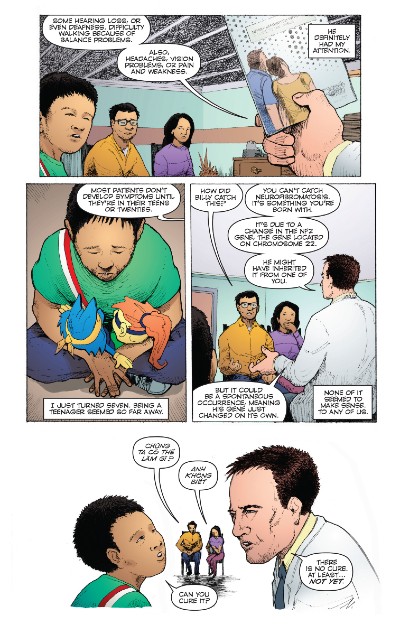 This is the third collaboration between CTF and the storytelling studio Bottled Lighting. Their previous collaborations Moxie and Sparx Introduce the Accelerator and Moxie and Sparx Explain NF1 are available to download for free from the CTF website at ctf.org/kids. Colorist Chris Sotomayor and letterer Nate Pride round out the creative team.
"We're tremendously proud of the work that CTF is doing. Comics are an incredible resource for people to experience meaningful stories and new perspectives. Billy's story is an inspiration," noted David Gallaher, Bottled Lightning co-founder.
Released in honor of NF Awareness Month, and on the occasion of NF2 Awareness Day, May 22, the comic is one of several remarkable stories the Foundation has released to highlight the critical need for NF research. This year, the campaign is focussed on the external things the NF community is doing to raise the profile of this rare disease, and the internal struggle patients experience living with a genetic disorder that manifests differently in each NF patient (sometimes externally, and often internally). While the current environment has everyone at home and 'socially distanced', there are still many things patients, families and their supporters can do to Make NF Visible through a collection of ideas themed Home is Where the Heart Is.
The comic is available to read for free at ctf.org/billy where you can also find further information about CTF and learn more about Billy's powerful story.
Understanding NF2
Writer: Vanessa Shealy
Based on the story of Billy Nguyen
Artist: Kevin Colden
Colorist: Chris Sotomayor
Letterer: Nate Pride
Managing Editor: David Gallaher
Produced by: Bottled Lightning
About Children's Tumor Foundation
The Children's Tumor Foundation is a 501(c)(3) not-for-profit organization dedicated to finding effective treatments for the millions of people worldwide living with neurofibromatosis (NF), a term for three distinct disorders: NF1, NF2, and schwannomatosis. NF causes tumors to grow on nerves throughout the body and may lead to blindness, deafness, bone abnormalities, disfigurement, learning disabilities, disabling pain, and cancer. NF affects 1 in every 3,000 births across all populations equally. There is no cure yet – but the Children's Tumor Foundation mission of driving research, expanding knowledge, and advancing care for the NF community fosters our vision of one day ending NF. For more information, please visit www.ctf.org.
About Bottled Lightning
Founded by David Gallaher and Steve Ellis, Bottled Lightning has developed a portfolio of award-winning graphic novels including High Moon for DC Comics, the ground-breaking series Box 13, and The Only Living Boy graphic novel series, which was recently nominated for two prestigious Ringo Awards. Currently the studio is hard at work on the follow-up series, The Only Living Girl, which is published by Papercutz. For more information, please visit www.bottled-lightning.