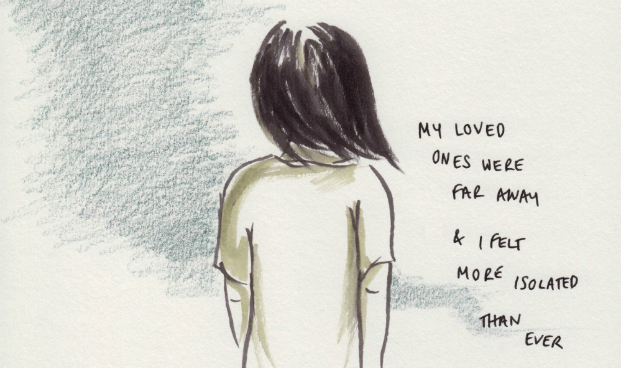 DEBUTING AT THOUGHT BUBBLE!
In the time since 2014 that we have been covering the work of Rozi Hathaway here at Broken Frontier her comics have, arguably, become known for two main attributes. Firstly, on a narrative level, her explorations of universal themes of belonging, loneliness and discovery through the use of magic realism, often centring on the world being seen through younger eyes. And secondly, in terms of of presentation, her material has been notable for its stunning and sumptuous use of colour to evoke mood and accentuate the underlying motifs of her stories.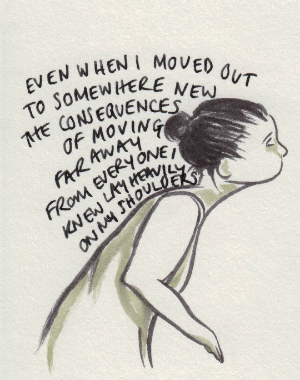 Hathaway's new, Thought Bubble-debuting comic Self-Care & Vegetables steps away from both of these trademark elements. It may seem a markedly different offering to those familiar with her more allegorical comics but it's not an entirely new direction for the Broken Frontier 2016 Breakout Talent Award winner.
Earlier this year her short anthology comic Cosmos & Other Stories explored concepts of solitude, loss and separation. Emphasising its instant interconnectivity with its readership, I said of it here at BF that "Cosmos & Other Stories isn't a comic you read. It's a comic you feel."
In the A6 minicomic format of Self-Care & Vegetables Hathaway continues those thematic meditations but does so from a directly autobiographical perspective rather than the more representational approach that she adopted in Cosmos. It's an account of a period in the artist's life after the breakdown of a long-term relationship that chronicles the profound effects that event had on her in psychological, practical and physical terms.
There's a zine-like feel to Self-Care & Vegetables, not just from the way that the book is packaged but also in its presentational style. It sits somewhere between graphic narrative and pure sequential art with that lesser reliance on panel-to-panel narrative giving it an appropriately more personal, stream-of-consciousness feel to its pages. This also affords Hathaway an opportunity to stretch her storytelling skills, bending conventions of the form to her will thematically – check out the powerful use of lettering in some of the sample pages in this review – and making extensive use of visual metaphor.
Given its depiction of an experience that few readers will be lucky enough to avoid in their lifetimes Self-Care & Vegetables will doubtless connect with much of its audience on a fundamentally empathetic level. This is a powerfully recognisable portrayal of the grief that comes when a relationship runs its course; the uncertainty, the perceived requirement to function regardless, the isolation and the anxiety.
But Self-Care & Vegetables is also a record of recovery and the coping mechanisms that enable that, one of which was the creation of this comic. Whether that was an exercise in catharsis or self-analysis is something which only Hathaway will know but the final pages – perfectly paced and employing a deeply affecting minimalism – are a testament to how much her craft has matured since we first started covering her work here at BF those few short years ago.
Not the easiest read you'll pick up at this year's Thought Bubble festival but certainly one of the most essential…
Discover more about Rozi Hathaway's work on her site here and follow her on Twitter here. You can also pre-order the comic from her online store here priced £3.00. Rozi will be at Table 37b in the Cookridge Street Marquee at Thought Bubble.

For regular updates on all things small press follow Andy Oliver on Twitter here.