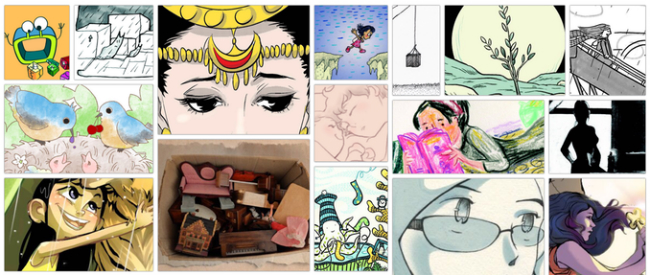 Last week in this column I recommended three comics-related Kickstarter campaigns that, for various reasons, I felt deserved your attention. One of these was for the Art Aid Nepal anthology Home which brings 32 multicultural artists together in response to the earthquake disaster in Nepal earlier this year.
Masterminded by creators Elena Vitagliano (whose The Deep Needs Train I reviewed here at Broken Frontier a couple of years back) and Kripa Joshi (Miss Moti) all proceeds from sales of Home will go towards the funding of education and art therapy workshops for affected children in Nepal. You can listen to Vitagliano and Joshi discussing their aims with the project in the video below.
The book mixes comic strips and single page illustration as the contributors explore both the very concept of "home" and what that means to them individually. It means that the work herein is a mix of both powerful metaphor and intensely personal slice-of-life pieces. The international flavour of the anthology and the diverse styles of the names involved giving it an eclectic and unpredictable nature.
The lead story in Home is Kripa Joshi's 'Letter to My Daughter' which instantly forges a connection between the reader and the objectives of the anthology with a first-hand account of the earthquake. Joshi hails from Nepal and was there in April to experience the turmoil first hand. It's not comics per se but rather illustrated prose; a poignant missive to her infant daughter about those events that underlines that a true sense of home is not in a location but in family. It's beautifully written with an accessible visual clarity that sets the stage for the next 90 or so pages.
Sample pages from Kripa Joshi, Mike Medaglia and Karrie Fransman
Many of the names within Home will be familiar to 'Small Pressganged' readers. Mike Medaglia (One Year Wiser), for example, is on hand to produce a typically spiritual and community-based piece that inventively constructs its message around the letters of the word "home". Gill Hatcher (The Beginner's Guide to Being Outside) chooses the comforting familiarity of an inclement Scottish day as her definition while Richy K. Chandler (Tempo Lush Tales) places the values of a home over the physicality of it.
Karrie Fransman, whose graphic novel Death of the Artist was by far one of the very best uses of the form I read in 2015, provides one of the true highlights of this collection with a short story that, as ever where Fransman is concerned, toys with the endless possibilities of the form. Her "characters" remain off-panel and yet it's their very lack of immediate presence that makes this such a positive reminder that a home is more than objects and possessions.
Interiors by Elena Vitagliano, Rozi Hathaway and Richy K. Chandler
Whether it be Sarah Lightman emphasising the importance of the extended family unit through the ritual of tea-making, Hannah Lee Miller's uplifting fable of a heroic tortoise coming to the aid of homeless snails, or John Miers underlining that the concept of home has a constant capacity to surprise, there's a multitude of uplifting and thought-provoking approaches to the subject matter here. In some cases, like Elena Vitagliano's tale equating the smell of coffee to a sense of belonging, there's even an impressive use of diverse storytelling techniques within the same offering.
Home also provides contributions that invite the reader to construct their own narratives around a single image. Katriona Chapman (Katzine – her page right) is another artist to emphasise that our relationships are integral to our sense of home while Rozi Hathaway (The Red Road and one of our 'Six UK Small Press Creators to Watch in 2015') provides a quiet but poignant moment of finding one's place in the world amidst chaos and disorder. Asia Alfasi similarly highlights the importance of memories in relation to the thematic heart of the anthology.
To a degree it feels almost redundant if not inappropriate to be critically analysing a compilation of work that has been created with such altruistic intentions. However, regardless of the origins of its existence, Home is a reflective and contemplative collection of evocative work that all readers will relate to. Great comics and a great cause in one package. This one deserves your support. Back that Kickstarter here!
For regular updates on all things small press follow Andy Oliver on Twitter here.