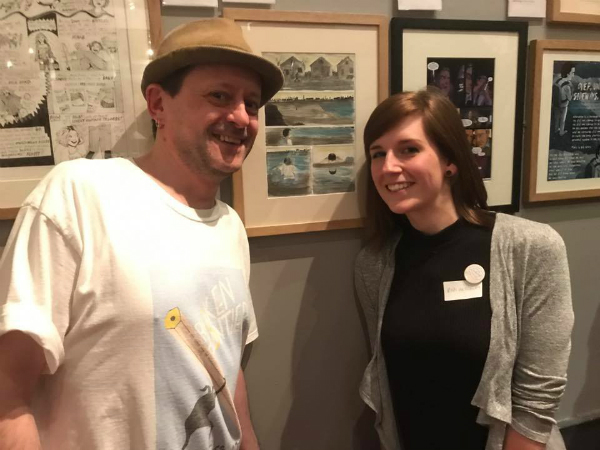 Given the frenetic pace (14 articles and around 15,000 words!) of our Myriad Week last week, spotlighting the creators and graphics list of the Brighton-based publisher, you could be forgiven for thinking that was the main focus of our behind-the-scenes activities here at Broken Frontier Towers of late. But the reality is that while one of our long-term coverage projects may have culminated there are plenty of others lined up in various stages of development. You can look for our next "event week" in just over a month's time and it's going to tie in with some important "off-site" activity for BF…
Last week was also notable for the opening of the excellent 'The Inking Woman' exhibition at London's Cartoon Museum, an unmissable celebration of women cartoonists that is described as a showcase for "the work of 96 named British artists, and a few more anonymous ones, revealing a wealth of women's wit and insight spanning 250 years. A wide-ranging selection includes prints from the 18th century, caricatures, joke, editorial and strip cartoons from magazines and newspapers, postcards, comics, zines, graphic novels and digital comics. The exhibition – the largest of its kind to date – demonstrates that women have always had a wicked sense of humour and a perceptive view of the world. Some of the cartoons will be familiar, but there are also forgotten gems from the past. We hope that it will be a voyage of discovery for the visitor."
At 'The Inking Woman' launch with Elsie Harris Picture Palace creator Jessica Martin
From a BF perspective we could not be more delighted to note how many of the featured artists were either first covered here at Broken Frontier – our own EdieOP, 2016 BF Breakout Talent Award winner Rozi Hathaway, Elizabeth Querstret, Wallis Eates and Jessica Martin for example – or have been much featured on the site over the years including possibly the most covered artist here in recent memory Danny Noble (another 'Six to Watch' star), multiple Broken Frontier Award-winning Karrie Fransman, Hannah Berry, Isabel Greenberg, Nicola Streeten and so many more.
And for fans of our 2016 Broken Frontier Small Press Yearbook there's an opportunity to see a page of Rozi Hathaway's art from her story 'Afloat' in the exhibition (Rozi and I pictured together with her art in the top banner image). 'The Inking Woman' runs until July 23rd and the Museum shop has copies of the Yearbook priced just £6.00. (You can also buy it online here).
New ground for BF pull quotes at 'The Inking Woman' exhibition and we'll have a major presence at ELCAF this year as well
In other extracurricular Broken Frontier news, we'll also be at this year's ELCAF as we host our first official Broken Frontier panel at the festival. It's been a pleasure to chair panels there over the last two years when I've had the opportunity to chat with guests of the calibre of Andy Poyiadgi (Lost Property), Philippa Rice (Soppy), Sam Bosma (Fantasy Sports), Julia Scheele (One Beat Zines), Simon Moreton (Minor Leagues) and Daniel Humphry (Off Life).
This year's theme will be 'Comics and the Micropublishing Revolution' – a Broken Frontier panel "looking at the landscape of the indie comics publishing scene, how it has radically altered over the last few years with the rise of the micropublisher, and what that means in terms of routes into comics for new creators/self-publishers."
Joining me in in the discussion will be Eisner Award-nominated and Ignatz Award-winning rising indie superstar Tillie Walden, Sanita Muižniece (co-publisher of the influential Latvian micropublisher kuš! Comics), David White of acclaimed UK micropublishing sensation Avery Hill Publishing, and self-publisher Peony Gent (2017 Broken Frontier 'Six to Watch' and one of the 'It's Nice That' Graduates of 2016). The panel is free for ELCAF ticket holders on Saturday 17th between 5.30pm and 6.45pm.
Whether you're a fan of some of the best new work on the small press scene or an aspiring creator looking for advice on routes into comics publishing, this splendid line-up of micropublishing movers and shakers is not to be missed!
So a couple of little nuggets of information as to what we've been up to outside of your laptop or tablet reading of late. It hardly stops there though. Small Press Day is coming and we have a second Yearbook to get out into the world. It's going to be a very exciting few months for the BF team coming into the summer. We'll have more to say about both projects very soon…
– Andy Oliver, Broken Frontier Editor-in-Chief, May 1st, 2017
For regular updates on all things small press and Broken Frontier follow Andy Oliver on Twitter here.