On the last occasion that I reviewed a solo project by UK small presser Elizabeth Querstret I described her as "a prolific graphic diarist with a larger than life personality both on and off the comics page" and noted that "her work is totally uncompromising in its honesty". I first covered her last year when I reviewed her self-published minicomic Enter My Working World which wittily detailed her calamitous employment history. She's been a semi-regular fixture in 'Small Pressganged' ever since, whether it be for her own print projects, her webcomics, or her contributions to anthologies.
One of the UK small press scene's most visible slice-of-life practitioners through her Querstret Comics updates, Elizabeth's book Walks with LuLu – which combines dog-walking and meditative reflections on life – has also just been released by acclaimed British micropublisher Avery Hill Publishing. Today in the latest of my series of 'Small Press Spotlight on…' interviews I talk to the inimitable Elizabeth Querstret about the vulnerability of autobio comics, what we can expect from her AHP offering, and her advice for newcomers to the self-publishing world…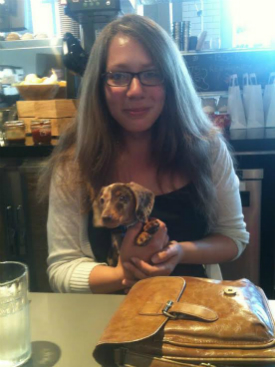 ANDY OLIVER: I first reviewed your work at the beginning of 2014 when I covered Enter My Working World. What inspired you to create that catalogue of your working misadventures? And what attracted you to comics as a medium in the first place?
ELIZABETH QUERSTRET: Ah yes! I still remember when I got a notification on my phone to tell me, someone called 'Andy Oliver' had reviewed my zine. I printed that review out and had it stuck on a wall – until I moved!! I must say, your review was a great motivation to continue.
Anyway! Back to the question…Before 2014, I didn't know what a zine was, let alone have an idea that I was suddenly going to start making lots. Like most people who move in the same circles, I have always been  creating and making. I don't stop.
For a long time I had been illustrating my thoughts before I'd go to sleep, and then this would sometimes evolve into slightly autobio doodles. In 2013, I shared some of these with a certain Bearded Chap and he said something along the lines of, " Do you know that there are people who do what you are doing, but they are selling and sharing it with people in the public domain". I looked at him blankly and dismissed this. He later pushed things in front of me, that he had bought. I eventually decided that I might give this zine stuff a go and thought what the heck will I do?
There was a page in my illustrated thoughts diary, all about how I am a serial job quitter and instantly all these terrible scenarios filled my mind. Bingo! Enter My Working World was born. The stories spilled out from my memory so quickly and so detailed. I didn't want to waste time in fussing over the artwork as I wanted to make sure I got everything down as I was remembering it. I suppose there are more logical ways to work, but I guess my approach was/is reflective of my personality. I quickly discovered that the comics medium was instant and to me, a more fun way than writing everything down.
Pages from Elizabeth's breakout print comic Enter My Working World
You have a very distinctive, uncompromisingly honest take on autobiographical strips. How would you describe your particular brand of diary comics?
My younger brother is always telling me that I over-exaggerate everything and make things up. He never believes things happen unless he is actually there at the time to also witness it. I guess I have always been a vivid storyteller and I can get over-excited on silly details. I do think other people experience similar situations, it's just about whether they are stopping to notice.
My approach in content can be very to the point. I do occasionally ponder if I should expose myself so honestly. That quickly passes with my slightly sadistic sense of humour being amused by the content. These strips are predominantly made with me in mind. I don't make them thinking about others reading them (perhaps I should). But I create them for my own enjoyment and I enjoy honesty. I kinda forget that I'm then sharing them with the world! (dangerous I know). Since creating these strips, it has got me contemplating why people view honesty as a taboo. What is so wrong with sharing how you feel about things. It is very likely that others will feel the same on topics, but on the other hand, so what if they don't?

Broken Frontier Editor in Chief Andy Oliver guest-stars in this Querstret comic. Read the full strip and find out about Elizabeth's concept of "hat-heads" on her site here… 
You put a lot of your material online first before selecting work for print later. What are the advantages of that as publishing model for your work?
I LOVE putting things online. It is so instant and doesn't restrict access. On the whole when I'm sat at home, I stick things on my site and almost consider it as a storage place. I don't think people look at it. Then when I get interactions through social media and in person, I'm like; "OO! People are looking at my stuff". It's exciting that complete strangers may see your work.
I love positive social interactions and since pushing things online, lots of great interactions have happened as a consequence. I guess the bits I decide to print are those stories that I have pondered for a little more and are maybe longer than a page or two. The work online is very short and punchy. I put it up and then, shortly after, I near enough forget about it and my mind is thinking of something new.
Elizabeth's 24-hour comic 'A Day with Querstret' reviewed at Broken Frontier here
You're a small press presence who noticeably reaches out to her online audience. Given the familiar and recognisable themes that can be found in your work is building a sense of community – a more thorough connection between yourself and your readership – a vital part of what you're trying to achieve with Querstret Comics?
In a nutshell – yes.
People, good people, kind-hearted, interesting people are what make me tick. Interaction from others is my motivation and I guess I love to socialise, even though at times I can find this tricky and awkward. Without sounding too much like a hippy – people and great communities are the most important thing to me in life. Sometimes it can be exhausting or overwhelming, but people are key. This ethos is carried through my work and attitude.
The interaction I get from people is incredible and means a lot to me. I also like to encourage interactions as it can lead to potential exciting prospects. Last year I celebrated the website's first birthday by having a virtual party – this was great and I think it is likely to happen again this August. Online Pass the Parcel here we come!
Is there ever a sense of vulnerability about putting such personal material out there when creating autobio comics?
Definitely. On the whole my work goes online, my work is forgotten about and never spoken of again. However as I put things up so freely I do sometimes find I'm a little vulnerable. I'm not so bothered about the comic content about me flashing my body etc. (not sure why this is something I do in reality, but I find flashing my boobs equally as amusing in public and on paper!). But I do feel vulnerable when it is more the events that have deeply upset me in life. I guess you could ask, why put it out there then? I think I have found the whole process so therapeutic and rewarding, I'm kinda hooked now and the vulnerability is the price I pay.
I did once have a sister get in touch, asking why she found out through my webcomics that I was having scans at the hospital and not via me in person. I could half see her point, but I was mostly amused.
I return to a previous point – is it so bad to be vulnerable?
Love Thy Neighbour – another Querstret print offering reviewed here at Broken Frontier 
Your visuals on your diary comics are unfussy and open, giving them a DIY feel that complements the honesty of your work. Are you consciously trying to mirror the sensibilities of your everyday subject matter with that minimalist approach?
It's nice to hear it put in that way. When I began doing these autobiographical strips I did feel a little self-conscious about my 'slapdash' approach, when there are some many beautiful pieces of work out there by others. I did consider using a more detailed style. Maybe part laziness stopped this. But on the whole I draw the comics with the intention of trying to get lots of moments in my life captured. Life doesn't stop. You don't always get time to fuss over details, the next thing is already happening.
I don't know if you've ever experienced this? When writing diary entries that are particularly important to you, and there is so much detail to get down. You are scribbling and struggling to keep up with the words that are forming in your mind. You let your handwriting go and some punctuation slips; but you don't mind, as it means you get to capture the details before they're forgotten. I suppose that is a bit like how it is for me when I am drawing these strips.
For me, the focus of the autobiographical work is more about the process and content, rather than heavily stylised art. I then grew to quite like the charm of the simplicity. I do quite like it when things don't need to be complicated.
Elizabeth's Party Tips (for the Socially Awkward) is also available on her online store
You've been featured in a number of anthologies recently including Dirty Rotten Comics and Keara Stewart's A Bit of Undigested Potato. How has that collaborative process worked for you? Do you feel it has brought your comics to a wider audience? Is sharing experiences with creators in the same situation an advantage?
I really wish I had collaborated a hell of a lot sooner! I had sent some work to other anthologies – but essentially was snubbed (he he). Dirty Rotten Comics is AMAZING and I cannot sing their praises enough. Those chaps take a healthy approach and that is exactly what you need when you are starting out. I've taken a mini-break this last month, so have missed their latest submission, but will be submitting to them in the future.
It is tough to know exactly how effective being in an anthology is, in respect of broadening my audience. But it is very worthwhile in my eyes. I think it is healthy to be interacting with other comic artists, it is good to be working to a deadline and mostly it is exciting to be a part of a project with others.
Keara's baby – A Bit of Undigested Potato was the best anthology I've ever read and to be a part of that is lovely. To be allowed into someone else's vision is a privilege. I say any opportunity that crops up to submit some work should be acted on if possible.
Querstret offerings appear in all these anthologies
When I originally covered Querstret comics you had yet to table at any festivals or cons. Now that you've become something of an established part of the London small press scene can you tell us about how daunting it was to begin with? What have reactions been like to your comics at events? What have you learnt from your first year on the circuit?
To begin with, the concept of having a table was more daunting than any element of the comic world so far. The thought that you are stood directly in front of your work and then that you are surrounded in a room with many talented artists was terrifying. Additionally I worried about what passing trade would think, I worried if I didn't sell anything, I worried if people would say stuff to me that would upset me, I worried about the logistics of getting everything there, would I remember to take everything I needed. Blah blah blah. I worried far too much!
My first event and a great starting point for anyone, was Alternative Press Takeover on the first publications table. Amneet [of Alternative Press] and the others are a very helpful bunch, who will support new work. I found sharing a table with others in a similar situation very helpful.
I feel I am still getting to grips with all of these events and I can still feel very nervous, but more an excited nervous. I can't recommend enough to people, to give things a go. Get a feel for yourself of what different places are like. You will meet so many different people in the comic world and so many new customers.
How Did that Happen? – Another Querstret minicomic on sale online
It is very helpful hearing from other people selling work, what they think of different events, but I also think it is important to make your own decisions. People go to events with different expectations and looking for different outcomes. I also think if an event doesn't work so well for you, it doesn't mean it won't another time.
I now love going to events to sell. It can be very long and tiring. You have to put a lot of emotional effort into going. However I think it is totally worth it. You can't beat the feeling of seeing someone in front of you, a complete stranger, enjoy looking at the work you've spent hours making. It is lovely when you see them smile or even laugh at something that I had made for my own enjoyment.
I also think it is helpful in re-energising me to do more. Sure, not everyone will like what I do, but that's ok, naturally people are drawn to different styles. However it is lovely when those who do like my work, stop to discuss bits with me. I'm always really touched when I meet people who enjoy my work.
I think I learn something different from each event I attend, and I think it is very helpful to get your face out there.
You've recently been picked up by Avery Hill Publishing for your new book Walks with LuLu. How did AHP become involved with the project?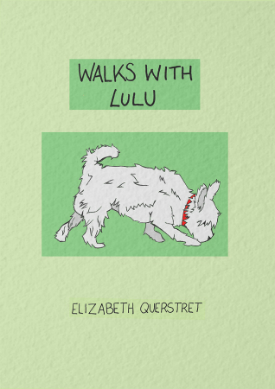 I certainly have, and I'm crazy excited by this. To me, Avery Hill Publishing is something quite special. They are printing some really beautiful pieces and doing a great job at it.
I had been to Process at Gosh and listened to Dave [White, AHP co-publisher] chat about publishing. His comments were really interesting. I suppose to him, he was saying the obvious, but to me, it was like a light suddenly went on. In amongst his comments, he did say it was always worth approaching publishers if you think your work would fit in with their style, but obviously be prepared that if your work was accepted, it might take awhile.
I was working on a new project – Walks With LuLu and the style is very different to my previous work. Essentially, I decided to be brave and put it under the noses of Avery Hill Publishing. We had some chats and they've been really helpful in supporting me get the work ready for print.
Your art on Walks with LuLu is far more elaborate and very different from your diary comics. What was the genesis of the book?
Yep, this style is very different. I think I needed a bit of a change. Mostly though, this project began in a response to my love for a dog called LuLu. In a surreal moment, I found myself walking a little white dog. These walks became very therapeutic and LuLu almost became an obsession. I love the feelings and emotions stirred in me when I'm on these walks. I have tried to capture that in these drawings.
I really enjoyed drawing in this style and found the process as rewarding as walking LuLu. I am hoping this is reflected in the final piece, because the whole project is about how I feel while walking her. These walks took place while I was (kind of still am) in a bit of a confused rut. I think most people can relate to experiencing mixed feelings of being overwhelmed, confused, optimistic and excited.
The work is still very autobiographical, but does not feature me in visual way. My thoughts are shared through a series of walks, I think this is perhaps a more personal piece, but I also think the style allows the reader to become the dog walker. It would be nice to share my optimism with others who are struggling in life.
Were there any particular challenges in creating a longer-form narrative that is very different in tone to some of your shorter, snappier pieces?
Mmm, there were challenges, but I enjoyed this. I found an awful lot more time was spent on editing the content and layout.
I knew I wanted text to narrate the thoughts I have while walking, but it took some time to organise this and make the words correspond with the images. I think this is an element I am most pleased with. My previous work has a direct, concise style with a more humorous tone. With this project I really wanted to portray how clouded and confused my thoughts can become. I also wanted to capture the powerful support that is offered to me from the dog. I spent a lot more time than I previously have, on how I could capture these sensitivities.
Zoological is another one of your books that is very different from your diary comics. What was the origin of this series of animal-based cartoons?
Ah! Zoological is one of my most favourite things I've ever done! I am very proud of this and need to get on and print some more!
Zoological was born out of pain I was suffering. I became bed-bound and was in a terrible state. I'd ruptured two discs in my spine, I had a procedure that was meant to help, but I somehow had a bad reaction to it. I think it was nearly a month of next to no sleep and non-stop pain. This was intense pain that no pill was touching. Naturally I fell into a dark place.
For a long time the most I could manage in a day was a trip to the toilet and listen to Six Music. I literally couldn't do anything else. (It did wonders for my waistline!). Eventually when I could manage to lie on my side without crying, I began to draw with a biro on scraps of paper in my bed and then text them to a certain Bearded Man. I would send animals chatting on their phone simply to cheer me up and to try and distract my partner at work.
These sketches seriously lifted my mood and I finally had something other than lying in pain. I began to redraw them and would share them with friends who came to visit me. Slowly as I got better and could do short walks, I'd walk (hobble) to the library – one day I looked so terrible, I had people stop and ask if I needed help! Once at the library I would scan the designs in, walk home and resting in bed, I would edit these designs.
Zoological was born. When I was better, I printed out some of these designs, framed them and gave them to friends who had visited me, collected my pills and fed me. This project helped rescue me from insanity, but it was also a gift of thanks to those lovely people who supported me.
As someone relatively new to the small press world do you have any advice for up-and-coming self-publishers?
I sure do!…
– Don't worry
– Talk to people
– Don't sit on your ideas and hide away
– Learn as you go, mistakes are ok
– Have fun! Do things because you enjoy them.

What's next for Elizabeth Querstret? Are there any new comics coming up from you that we should be thinking about? 
Well, if you read Walks with LuLu, you may sense that I have been going through a bit of a rough patch. I have recently not been drawing many comic updates, but I think there are some more of those to come. I was religiously doing two a week and loved this. I'm not sure if I will return to two a week, but I think I have missed doing these and they are due a return.
My problem is, I have hundreds of ideas and projects I'd like to do and can often get side tracked with other projects. For example, Walks with LuLu got held up with my sudden urge to draw 45+ animals and see how many of them I could squeeze into a matchbox (right)! So! I do have a future project in mind, it is my thoughts and feelings on society and what the hell we are all doing. However, I wouldn't be surprised if other stuff crops up in between that!
For more on the work of Elizabeth Querstret visit her site here. You can buy her print comics from her store here and Walks with LuLu is also available from Avery Hill Publishing here priced £4.00. 
You can also follow Elizabeth on Twitter here. 
For regular updates on all things small press follow Andy Oliver on Twitter here.