Those soul-destroying jobs we did for little pay as teenagers. The positions we took straight out of university because the truth was we really had very little idea what we wanted to do with our lives. Managers who redefine the term "socially inadequate". Cliquey colleagues, workplace calamities, terrifyingly bizarre customers…
We've all been there.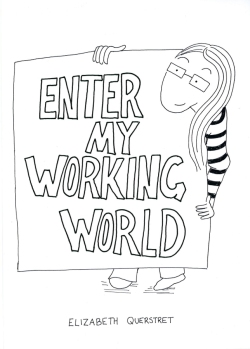 They make amusing anecdotes, good stories for the pub, or witty object lessons to recount to our peers with an affectedly knowing flourish, theatrically pretending that their sheer unmitigated awfulness somehow enriched our life experience. In the words of Steven Patrick Morrissey "I can smile about it now but at the time it was terrible…"
Elizabeth Querstret's Enter My Working World is an autobio comics offering that describes a number of such travels down the twisting path of employment respectability. Beginning with her first job as a teenager working in a flower shop it drolly catalogues a host of workplace mishaps and misadventures growing slowly more optimistic as the years go on before ending with an air of upbeat positivity about the potential of the future.
The real fun of Enter My Working World, though, is not so much in Querstret's journey of discovery – as engaging as that is – as in her ability to make her more awkward experiences so relatable to her audience. The first few strips all end with some variation of "I didn't go back" as their concluding line and it's often that painfully familiar element to them that makes them so effective. You will cringe when 15-year-old Elizabeth's mistake drops her flower shop boss in it with a funeral party, nod your head in agreement at the ordeal of babysitting, have flashbacks to the monotony of those "filling in" jobs when she gets a filing position, and no doubt recognise similar events from every strange encounter she has with eccentric clients and oddball workmates.
As a narrator Querstret has a likeable, self-deprecating presence throughout. Despite a large portion of the material here being a procession of workplace horror stories her amiable and informal storytelling style ensures that nothing feels mean-spirited or caustic. Idiosyncratic characters come and go as Elizabeth makes quirky observations on each episode in her life aided by her co-commentators and inner voices Thought and Deeper Thought (see the second sample page above), distant cousins, of a sort, of the "angel and devil on each shoulder" motif of cartoons of years gone by.
While the visuals are not overly elaborate or fussy they are very expressive, allowing Querstret to succinctly summarise each employment experience with an almost rhythmical comic timing. Enter My Working World succeeds to the degree it does because it connects with its audience on two crucial levels: its personable and affable host on the one, and the absolute expanse of shared experience it embodies on the other. One to pick up, digest, and nod to knowingly in agreement…
For more on Elizabeth Querstret's work check out her site. Enter My Working World is available from her online store here priced £2.50.