Established in 2011 by RJ Casey and Eric Roesner, Chicago-based Yeti Press are a micropublisher I've given continued review coverage to in 'Small Pressganged' since the Broken Frontier relaunch this past May. From the autobio diary comics of Kevin Budnik's Our Ever Improving Living Room to Kat Leyh's Pancakes, a gorgeously illustrated slice-of-life tale with a twist, through to the underground comix stylings of Casey and Alvarado's Beginner's Luck, Yeti Press have combined a quirky and humorous storytelling approach with an unashamed championing of comics as a physical object.
With a Kickstarter campaign underway (check out the Kickstarter video above) to fund the next year's subscription programme it seemed a most appropriate time to take our ongoing series of "Small Press Spotlight on…" interviews across the pond and talk with RJ Casey and Eric Roesner about their publishing philosophy, the rise of micropublishing and why print still rules…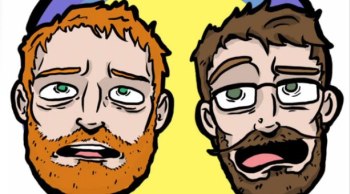 BROKEN FRONTIER: "A small publishing behemoth out of Chicago" is the rather likeable tagline you use to describe yourselves. But how did you enter the world of comics publishing? Let us in on the secret origin of Yeti Press…
ROESNER: Chris "Elio" Eliopoulos, it's all his fault. I knew Elio from going to Columbia College Chicago. He was a teaching adjunct and I was graduating. Him and the comic kids would talk shop time to time about things we were working on and such. Why he gave RJ my name is still a mystery…
CASEY: I met Eric when I was looking for an artistic collaborator. I saw some of his online work and the things he was making at Columbia and sent an email. We started working shortly after on a HUGE book, which Elio (and common sense) talked us out of at the time. Then we made Pecos #1. Much more fun and manageable to create a 16-page book rather than 160-page book right off the bat.
BF: For those Broken Frontier readers yet to sample your books could you give us a potted history of your publishing output to date?
ROESNER: RJ has the record books, what are we at?
CASEY: In a little over two years, we've put out 15 books. The comics range from 8 to 376 pages. For the first half-year or so, all we had was Pecos #1 and a few minicomics that Eric and I had created. I took an immediate liking to the publishing and editing side, so we tried our hand at putting out work by some of our crazy-talented friends. It's been growing steadily since then.
Kat Leyh's collected all-ages fantasy Bird Witch, available via the Kickstarter campaign
BF: Something that has been very evident over the last few years on the small press scene is the rise of the micropublisher as a viable model in supporting new creative voices. Do you see this as reflective of a greater grassroots support for alternative approaches to comics?
ROESNER: I think its just a natural growth of the comics community. For us though, and I think a lot of people, we turned to micropublishing because we love the object of the book.
CASEY: I also feel like there are so many more ways to get books in people's hands now than there was even 10 to 15 years ago. Conventions and small press shows are popping up all over the world and selling online is becoming much more accessible. I really do appreciate the DIY mentality of a lot of comic creators and micropublishers too.
Described as a "gross-out tall-tale cowboy comedy" Casey and Roesner's Pecos will also be collected as part of the Kickstarter
BF: You've been around for two years now. How much of a learning process has your journey into micropublishing been? If you could give the you of 2011 any advice now, what would it be?
ROESNER: Don't do outdoor shows. I've been learning since day one on this and still am. I would have never guessed we would be going at this for two years, launching a Kickstarter for six new titles. It's nuts.
CASEY: Like Eric said, it's ok to say no to some shows. We went quite a while traveling every weekend to different airport hotels to table at vintage toy swaps. We're just now realizing our time can be better invested. If I could go back, I probably would have warned my fiancé of what was coming as well.
Still available on the Yeti Press online store, I described Kevin Budnik's autobio Our Ever Improving Living Room here in 'Small Pressganged' as "a testament to the eclectic output of the Chicago micropublisher."
BF: With feet in both camps – as publishers and creators – which side of the process would you say gives you the greatest satisfaction at the moment?
ROESNER: Creating is always at my forefront. I do all the design for Yeti Press and always have projects going on. Searching for new talent and going through submissions is a close second.
CASEY: Publishing gives me the greatest satisfaction by far these days. I still love writing and I'll continue putting pen to paper, but I really think I found my passion in publishing. Have you ever seen the movie UHF? You know how Michael Richard's character loves his mop? That's how I feel about putting out new Yeti Press books. (That one goes out to the 4 other people who've seen Weird Al's masterpiece.)
The "surreal, spiritual world" of Erik Nebel's Well Come (left) and one of the one-panel gag strips from Sam Sharpe's Poop, Boobs, Poo, both part of that Kickstarter initiative
BF: Although a lot of the work you've produced to date has been lighter-hearted in tone I think it's still fair to say you have an eclectic mix of creators in the Yeti Press stable. How did those artists become involved with you?
ROESNER: Most of our original lineup, and present lineup, met when we were at Columbia College Chicago. Kevin Budnik, David Alvarado,and Kat Leyh are the OG.
CASEY:Yeah, most of our artists are Columbia College grads or students. That includes Sean Mac and Andrea Bell also. I got to know Gabe Bautista from mutual friends and we hit it off pretty quickly. I've been an admirer of Sam Sharpe's comics a long time and am still glad he said yes when we told him we were interested in putting out his work. Erik Nebel was the first artist we've contacted outside of Chicago. I would compulsively read his webcomic and am such a big fan of his.
We'd like to think there is a certain aesthetic to all the artists we publish that makes it uniquely Yeti Press. Hopefully that comes through in our books.
Kat Leyh's Pancakes, available on the Yeti Press store and reviewed here in 'Small Pressganged' earlier this summer
BF: To date you've been, shall we say, cautious about embracing digital delivery. First and foremost are your comics loyalties with print? Some of your books certainly have a tactile quality to them that can't be replicated on screen.
ROESNER: Yes.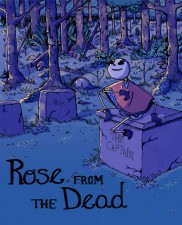 CASEY: Very stoic answer, Eric. Cautious would be a fair description. We like the object of the book itself. We try to vary the sizes and shapes and include things like belly-bands or other handmade doodads. Presentation is important to us.
BF: You've recently launched a Kickstarter campaign for Yeti Press subscriptions. Can you tell us a little about what you're offering and why did you choose to become involved with the crowdfunding route?
ROESNER: Honestly we were avoiding it for a long time.
CASEY:We had to talk ourselves into using Kickstarter because we were a bit skeptical and had some moral hang-ups. After talking to a few people we respected though, we felt we could do it in the right way and offer people deals and subscriptions. We are publishing 6 new books – 3 in the fall/winter and 3 in the spring/summer. All those books are available to pre-order individually on the Kickstarter. Where you will save money (and in some cases $20!) is in the subscriptions. We are doing half-year and full-year subscriptions. There are also other fantastic rewards like commissions, original pages, and a $10,000 mouse pad. No one's taken that one yet.
Above, right, Andrea Bell's Rose from the Dead combining "horror with her signature adorable style" and below, left, Casey and Gabriel Bautista's The Summit described as "a heart wrenching story of a terminally sick man and his final wish, to climb Mt. Everest and die at the top" but with a sci-fi twist. Both available through the Kickstarter.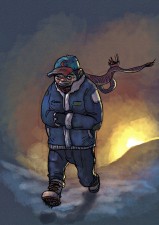 BF: And what can we look for in the future for Yeti Press in terms of both direction and projects?
ROESNER: We just want to take this as far as we can.
CASEY: I think we want to become more focused. That means hitting all the great shows like TCAF, CAKE, SPX, Seattle, and Brooklyn in the next year. Continuing to work on our quality. Getting Eric to talk more. You know, the usual.
For more on Yeti Press check out their website here. And here's that link to their Kickstarter again here.