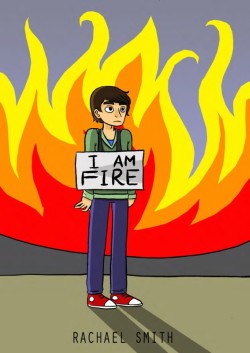 Rachael Smith's I Am Fire is a witty little sitcom of a comic combining disaffected, angsty teenagers, health and safety politics, and bitter rivalries in that ever cut-throat and competitive world of professional fire prevention. Our schoolgirl protagonist Jenny is a gobby youngster on her work experience fortnight in the crafts section of Dingle's department store; in her words a "well-borin'" position which is "all pompoms and wool and shit."
The eponymous Dingle himself – a kind of slightly more demented J. Jonah Jameson figure – has a somewhat relaxed approach to fire safety in his shop, with his basic philosophy being that if his staff don't start any fires in the first place then it won't ever be a problem. Local fire safety consultancy firm Remember About Fire, hoping to bring Dingle's archaic safety procedures up to date, run a fire drill for the employees there. What R.A.F. haven't banked on, though, is that their work experience student Chris is an obsessed pyromaniac who sees this as an opportunity to bring more than a little extra realism to the exercise…
I Am Fire has a cracking cast of characters all with their own little quirks and personality tics. There's the aforementioned Jenny who I could sit and watch abusing customers endlessly such is the brilliance of her apathetic indifference. I won't spoil any more of her one-liners because you need to experience her vitriol first hand to get the most from it but she really is a deliciously drawn example of self-obsessed, blasé youth.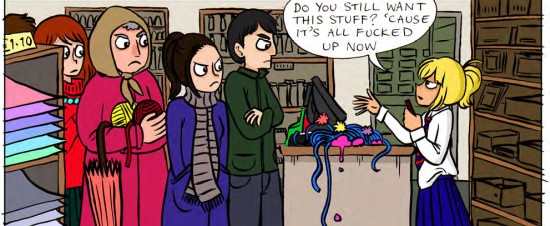 Then there's the belligerent Dingle and his long-suffering assistant Harriet who have the makings of a wonderful double act. And Chris's temporary boss Bryan at Remember About Fire with his admirable but slightly irksome right-on attitude ("I'm Bryan – I'll be your mentor. We'll be more like mates though, yeah?") needs another Smith-penned vehicle immediately! One of those cringeworthy fall guy characters who you know you shouldn't laugh at yet they lend themselves so well to being humiliated for the audience's entertainment.
It's almost a shame that this is, ostensibly, one complete narrative with all subplots resolved by issue's end because I would love to see more of this oddball group of players. I hope Smith does revisit this bunch again in future as I'm sure there are plenty of new directions she could take the established running gags set up for each of them. And there's a whole host of smaller supporting roles in the story just begging to be fleshed out and expanded on.
Jenny and Chris at their antisocial bests…
Smith's lively, energetic cartooning ensures I Am Fire moves along at a jaunty pace. She's very adept at summing up a character's personality in just one facial expression: Jenny's mum has a "deer in the headlights" look to her when discussing her daughter's work experience placement for example, and arsonist Chris's sociopathic calm is quite chilling in places. Above all, though, I Am Fire succeeds so well because of the precision of Smith's comic timing. She knows not to over-exploit a joke, how to construct a gag on the comics page to careful perfection, and just when to deliver that all-important punchline. Fingers crossed there's more in store for these creations in the future…
You can find out more about Rachael Smith's work on her site here. I Am Fire is available to buy online here priced £5.00.