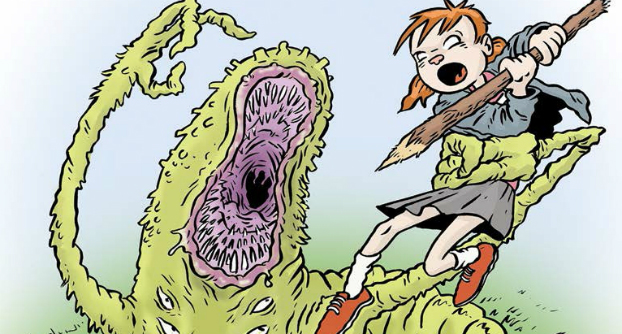 One angry little girl, her brave and resilient dog, and the constant threat of werewolves, ghosts and alien conquerors. Welcome to the world of Cindy and Biscuit. If you're a supernatural entity, extraterrestrial invader or netherworldly ne'er-do-well prepare to be sent packing  quick smart…!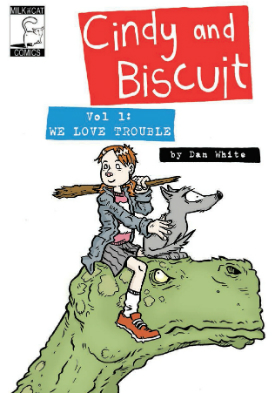 Back in this column's infancy I spoke enthusiastically about the first two issues of Dan White's self-published Cindy and Biscuit comics arguing then that it was "one of those books that will inevitably be discovered by a much deserved larger audience." That was nearly three and a half years ago and, while Cindy and Biscuit has continued to draw critical acclaim – as back cover pull quotes from creators James Stokoe, Brandon Graham and Kieron Gillen on this volume attest to – it's never quite reached the expanded readership that I believe it's due. There's something rather unjust about that situation.
Cindy and Biscuit Volume 1: We Love Trouble collects all four issues to date along with two new stories and the never before reprinted colour tale 'What We Did at the Weekend'. Cindy is the loner classmate we all either remember, can relate to, or perhaps were. But with one crucial difference. She sees the things that the rest of us don't in the world around us, whether that be an alien zookeeper collecting specimens, the robot graveyard in the local woods or the demonic screaming skull that manifests in her bedroom at night and keeps her awake. Whether any of this actually happens anywhere but in the environs of her own mind, of course, is another matter entirely…
When I originally reviewed the first two issues of Cindy and Biscuit I made a number of observations that apply to the entirety of this collected edition and which I am going to unashamedly recycle practically word for word here. Firstly, there's something remarkably endearing about the way in which each story is told from a child's eye view of the world that is complete with all those little perceived juvenile injustices that implies. Cindy may save the planet from an alien invasion in 'Cindy & Biscuit Save the World (Again)' but it won't stop her from being sent to bed early by her mum. She might fight off a fearsome mermaid on a school trip to the beach in 'Cindy Vs. The Sea' but she remains the object of scorn of her bullying classmates.
That's the genius of Cindy and Biscuit; by rooting the fantastic in the everyday, White gives his strip a humanity that elevates it above the merely cute and amusing. If you're thinking this is an entirely whimsical gag strip then you're very much wrong. The effectiveness of White's approach is that he can shift from fast-paced, comedic quirkiness to eerie poignancy as in the haunting ghost story 'Cindy & Biscuit and the Secrets of Summer' or tense, claustrophobic terror in 'The Snowman' – a kind of hybrid of Raymond Briggs and the doom-laden unease of an M.R. James story – at the drop of a hat.
The subtle nuance of White's cartooning was also something I remarked on when I first reviewed Cindy and Biscuit. A look of sulkiness, or delight, on Cindy's face speaking volumes about her childlike perception of her environment; a look of fear or anger on Biscuit's propelling the story forward with comic ease. It's that unforgettable sense of energy to White's visuals – that slapstick sense of motion – that often makes these stories such riotous, raucous reads.
But there's also a subtle sense of experimentation to the art here in terms of storytelling structure. 'Cindy & Biscuit and the Camera' (above left) recounts Cindy's despatching of another horrific visitor from the stars in a series of photographic snapshots, 'What We Did at the Weekend' (above centre) adopts a diary entry approach with one-page panels, while 'Long Hot Summer' is a series of disconnected splash pages all working as mini-scenarios that ask the reader to construct their own narratives around the darkly imaginative single images. There are also a number of perfectly paced one-pagers (example above right) that emphasise White's command of the idiosyncrasies of the form with a darkly witty flourish.
Inventive and playful with the standards of sci-fi and horror, and featuring a defiantly determined lead and her faithful canine pal that the reader can't help but root for, Cindy and Biscuit is a wonderful journey through the violently adventurous excesses of its protagonist's imagination.
For more on Dan White's work visit his site here and follow him on Twitter here. You can buy Cindy and Biscuit here priced £10.00. 
For regular updates on all things small press follow Andy Oliver on Twitter here.