How would you react if you discovered that everything you thought you knew about yourself was a lie? That you owed your entire existence to history's greatest monster? And that your very identity might be bound up in a predestined descent into evil? That, superficially, is the premise of Patrick Goddard's Operation Paperclip, a bleakly dark comedy that I can best describe at this juncture as something akin to The Inbetweeners meets The Boys from Brazil.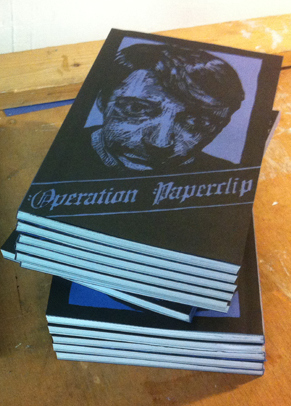 Set in contemporary London, the book follows the friendship between two typical teenage schoolboys after one of them receives prior warning from Wikileaks founder Julian Assange of an upcoming press release that will include previously classified documents revealing the whereabouts of a clone of Hitler. The result of a complex masterplan to set up a Fourth Reich, the child was placed into the adoption system when the conspiracy was broken up with the proviso that it was placed with a Jewish family. As the book's 15-year-old protagonist must come to terms with the revelation that he is that selfsame progeny, we observe the events of the week between his receipt of this missive and the news going public…
The book's title comes, of course, from the codename for the project that, in the years post-World War II, allowed a whole host of Nazi war criminals to escape justice and come to the U.S. to work for the American establishment. But Operation Paperclip is most certainly not a dry and solemn account of intricate fascist plots to suppress democracy. Indeed, as far as black humour is concerned you will have to look far and wide in 2014 to find a more morbidly amusing graphic novel than this. Especially as the days ebb away prior to the imminent Wikileaks announcement, the tension ramps up, and the lead character is forced to come to terms with the probability that his entire world is about to be turned on its head.
While the story recounts in great depth the various relevant economic manoeuvrings and long-term schemes that made up the long-term contingency plans of the Nazi political machine – not to mention a detailed history of those prime Nazi players in experimental atrocities who were given new identities – it's the initially lighthearted but increasingly macabre banter between the two young leads that pulls the reader into the narrative. The book's opening scene, for example, has an entire set piece revolving around particularly useless advice on how to free a victim from the jaws of a ferocious dog by thrusting your fingers up its rectum. The unsurprising result of one of them attempting this manoeuvre – after coming across a canine offender attacking a child in the street – being school-based ritual humiliation throughout the rest of the book. It's this teenage teasing that gives Operation Paperclip an unlikely authenticity despite its outlandish central plot. Discussions between the two boys can range from serious observations on Nazi occultists and genetic experiments to ludicrous deliberations on why there were no swastika-shaped throwing star-wielding ninjas fighting for the Japanese in World War II.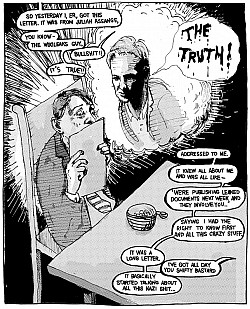 Goddard's murky, heavily shaded black and white art accentuates both the book's grim subject matter and its gallows humour, imbuing each page with a gritty, urban feel. But Goddard is unafraid to punctuate the noirish realism of Operation Paperclip with episodes of pure comics farce and slapstick: a karmic moment of being splattered with pigeon excrement, for example, or the spectre of Assange floating ominously over proceedings. He also intersperses the book with relevant illustrated splash page quotes adding context to each section.
An often uncomfortable read, Operation Paperclip succeeds because it challenges concepts of personal identity, free will and determinism with a melancholy wit, comparing the otherwise seeming normality of some of those responsible for wartime crimes against humanity with the pedestrian lives of its cast.  Goddard is a sly storyteller and I imagine most readers will come away from this book smirking to themselves about his clever manipulations of the audience's expectations. Drolly sinister in delivery, this is a graphic novel quite unlike anything else you will read this year!
For more on Operation Paperclip visit Patrick Goddard's site here. The book is available to buy here priced £8.00.
For regular updates on all things small press follow Andy Oliver on Twitter here.