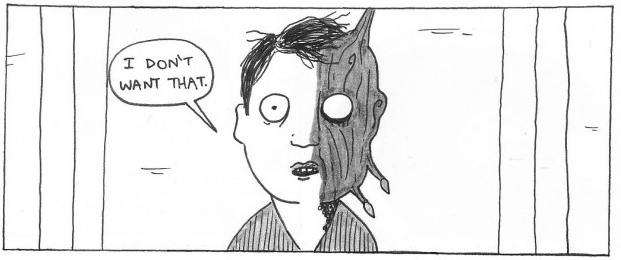 Lines from the poem 'The Stolen Child' by William Butler Yeats act as a preface to Jake Dudas's To the Waters and the Wild, an unsettling supernatural tale from a creator I met for the first time when I was on the panel at the recent Gosh! Comics Small Press Symposium. What will immediately draw many readers to this comic is its striking over with its conflicting but appealing combination of colourful storybook visuals and sinister foreboding.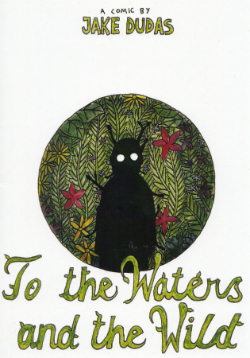 To the Waters and the Wild centres on the close relationship between a mother and her young son; a bond that begins to crumble as it becomes evident that something other has taken the place of the boy. As he begins to transform in disturbing ways and his behaviour becomes increasingly detached and erratic, a presence that seems more elemental in being – somehow mystically attached to the natural world – is revealed. It's one that will lead to drastic actions and fearful repercussions for both players…
While the art in To the Waters and the Wild is a touch raw and perhaps even a little naive in places the central concept is a chillingly absorbing one, dealing as it does with such primal fears surrounding parenthood and loss. The idea of changeling children, of course, is one that is rife in mythology, fairy tale, and fantasy fiction but Dudas explores that disintegrating connection between mother and child with a fearful poignancy.
The main problem with the book in a narrative sense, though, is that there's a decent horror story premise here that is never given adequate room to breathe or develop in such a short page count. The requisite level of terror doesn't have a chance to ramp itself up, the pacing feels a little off because of the quick cutaways between scenes that limit a sense of dramatic tension, and we never have the time to feel fully invested in the characters.
However, that said, there's certainly potential in Dudas's work. While the flow between scenes can feel a little stilted in places his panel-to-panel storytelling shows a definite understanding of the possibilities of the form in terms of use of time, space and thematic motifs. There's certainly more than enough here to make me want investigate further work from this artist and watch how he develops in the months to come.
For more on the work of Jake Dudas visit his site here. You can buy copies of To the Waters and the Wild from his online store here priced £3.00.
For regular updates on all things small press follow Andy Oliver on Twitter here.