Community-based super-heroics with a Morrison-style vibe are the order of the day in the second issue of T'sao Wei's Windrush series…
'Small Pressganged' exists at Broken Frontier to promote all facets of self-publishing and small press comics regardless of subject matter, form of presentation and, sometimes, even level of technical ability. That said, there has always been one genre that I've been, if not reluctant, then certainly reticent to cover here and, with a borderline irony, that's the one that got many of us in to comics in the first place – super-heroes.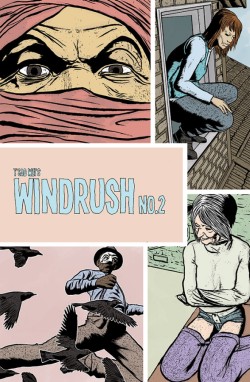 My thinking has always been that there are plenty of avenues for coverage of the capes and cowls brigade elsewhere on the site and with all the exciting SP work out there not getting the attention it deserves from the comics press why give even more time to men in tights punching each other? What can anyone possibly do with the tired old clichés of super-heroes that's going to seem even the minutest part fresh or interesting?
If there's one thing I can always rely on the small press scene to do, though, it's to confound my expectations. From the heart of Martin Eden's all-gay super-team in Spandex to the atmospheric retro adventuring of both Jamie Gambell's Department O and Worth & Collver's Ladies and Gentlemen, through to the peculiarly British and worldweary approach to super-heroes in Hirst and Wells's Department of the Peculiar there's been, if not a steady stream, then certainly a persistent trickle of small press comics with a super-hero theme that I've been pleased to do my small bit to bring to a wider audience.
And so it is with T'sao Wei's Windrush. I reviewed the debut issue of the book here at Broken Frontier over a year ago and was impressed enough to say then that it was comics like this that we had to thank to thank "for proving that wit and imagination are not entirely extinct in the super-hero field just yet." Since then the author has re-released and re-jigged that opener, with the second issue published this past spring.
At its most basic and stripped back the basic premise of the comic is that of the legacy hero combined with a strong element of a protagonist driven to avenge a terrible personal injustice. But Windrush is far more nuanced than that superficial summary would lead you to believe. In the aftermath of the murder of South London's guardian heroine Helen Wu, aka Windrush, her daughter Lauren takes on not just her mother's super-hero legacy but also begins a hunt for her killer. It's a book that, thematically, is really about community first and foremost and, for myself at least, that's very much its unique selling point.
In this second issue, while she is aided by a virtual community of familial supers supporting her in her grief, we learn more of Lauren's history including her relationship with her spiritual "brother" and his troubled past. There's also intrigue surrounding the assassin in a bird beak mask who has played such an integral role in events to date, jeopardy for bizarre supporting character Ned Zeppelin, Lauren goes on a date of sorts, and in the shadows the mysterious asylum-bound Susanna Section continues to pull the strings…
Sample pages from the second issue
Where this latest instalment does, perhaps, encounter some problems is that T'sao Wei is juggling so many disparate story threads that there's just not enough space in these 24 pages to do them all justice. There are lots of hooks for the reader that will, no doubt, be followed up on in issues to come but at the moment the narrative is so densely structured that it's difficult to keep track of every character, every relationship and every hint as to significant past events. Or perhaps my mind has just been so conditioned now by years of dreadful, decompressed, "written-for-the-trade" super-hero comics that I'm not appreciating tightly plotted heroics to the degree that I should!
However, that said, with its rich and realistic urban setting Windrush almost redefines street level super-heroics. Remember that tagline for Marvel's New Universe in the '80s? "The world outside your window"? Well this book is the closest I've ever seen any super-hero title do to get even near that ideal. As I said with that first issue, there's more than a passing feel of earlier Grant Morrison to the proceedings and a true sense that we have a fully built world here with its own integrity, history and backstory that will be explored in the coming months. And I remain very taken by the use of shading and deep blacks in the art which build up that gritty, urban atmosphere. There's also a flowing rhythm to T'sao Wei's figurework with the fight sequences and depictions of super-powers in both issues having a balletic grace to them.
What I find special about Windrush is that it's not about any of the ostentatious posturing that make up most super-hero comics. Rather, it's about the very human characters involved. The powers and the borderline surrealism are really just colouring for a super-hero soap opera with heart.
For more on T'sao Wei's work check his site here. The first two issues of Windrush are available here priced £3.50 each.
Follow Andy on Twitter for regular small press updates.