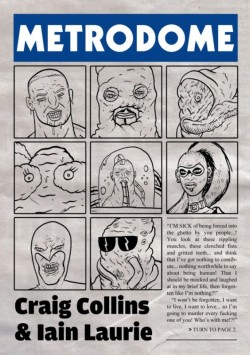 Metrodome is the latest offering from the warped imaginations of writer Craig Collins and artist Iain Laurie, combining playful storytelling experimentation with deviously demented all-out carnage. These two gents are, of course, responsible for the brilliantly bizarre online strip Roachwell which, together with Collins's Haunted Bowels, I reviewed at Broken Frontier last year noting they were comics that "worm their way insidiously into your psyche and squat there intimidatingly with threatening intent."
Knowingly adopting that Battle Royale/The Hunger Games/Avengers Arena set-up so endlessly recycled in popular culture of late, Metrodome pits eight super-powered protagonists against each other in a savage battle to the death. It's far more droll than it sounds though, amusingly parodying a tedious sub-genre that you probably thought by this point in time was well beyond satire.
The first half of the book is comprised of profile pages for the combatants with the actual "fight to the death" comic strip coming around the halfway mark. The characters (more about their origins in a bit) emerge fully formed from the deepest, darkest depths of the magnificently poisonous headspaces of Collins and Laurie with names like Sparkling Tumour (powers include "malignant invasive repartee"), Ultimate Coma ("insensible mechanised torsosmash") and Sex Axe ("climactic decapitator"). Laurie's designs have something of a Shaky Kane feel to them at times and, as ever, his gory and often extreme visuals complement Collins's approach perfectly.
The genesis of Metrodome is a story in itself, recounted within the pages of the comic in an accompanying text piece. Essentially the characters were created by chance by choosing keywords from a copy of free U.K. newspaper Metro and randomly combining them, with Laurie then designing their looks with no further input from Collins beyond the proviso that they should "all be nefarious and villainous fuckers".
Now I'm not going to pretend this is the most sophisticated or deep small press comic you're ever going to pick up, nor is there anything more to it than the premise described. But then it was never designed to be anything other than a darkly humorous splatterfest.  It's a fun little exercise in self-indulgence and a good taster for the kind of material you can expect from the twisted minds of the Collins-Laurie team. If you like your comics unsettling, in-yer-face and gratuitously grotesque then you can't go wrong with the wicked and wily wit of these guys.
Metrodome is available here priced £2.50. For more on Craig Collins check his site here and Iain Laurie's here.
Follow Andy on Twitter for regular small press updates.