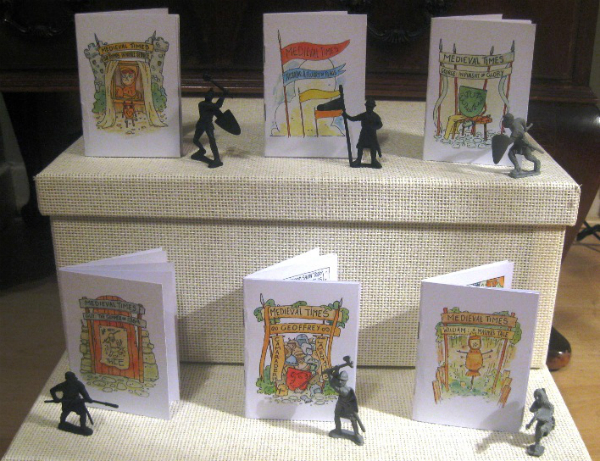 Craig Collins is a creator whose dark wit is equalled only by his propensity for experimenting with narrative construction. In the years that 'Small Pressganged' has been following his work the former has been seen in work like the caustically funny Haunted Bowels or the bleakness of Roachwell (with Iain Laurie) while the latter was very much in evidence in the unique creative premise behind the collaborative splatterfest that was Metrodome.
His latest project in partnership with artist and co-creator Mark Brady is entitled Medieval Times and consists of six minicomics with stories based on their accompanying plastic soldiers. This sequential art/tactile interactivity combo is a typical Collins-style concept. The six stories are formulated around the poses of the half dozen toy figures that the pair selected from a bag of toys and they provide a mini-history of the role of each in the conflict they were involved in. It gives us individual but interlinked tales of each character's part in the 100 Years War between England and France in the 14th and 15th centuries.
There's something surprisingly contemporary about each of these vignettes. They are presented so that they can be read on their own as comedic, punchline-style shorts but there's also an entire other level on which they can be enjoyed because Collins and Brady draw a number of amusing contemporary parallels in the social commentary of each of these brief character studies.
Nicholas the flag-bearer's feelings of being undervalued in his position as the ultimate admin assistant on the battlefield, for example, or Will the Longbowman struggling to find his worth in the workplace. Geoffrey complaining about his colleagues not pulling their weight or fellow combatant George and his lack of job satisfaction. The true genius of these minicomics is not in their amusing historical slapstick bur rather in the relatable social satire of Collins and Brady's concise set pieces.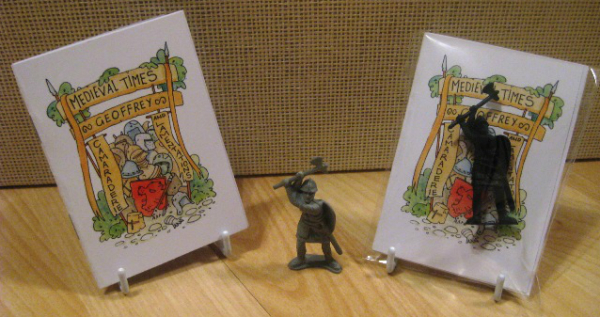 Brady's art is witty in expression with an excellent use of lettering and speech balloon placement to ramp up the comedy and underline the ludicrousness of the situation. Each vignette is just a half dozen or so pages but they're six perfectly paced panels with overlapping elements that build into something far greater than the sum of their parts. You can be guaranteed with a Craig Collins offering that you'll always get work that is inventive and experimental in its approach to the medium. In Mark Brady he has an ideal co-conspirator. Their next collaboration is most eagerly awaited.
You can buy Medieval Times here. Visit Craig Collins's site here and follow him on Twitter here. Visit Mark Brady's site here and follow him on Twitter here. 
For regular updates on all things small press follow Andy Oliver on Twitter here.