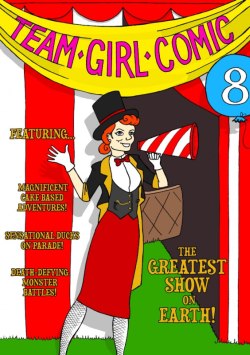 The all-women collective behind small press anthology Team Girl Comic unveiled their eighth issue this summer with a carnival-themed launch party at Glasgow's Plan B Books. I mention this not as a bit of throwaway introductory trivia to puff out an opening paragraph but because it's an example of the TGC philosophy that we touched on when I interviewed the book's editor Gill Hatcher back in June. Team Girl Comic isn't just a group effort on the page, it's also a reflection of what has become a true community of comics creators, and the last couple of issues have been the strongest and most entertaining offerings to date.
Scratched record time. As I seem to mention on every occasion that I review a copy of TGC the first thing that strikes the reader as they peruse its pages is the diversity of genres and styles on offer. I always find the slice-of-life stories in the book are the ones that stay with me the longest, though, whether they be witty observational pieces or deeper, contemplative musings. For example, MJ Wallace's 'Lilias Day', an account of returning to the village fete she attended annually as a child is a lovely examination of how our childhood memories can romanticise and add a magical sparkle to the past that may have only existed in our minds.
Similarly, Mhairi Hislop's 'When Your Brain Returns' will strike a chord with many of us whether we want to admit it or not – a study of waking up after a heavy night of alcohol consumption and being struck with The Fear as we slowly begin to recall our behaviour the evening before. And continuing on that autobio route we have two notable personal entries that focus on guilt for childhood actions in Gill Hatcher's revelatory 'I Killed My Hamster' and Nondo's heartfelt 'My Public Apology'.
MJ Wallace's 'Lilias Day', Mhairi Hislop's 'When Your Brain Returns' and Amanda 'Hateball' Stewart's 'The Guild of Cake Based Adventurers'
Moving away from the anecdotal and into the realms of the knowingly absurd I need to give a special mention to Amanda 'Hateball' Stewart's 'The Guild of Cake Based Adventurers' which features the exploits of a Victorian secret society with a particularly sweet tooth. Stewart's composition of artwork with photographic backdrops gives this a period feel that makes it one of the most visually memorable pieces in the book.
Toni Zhang's 'Ghost Dog' (right) also impresses with art that turns urban mundanity into something potentially far more sinister as a group of children's encounter with a mysterious stray dog allows their imaginations to run riot, while I rather liked the way Cacachute used that oft-repeated trick of emplying the imagery of an EC Comics cover but in a cutely inventive way to segue into her story 'Scary Diary'. And, finally, Fionnuala Doran's 'The Evil Eye' is a discomforting offering that starts as a commentary on the eye as a symbol of protection throughout world culture; a two-pager that manages to be extremely unsettling in just four "panels".
As ever with an anthology book, I'm only touching on the contributions contained within these pages. Team Girl Comic has become one of the must-buy mainstays of the British small press scene over the last couple of years; the one-time new kid on the block is now an essential and established purchase. I can only hope that that potential expansion of the TGC brand mentioned by Gill Hatcher in our aforementioned interview does, indeed, occur. The distinctive creative voices of the Team Girl Comickers deserve all the exposure they can get!
For more on Team Girl Comic check out their site here. You can buy Team Girl Comic #8 priced £3.00 here.